Are you looking for a simple and effective way to earn passive income? Look no further!
We are thrilled to introduce the Kahana Affiliate Program, a lucrative opportunity for anyone interested in sharing Kahana with the world while earning substantial rewards.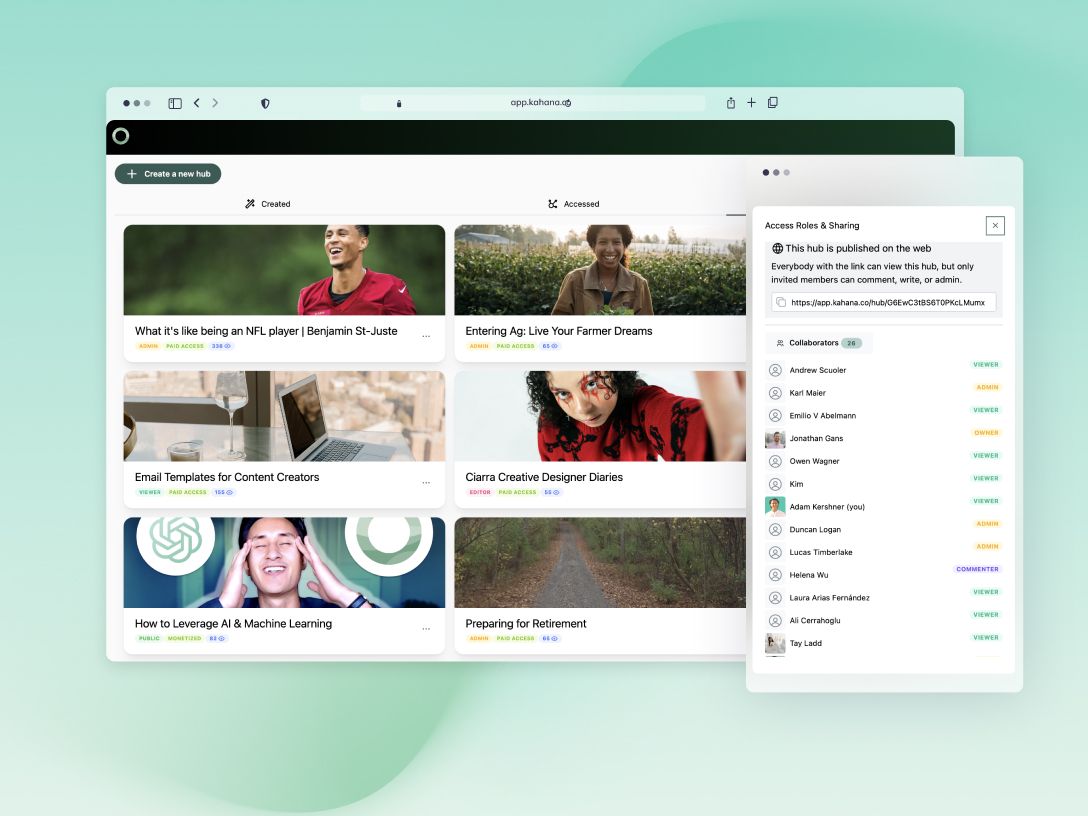 Friends of Kahana
Join the Kahana Affiliate Program to start earning money whenever you share Kahana. Get 30% of all customer payments for 12 months. Simple monthly payouts.
Become an Affiliate
The following guide explains how it works in a nutshell.
Earn 30% of All Referral Payments for 12 Months
When you become a Kahana affiliate, you'll have the chance to introduce people to our products and services. For every customer you refer, you'll receive a 30% commission on all payments made by them for a whole year! That means, as long as your referrals continue to use our products and services, you'll keep earning for an entire year.
This includes a percentage of revenue generated from:
Kahana hubs created by users that you refer
Monthly Payouts
We understand the importance of timely payments, and that's why we ensure all payouts are processed on the 1st of every month. In case the 1st falls on a weekend, rest assured, your payment will be disbursed in the following days.
$50 Minimum for Payouts
To be eligible for your monthly payout, you need to have a minimum of $50 in due commissions. Once you reach this threshold, your earnings will be on their way to your designated payment method.
Advertising Guidelines
While we encourage creative ways of spreading the word about Kahana, we have a strict policy against running paid ads or sponsorships without prior approval. This includes all types of paid ads with any form of targeting. If you're interested in running paid ads, please get in touch with us to obtain our approval. Failure to comply with this policy may result in the suspension of your account and the deletion of all associated commissions and sales.
Transparency and Fairness
We take our affiliate program seriously and want to ensure fairness for all affiliates. In the unlikely event that we notice a suspiciously high number of sales from your account, we may kindly request proof of the methods you are using to generate referrals. This is purely to maintain the integrity of the program and to prevent any misuse.
Why Choose the Kahana Affiliate Program?
Here are a couple of considerations tho think about when choosing to join the program.
High Earning Potential
With a 30% commission on all referred customer payments for an entire year, the earning potential with Kahana is substantial. The more referrals you make, the more you earn!
Revenue-Generating Product
Kahana offers a product that customers love and use to generate revenue quickly. By promoting Kahana, you can be confident that you're endorsing a platform that helps customers win (and earn by sharing it!).
Dedicated Support
We value our affiliates and are here to support you every step of the way. If you have any questions or need assistance, our team is just a message away. Feel free to get in touch with us by:
Sending us an email at info@kahana.co
The Bottom Line
Join the Kahana Affiliate Program today and start earning money by sharing Kahana and helping other people generate recurring revenue. Whether you're a blogger, social media influencer, or just an enthusiastic customer, this program is open to all. Sign up now and unlock the potential of effortless earnings with Kahana (while helping others in the process)!
Remember, building a successful affiliate partnership takes time, effort, and creativity. By following the rules and guidelines provided, you can maximize your earnings and contribute to Kahana's growth while enjoying the benefits of being part of an exciting and rewarding affiliate community. Happy earning!