You're starting a business and want your product or service to stick out in consumers' minds. How can you make sure you have loyal customers that resonate with you?
Brand identity is one of the most important aspects of any business, and it can make or break a business that doesn't get it right.
1. Branding
When building a new brand or business, it can be hard to know where to begin. A good place to start is with look or design.
A brand represents how the world perceives a business or a company. Branding is the process of giving meaning to a product or service through creative and visual decisions.
Most businesses probably have a few visual aspects in mind when they start the process; such as a color scheme, font styles, images, and a brand voice. Making these aspects unique and distinct from other brands out there is key to establishing a strong brand identity.
2. Product Success
You've got a great product, but you want to make sure it's reaching the right people and getting the attention it deserves. Here are some questions to help you get started:
Who is your target market?
What kind of research do you need?
What are your marketing efforts?
How do you maximize your competitive advantage in the marketplace?
How can you sell this product without losing sight of its value proposition or its core purpose?
You should also consider product testing market research to ensure you are validating that your potential product is meeting the needs of your audience.
3. Target Market Studies
Target market studies help you figure out who you're marketing to and help you create marketing campaigns that speak directly to your customers' needs and desires, resulting in more valuable insights and a competitive advantage over other companies.
Here are some of the most important questions you'll need to ask when conducting face-to-face interviews with your target market:
What do they think of the product or service (positives and negatives)?
How did they find out about it?
Why did they choose this particular product/service over others?
4. Surveys
"If you can't measure it, you can't improve it" - Peter Drucker
How do you figure out who you're marketing to?
There are a lot of ways to do this; for example, you can use different types of surveys for research, focus groups, and other types of market research methods to get a sense of what your potential customers are looking for.
And there are plenty of free online survey templates that will help you organize research and questions so that they're easy for people to answer.
How can a company know if it's doing a good job if it doesn't know what it needs to improve on?
A survey is a way to get more insight into your target market's preferences, needs, and perceptions. Since the beginning of marketing, polls, surveys, and, better yet, super fancy questionnaires, are a great way to collect both quantitative and qualitative data.
The bottom line is that you want to de-risk and ensure your marketing efforts are as effective as possible. Thus, it's critical to understand who you're really targeting and how they feel about your brand on an ongoing basis, before investing substantial capital or labor into any single campaign.
5. Basic Areas for Surveys
While the survey questions may vary, they should focus on the following basic areas:
Target audience demographics (age, gender, education level)
Perception of your product
Customer experience with the product
Marketing communications and campaigns that have been most effective with this customer base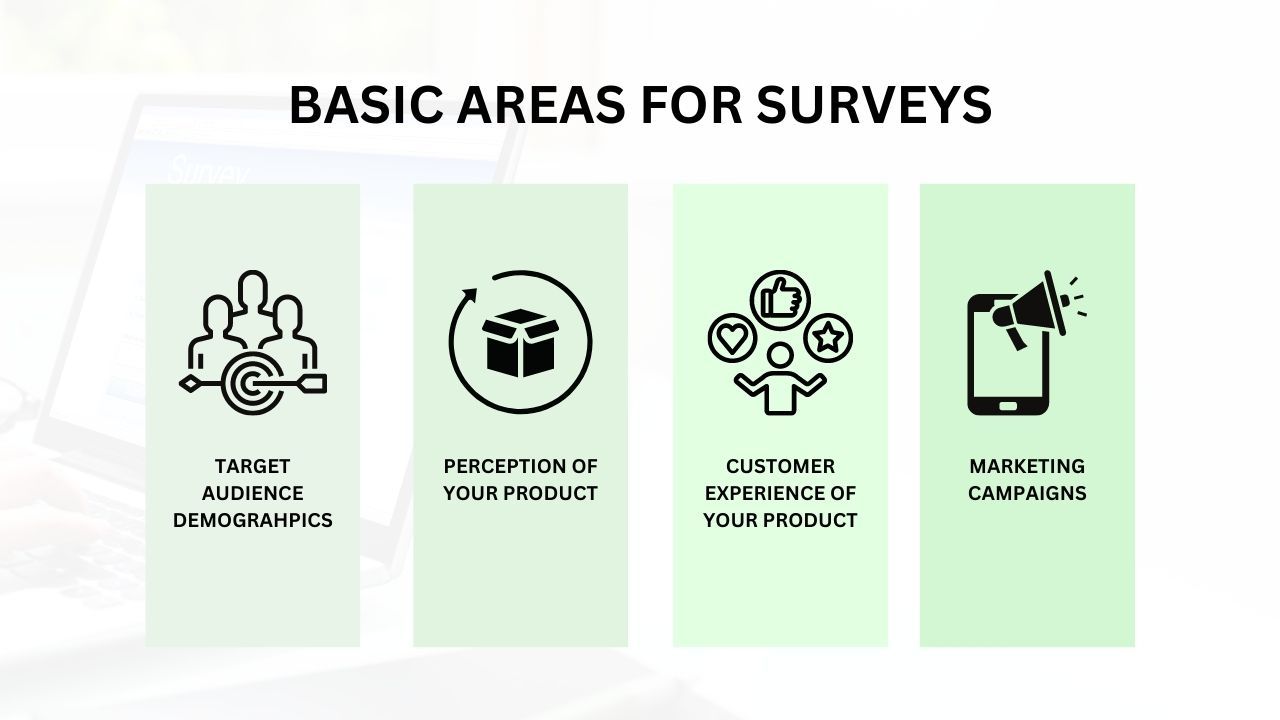 6. Finding Your Audience
While it may seem that we are repeating this over and over, it warrants reinforcement. Always remember: when it comes to brand building, one of the most important things you can do (if not the most) is deeply understand your target audience.
In order to do that, you need to ask the right questions. Here are some things to consider when writing your questions for surveys, polls, and questionnaires:
What is their gender?
What age range?
Are they parents?
Do they live in the city or suburbs?
What are their hobbies and interests?
What are their passions?
What do they like to do for fun on a Friday night?
Questions like these provide baseline demographic data as well as more fluid narrative data about how the potential customer views themselves, and how they approach their lifestyle.
These questions also help with customer loyalty research and continuously understanding what your customers value.
When you find your audience, this can help you with branding. For example, if your primary audience is children, you can make design choices that create a product that will catch kids' eyes. These can include bright, warm colors and exclamatory statements.
You should also consider various types of audience research tools.
7. Perception Surveys
Perception surveys and brand perception research helps you understand how your audience perceives you or your product/service over a duration of time.
8. List of Questions for Perception Surveys
Below is a list of questions to consider as you plan, strategize, map hypotheses and assumptions to test, and ultimately build out your perception surveys:
What kind of surveys can be used to gain valuable insight into customers' experience with your brand?
How can you use customer experience surveys to improve your marketing campaigns and craft more targeted, effective communications?
Do customers think your product is affordable enough, or too expensive?
Do they think it's something that would be useful to them personally or professionally?
Have any competitors come out with similar products recently that may make yours seem old-fashioned by comparison?
9. Customers
While many of us love to plan and strategize, perfection is often the enemy of progress. With calculated risk and strong assumptions, it's time to get into the weeds and go interface with customers.
Getting feedback from real customers is the most direct way to inform strategic decisions about how to move forward with branding efforts. Fortunately, there are numerous ways to do this without spending excessive time, money, or energy.
3 steps for gathering customer feedback
For starters, you can:
Conduct an informal survey using SurveyMonkey, Qualtrics, or another online survey tool
Gather qualitative information and input through an external knowledge management system, like Kahana
Talk to people within your networks, go on social media, and send notes to folks on our mailing list (email and physical mail)
10. Marketing
Let's take a step back and look holistically at marketing. With revolutions like data-as-a-service, the post-cookie world, metaverse marketing, and omnichannel experience disrupting the marketing world, if anything, it's more important than ever to focus on asking the correct branding research questions.
Marketing doesn't need to feel like an uphill battle as long as you take pleasure in the process of honing your strategy and aim to deliver brand experiences that are truly delightful.
11. What Consumers Want
You're constantly tinkering and optimizing your marketing efforts, and part of that ongoing process is to know who your audience is and what they want at a given moment.
Example clusters of branding research questions
When you are learning about consumers and their preferences, there are several clusters of branding research questions you'll want to ask yourself:
What do they value?
How do they prioritize their needs?
What are the most important factors when making purchasing decisions?
What are your marketing efforts?
Are you targeting specific demographics or geographic regions?
How often do you reach out to potential customers?
How much effort is being put into building relationships with them?
How would these people perceive your brand?
What would they say if asked about it?
What are their perceptions of competing brands as well?
If you can't answer these questions with confidence, then you won't be able to develop the appropriate marketing messages to generate results or build a strategic plan that will work for your business. Moreover, if you can't answer these basic questions, you can't expect to use advanced solutions like predictive analytics properly as marketers.
12. Brand Research: a Useful Tool
When you think about the marketing you do for your business, what are your goals?
Do you want to find new customers?
Do you want to keep customers happy with your products and services?
Do you want to increase sales?
Or do you just want to find out if people are actually interested in what you're selling?
The answer to all of these questions is yes. All of these goals are important for any business.
Being mindful of them and focusing on the right questions to ask in order to achieve them will help guide your marketing strategy moving forward, and will help ensure that future campaigns appeal directly to your target audience's needs and desires.