Topics covered ✅
How to create a knowledge base for employees
Free knowledge base software
Internal knowledge base examples
Internal knowledge base software
Company knowledge base examples
When you're trying to get work done, it's frustrating when someone interrupts you with questions that could have been answered in a quick Google search.
Even worse is when you're in the middle of an urgent project and have to stop what you're doing because someone else needs to know how to do something.
We've all been there! But don't worry. We've got your back.
For a lot of organizations, the idea of creating a knowledge base can seem daunting—but it doesn't have to be! In this article, we'll walk you through how to create an internal knowledge base step-by-step.
We've already built internal knowledge bases for all kinds of companies, and we know what works and what doesn't.
That's why we created Kahana: to make it easy for you to get started with your own internal knowledge base.
We'll also help you figure out how to train your employees on using their new system for knowledge sharing and keep them up-to-date with new additions or changes as they come along.
We know how important it is to keep everyone on the same page!
The internal knowledge base is a crucial part of your organization's growth into a learning organization.
It allows you to centralize information, which makes it easier for your team to find what they need and make sure that they're all speaking the same language.
Your internal knowledge base can be a single source of truth for everything from style guides to how-to guides, user permissions, access levels, as well as any other information that's essential to the ongoing success of your organization.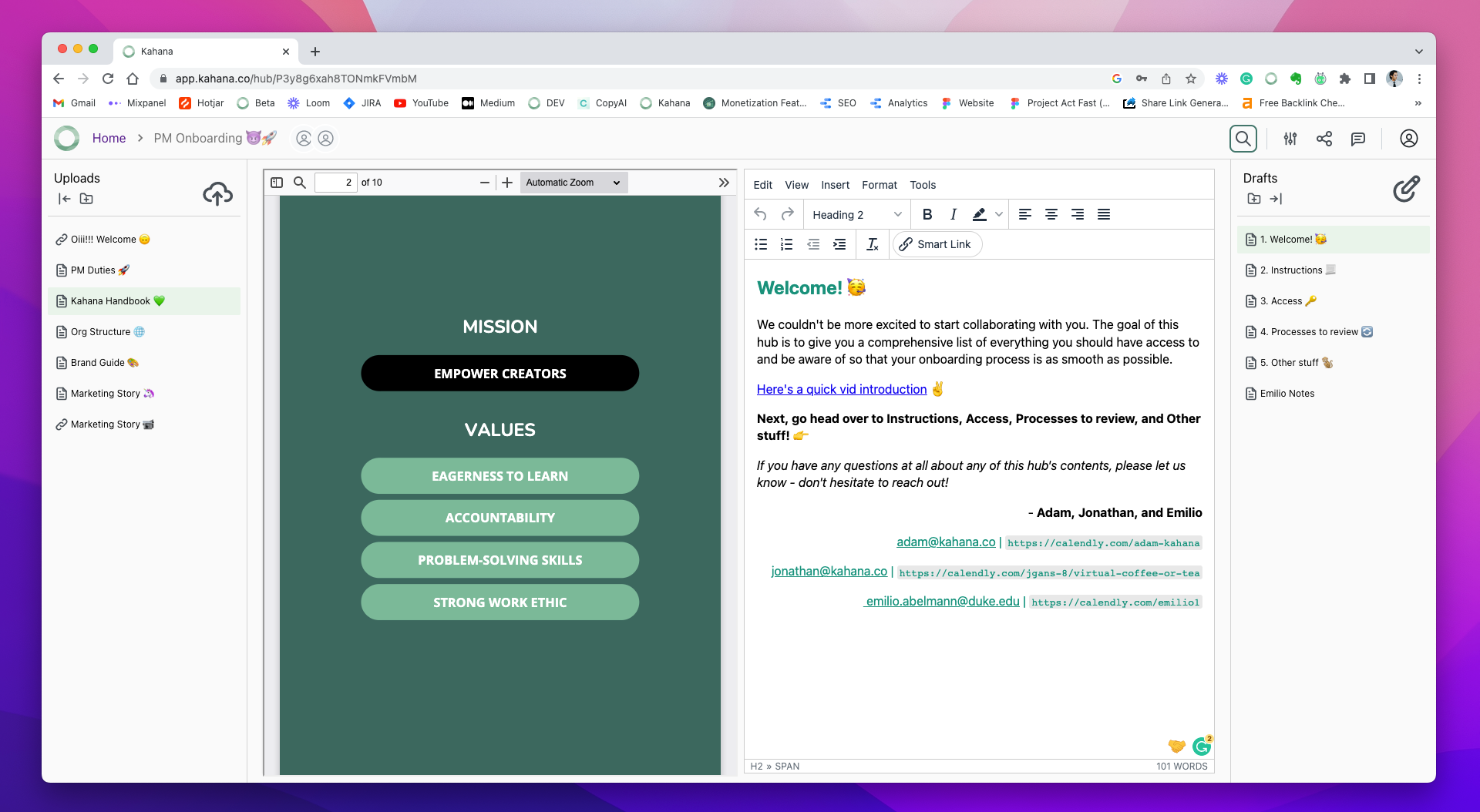 Claim My Free Internal Knowledge Base Template
This hub is read-made and pre-built as an out-of-the-box internal knowledge base that you can plug-and-play. You can populate it with your own material and collaborate across your organization.
Gimme My Free Template
1. What is a Knowledge Base and How Does it Assist Users and Customers?
A knowledge base is a database of information that people in your organization can access to help them work more efficiently.
It's like a library where you can find answers to your questions, but it's organized by topic instead of by book.
Internal knowledge bases today are an excellent way to organize your content and make it easy for employees to find the information they need.
You can create your own internal knowledge base that is customized to your company's needs and style.
Knowledge bases have many uses: they can be used to store the results of research and development projects, or they can be used as a repository of information that users need to complete their daily tasks.
They're often available internally through an intranet or other internal network, but they could also be made available externally via email or a website.
When creating an internal knowledge base, it's important to remember that it should be accessible only to those who require it.
You don't want everyone in your company to access this information because it could lead to confusion or mistakes being made—and neither do you want people outside the organization accessing this content.
You can use internal knowledge bases, external knowledge bases, or even a combination of the two.
As well as this, you can have internal knowledge base tools or external ones.
You can use a style guide for your internal knowledge base content, or you can leave it up to each user to write in their own voice and style.
You can give each user access to the entire knowledge base or only certain parts of it—and if they have access to different parts of the knowledge base they might need different permissions depending on what they're trying to do with it.
And when you're starting out with a new knowledge base project, how do you know where to start?
2. Internal Knowledge Base and its Structure
An internal knowledge base is a collection of documents that are part of the company's culture, history, and expertise—like a user manual or an employee handbook.
It's stored on your own servers and can be managed by employees at all levels in the organization.
An internal knowledge base is a tool that helps you manage content that your users need to access.
It's a database of information, similar to a company wiki, that is usually organized by topic or function, that you can use to answer questions that users have or help them through processes.
This could include text files, images, or video clips as well as other types of content such as spreadsheets or presentations depending on which type of system you use.
An internal knowledge base allows you to create a central repository for all the information your employees need in order to be successful at their jobs.
Sections
While the possibilities for sections are infinite, you can start by organizing your content into different categories, such as:
How-To Guides
Permissions
Step Guides
This allows users to search by category or keyword, which is particularly useful if you have to organize research or content.
We want you to feel comfortable and confident in your ability to manage your own internal knowledge bases so that you can focus on other areas of your business—like marketing and sales.
That's why we offer a full range of services from consulting through the implementation that will help your team get set up with a robust internal knowledge base so that you'll never have any doubt about what info is where when you need it most.
Benefits of an Internal Knowledge Base
So now you may be asking, why do we need an internal knowledge base?
Internal knowledge bases are one way to make sure that your employees have access to the information they need to do their jobs well.
They are an effective way to break down costly knowledge silos that form within an organization.
They can also help you improve efficiency by making it easier for employees to find and understand the information they need for their day-to-day tasks.
They're also helpful when you want to provide step-by-step instructions for how something works, or when there are specific steps involved in completing a task (such as how to fix something).
Many companies have found that having an internal knowledge base has made their operations run more smoothly, with effective knowledge transfer and better communication between departments, and fewer mistakes being made.
A knowledge base helps employees take on new projects without having to figure out how everything works from scratch—they can look up what they need in the database instead of having to search through emails or printed documents.
3. Internal Knowledge Base Software and How This Guides Your Employees
As we have stated above, an internal knowledge base is a great way to build up a library of how-to guides, user permissions, and step guides for your employees.
A good internal knowledge base should include both written content and videos to help your employees take the best care of your company's resources.
Internal knowledge bases are a great way to build and maintain your organization's knowledge base.
They allow you to keep your employees up-to-date on the latest information in an easy-to-read format, and they can be accessed by anyone who has a connection to your network.
You can use internal knowledge bases as a reference tool for new employees, or you can create them as a training aid for inexperienced workers.
You can also use them to help senior employees who may be unfamiliar with new software applications or processes, or who just need a refresher on best practices.
Goals & Objectives
The goal of an internal knowledge base is to make sure that your company's employees have access to all the information they need to perform their functions correctly and efficiently.
There are many benefits associated with using internal knowledge bases:
They're easy for everyone to use—they're all written in plain English, so there's no need for special training or technical skills.
They're accessible from anywhere in the world via the web (or intranet), so they don't require any special software or hardware installation on your employees' computers...just access rights through your network administrator.
They're searchable using standard search engines like Google or Bing, so if someone doesn't know exactly where something is located within the site structure itself, then they can still search for and find it.
4. External Knowledge Bases
Internal knowledge bases aren't the only option.
A great addition to this is the use of an external knowledge base.
An external knowledge base is a place where anyone can go looking for answers about how something works.
It's often used by non-technical people who are having trouble fixing something on their own, which means they don't know what questions to ask—or even where to start looking.
That's why it's so important for these sites to be easy-to-navigate and well-organized.
An external knowledge base is a collection of documents that are part of the company's culture and history but not necessarily its expertise—like a FAQ page or glossary.
It's stored on another organization's servers and can be managed by employees at all levels in that organization.
Key Differences
One key difference between an internal knowledge base and an external knowledge base is that a login is required.
This is because external refers to the fact that we want the general public and customers to have access to any and all information.
This is very useful in certain instances and definitely is an approach to greatly consider.
5. What's the Point of a Style Guide and Company Knowledge Base?
When it comes to managing your company's knowledge base, there are all sorts of ways to go about it.
Adding a Style Guide
A style guide is a document that explains how to use specific language when writing content for an internal or external knowledge base.
For example, if your company has an official style guide for how to write emails to customers, then that would be included in your internal or external knowledge base (depending on who owns it).
You should start by creating a style guide for your writers and editors so they know how things should be written (and how they shouldn't).
A style guide is simply an outline of all the rules you use when writing things like reports or emails—your own personal dictionary.
Overall, a style guide is a very useful step to include and become familiar with.
Admin Tools and Permissions
Next, set up some user permissions so everyone knows who can edit which parts of the database and who has access to what part of it (this will prevent users from accidentally deleting something important).
Key takeaways
We hope you gained a lot of useful information in this article that you can apply to your own company or business needs.
An internal knowledge base is something that tends to be overlooked but can be a crucial part that can set you up for success in more ways than one.
So, with that, let's get to work!