Your offers are coming.
In addition to staying on top of rigorous schedules, studying for exams, and knocking out papers, many students are squeezing out time to concentrate on getting internships.
We understand that the process of getting an internship can be brutal 😖
That's why we're building The Internship Hub.
After getting feedback from students at multiple colleges and universities, spending 97+ hours researching, and analyzing the shifting trends in the job market, we knew that right now is the best possible time to build this hub.
🚀 Shipping January 2023! JOIN THE WAITLIST 👇
---
Getting a Good Job: Expectations vs. Reality
According to research conducted by the Strada Education Network's Institute for the Future of Work, there is a major gap between students wanting a good job and students actually securing a good job.
According to Strada Education Network's Institute for the Future of Work, 85% of first-year college students say that their main priority for attending college is getting a good job.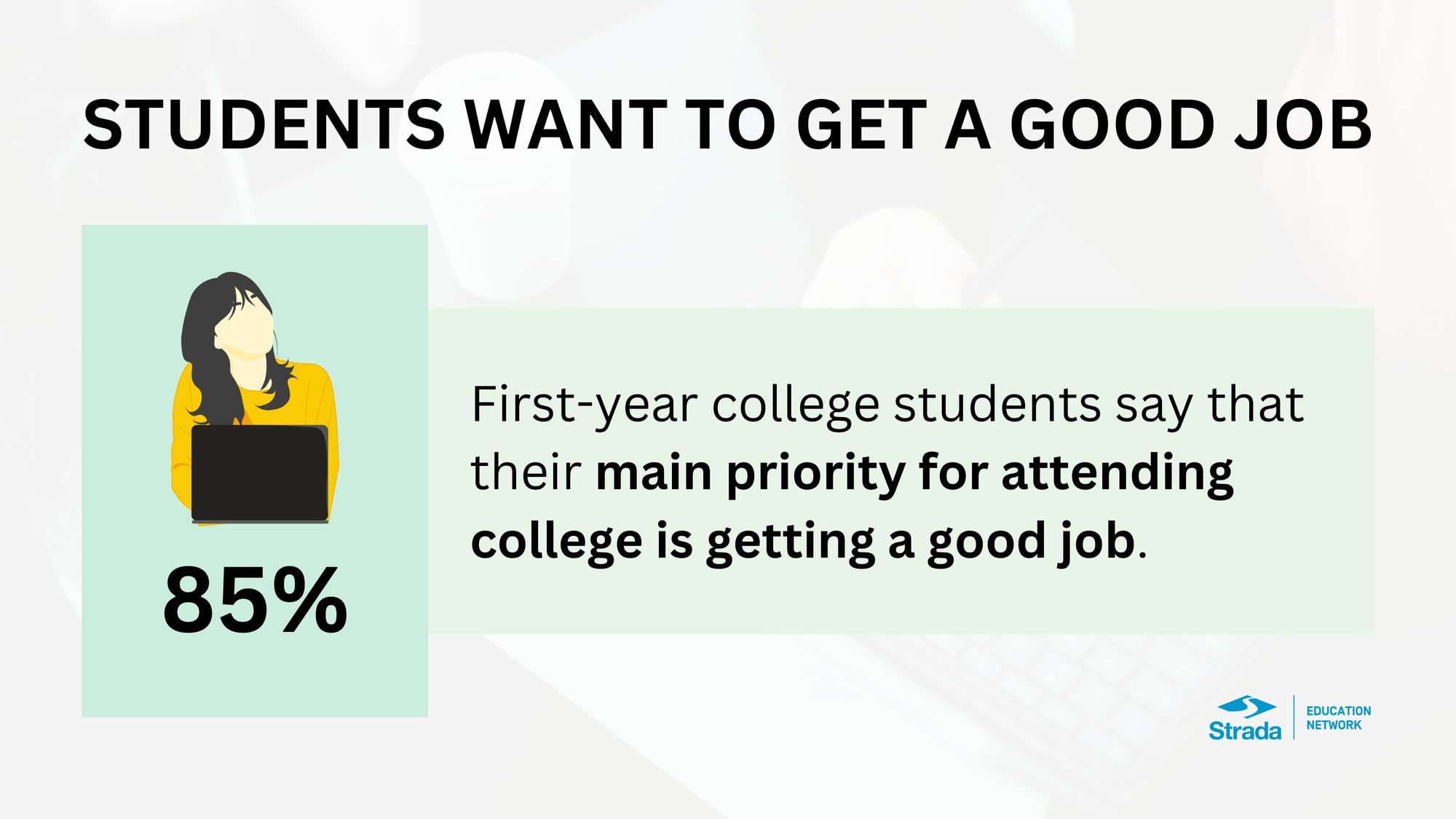 However, Strada also reports that only 27% of college students report securing a good job before graduation, and 4 in 10 graduates are underemployed in their first job.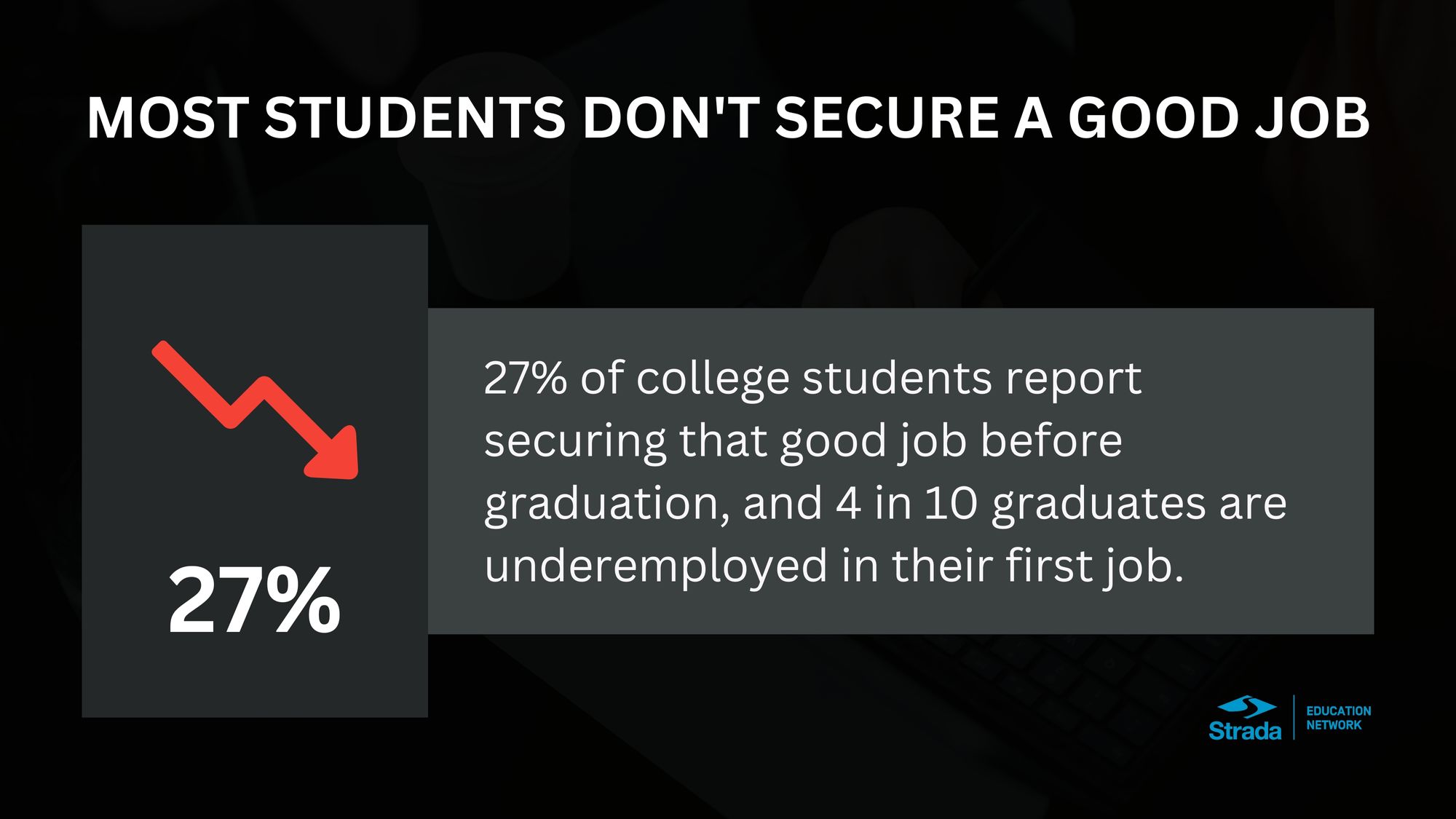 Why Internships are Good 🤌
Students want to get good jobs.
Good internships lead to good jobs.
It's no surprise: students want good internships.
Here are some of the numbers behind why internships are good.
More Job Offers 💌
According to internship statistics from CompareCamp, having an internship on your resume increases your job offers by 16%.
Highly Satisfying ✨
In addition, according to this NSCI Report, internships have a high satisfaction rate, with 36.4% of respondents reporting being extremely satisfied after completing their internship.
Earning Money 💰
According to Glassdoor's list of highest-paying internships in 2022, tech roles and tech companies offer the highest-paying internships, with companies like Roblox, Uber, and Salesforce leading the way.
But, it's not just tech: there are many well-paying internships available across industries.
| | | | |
| --- | --- | --- | --- |
| Rank | Employer | Median Monthly Pay | Industry |
| 1 | Roblox | $9,667 | Tech |
| 2 | Uber | $8,333 | Tech |
| 3 | Capital One | $8,333 | Finance |
| 4 | Salesforce | $8,167 | Tech |
| 5 | Amazon | $8,000 | Tech |
| 6 | Meta | $8,000 | Tech |
| 7 | NVIDIA | $8,000 | Tech |
| 8 | LinkedIn | $7,500 | Tech |
| 9 | HubSpot | $7,500 | Tech |
| 10 | Expedia Group | $7,500 | Tech |
| 11 | Microsoft | $7,366 | Tech |
| 12 | Oracle | $7,250 | Tech |
| 13 | Bain & Company | $7,125 | Consulting |
| 14 | Deutsche Bank | $7,083 | Finance |
| 15 | Apple | $7,000 | Tech |
| 16 | Intuit | $7,000 | Tech |
| 17 | Susquehanna International Group (SIG) | $7,000 | Finance |
| 18 | BlackRock | $6,917 | Finance |
| 19 | eBay | $6,833 | Tech |
| 20 | J.P. Morgan | $6,667 | Finance |
| 21 | Citi | $6,667 | Finance |
| 22 | PayPal | $6,667 | Tech |
| 23 | Palo Alto Networks | $6,667 | Tech |
| 24 | American Express | $6,500 | Finance |
| 25 | Google | $6,454 | Tech |
ℹ️
Note: To create this list, Glassdoor leveraged a unique dataset of intern salaries and calculated the median monthly base pay of salaries left by current or former U.S.-based interns between February 14, 2021, and February 12, 2022.
Problems With the Internship Process ❌
While the educational, networking, and financial benefits of getting an internship are no secret, many undergraduates are unsure about how and when to start applying for this type of work experience.
Moreover, competition for internships is becoming tougher year over year, and thus, students need to find new ways to differentiate themselves within pools of other skilled, talented, and qualified applicants.
Long Recruitment Process
According to the NACE Internship & Co-Op Report 2021, the average internship recruitment process lasts for eight and a half months.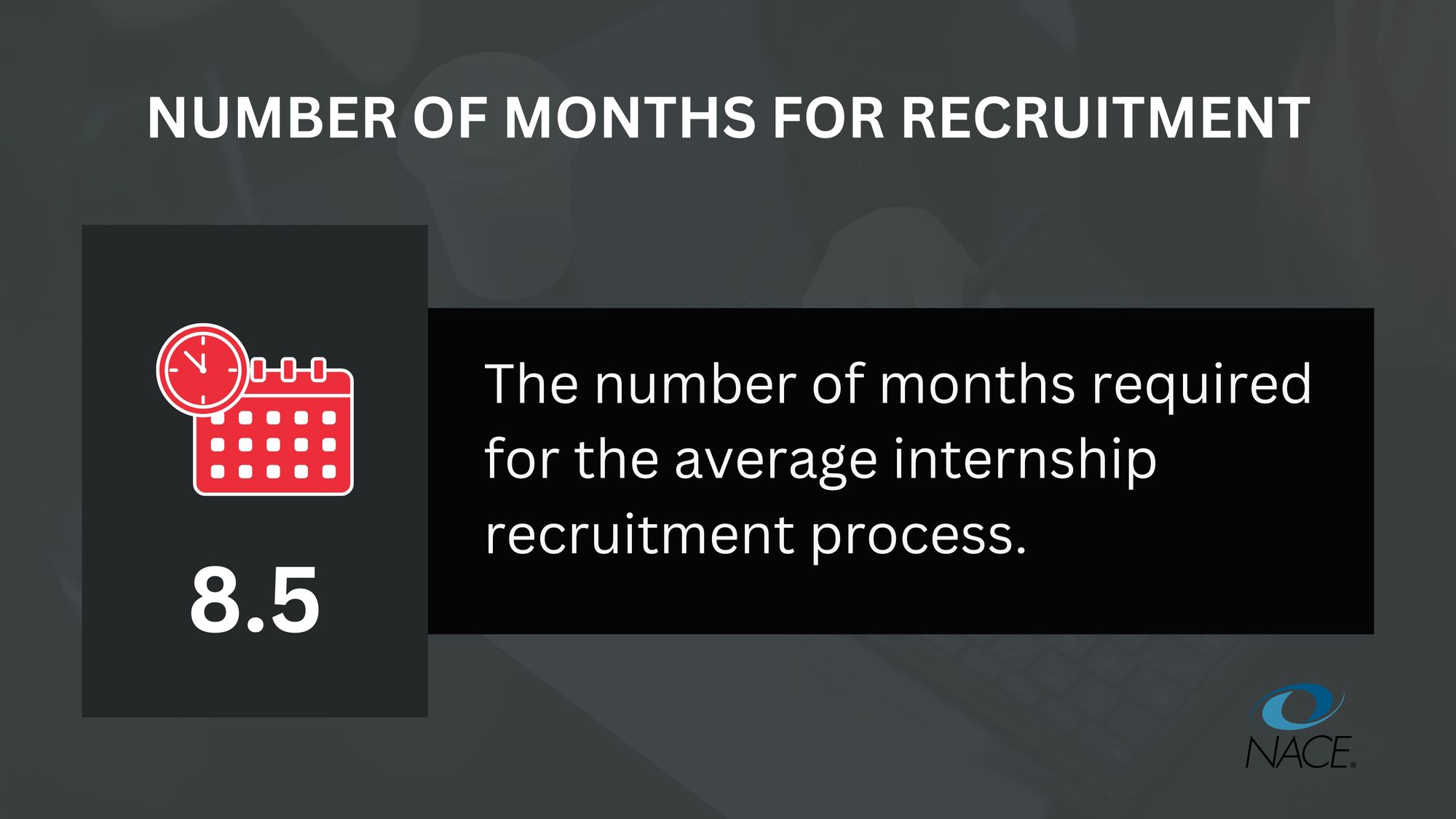 Hard to Stand Out in Open Applications
NACE also reports that open applications are the most common way to source potential interns.
With companies receiving so many applications, making an impression through open applications alone can be difficult.
For example, in April 2022, Goldman Sachs reported that 236,000 people applied for internships globally at the bank, including 79,000 in the Americas, according to CNBC.
The number of college students applying to internships at Goldman increased by about 16% from 2021 to 2022 (setting a new record).
The internship acceptance rate is just 1.5%.
Difficult to Know Where to Start
When it comes to getting an internship, knowing where to begin can be a challenge. The NACE report cites that for 59.4% who didn't take an internship, not knowing how to find an internship was the main reason for not taking one.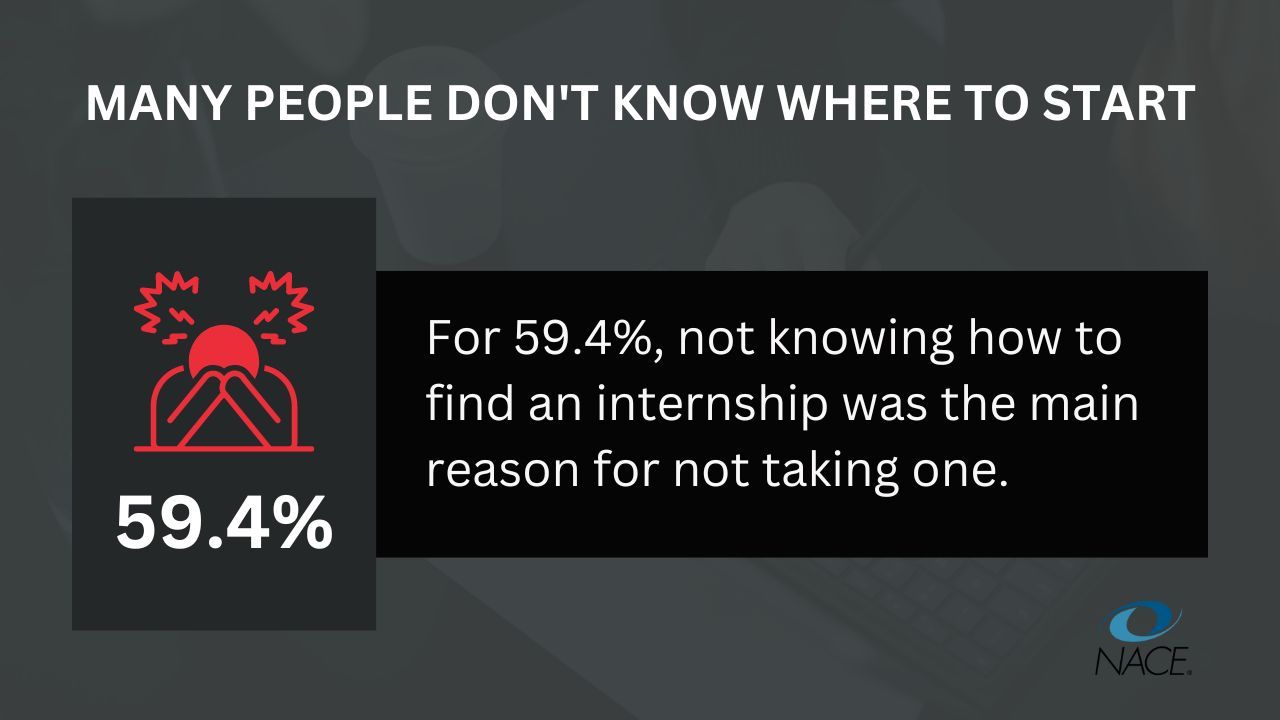 Too Many Job & Internship Boards
There are too many internship listing platforms that are easy to find.
It's hard to tell which ones are best and which ones are legitimate.
If you start sending out your resume to every internship opening on every platform, you probably aren't being intentional or tailored enough to catch the attention of decision-makers.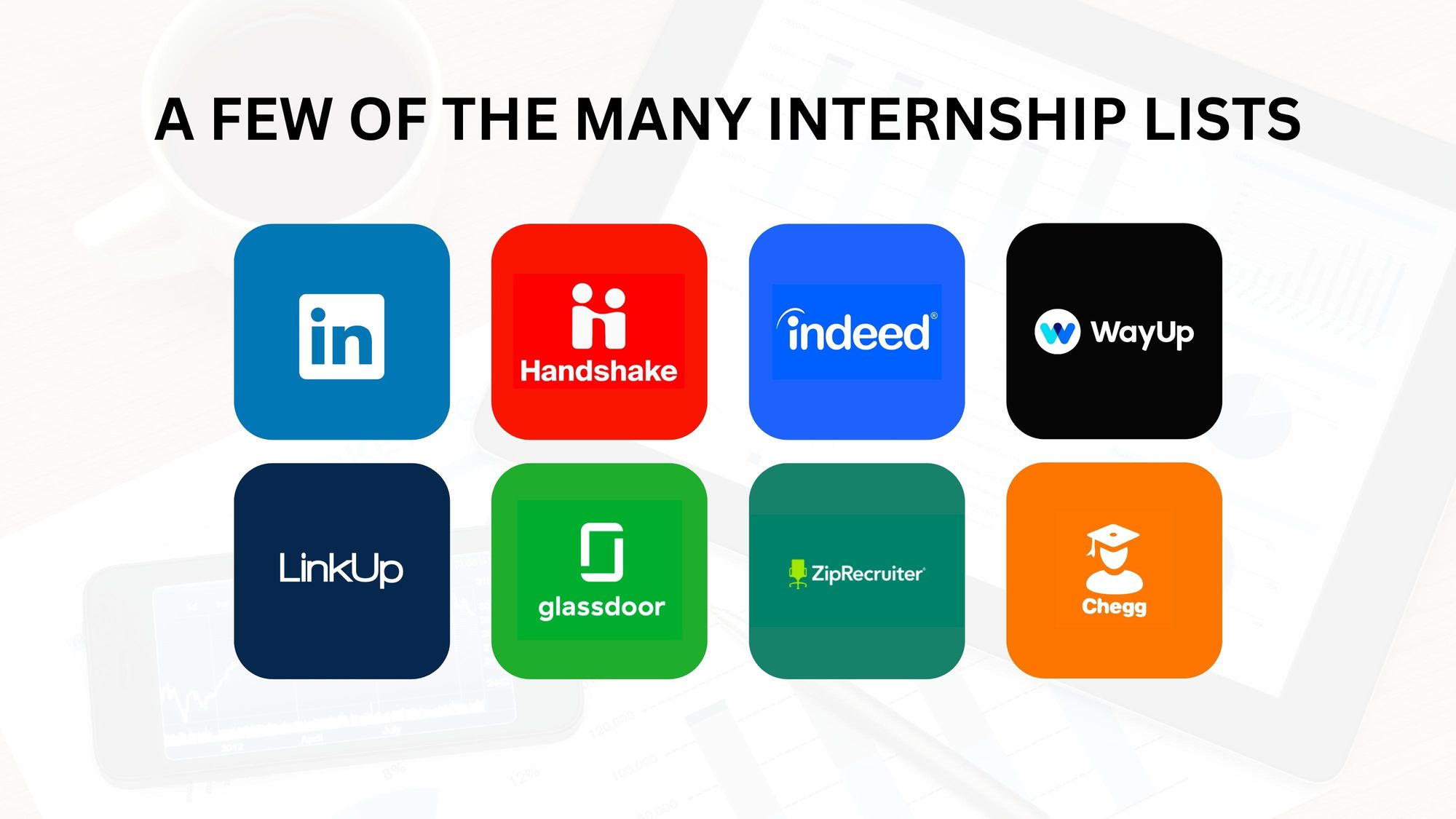 Not Knowing How to Properly Research & Contact Companies
Understanding companies and their cultures are essential if you want to get an internship.
Often, students have not learned best practices for cold emailing, networking, or getting the right introductions.
Learning basic business etiquette, how to be more professional, and the fundamentals of due diligence can save a lot of time and effort across the internship recruitment process.
For example, many students don't know that it's important to thank the people that provide them recommendations, make introductions, or interview with them throughout the internship recruitment process.
Oddly enough, in this digital age, taking the time to write and send hand-written thank-you notes can go a long way.
Overall: Too Much Noise About the Internship Process
Googling "How to Get an Internship" and reading blog posts isn't going to get it done - and that's saying something, considering this is a blog post.
The process of getting an internship is about so much more than improving a resume, practicing for interviews, and filling out applications.
It's an opportunity to reflect on your passions, to truly think about your strengths and weaknesses, and gain many new skills that you won't learn in class.
That's Why We Created the Internship Hub
Our goal is to reduce the time and energy you are spending across the process of getting an internship.
Our mission is to help you ultimately find and secure your ideal internship.
In order to do this, we created The Internship Hub - a tactical hub of information on how to get an internship.
Here's a sneak peek of what you can expect:
✅ Real examples of company research
✅ Guides for how to create the best possible resume
✅ Materials for interview prep
✅ Lists of places to find high-quality internships
✅ Tools for tracking internship timelines
✅ Step-by-step instructions for how to optimize LinkedIn
✅ Vetted mentorship contacts
And much more ✨
---
🚀 Shipping January 2023! JOIN THE WAITLIST 👇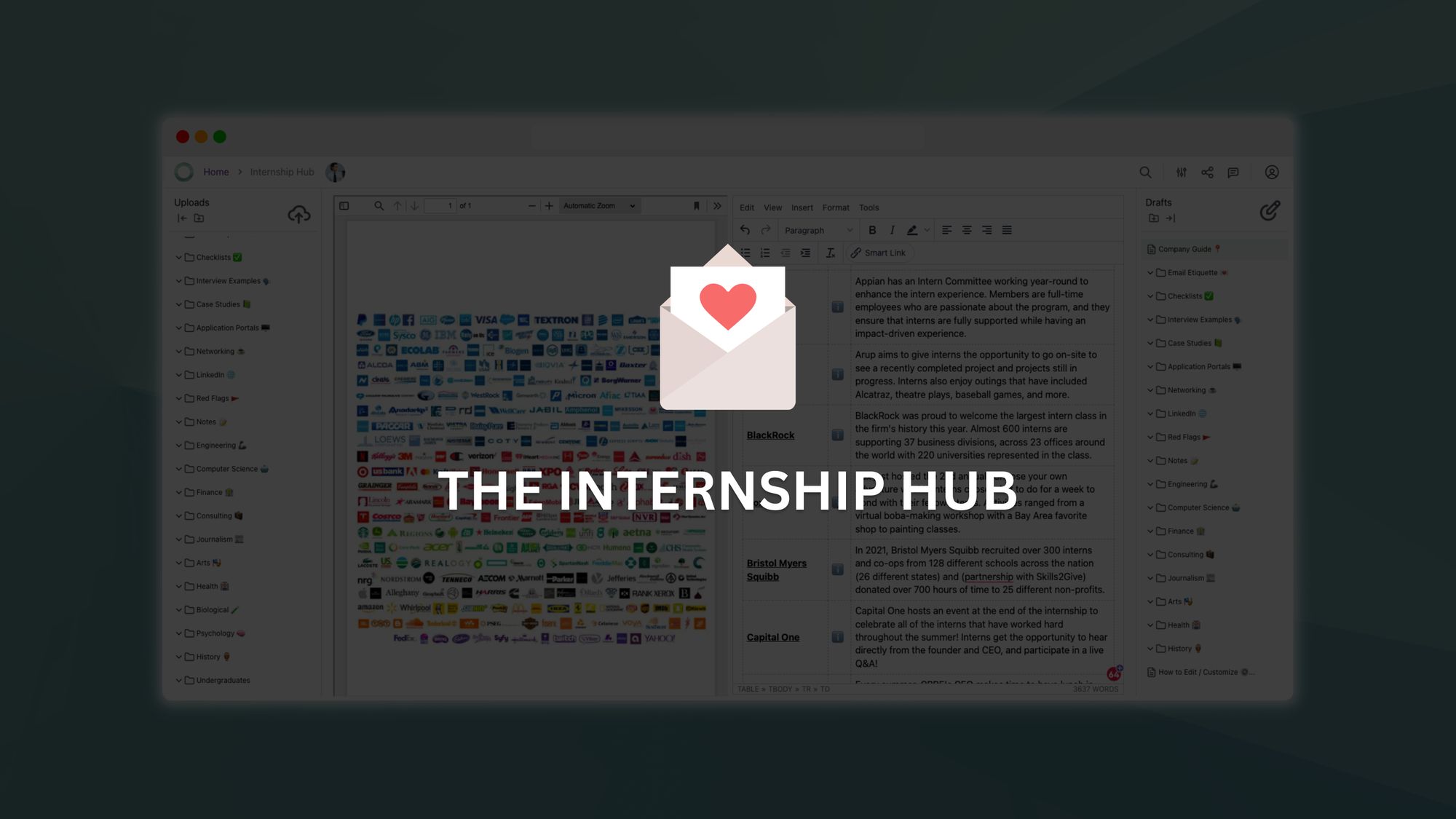 The Internship Hub: a Blueprint for How to Get an Internship
You get a proven blueprint and tactical advice on how to get an internship at Fortune 500 companies and top startups: straight from the people that got them.
JOIN THE WAITLIST
🔄
Note:
The hub is being built with
Kahana
and is designed to be a living, breathing repository of files, notes, videos, and internal links that will be optimized and refreshed continuously. After you get access, your feedback is encouraged and will be helpful to improve on a regularly ✌️