Topics covered ✅
Local SEO optimization
B2B SEO
Relevance in SEO
SEO Authority
Often when we talk about search engine optimization, we talk about it in general terms but there are actually a number of different key SEO strategies that all present their own benefits and difficulties.
The two main strategies we are going to take a look at in this article are B2B SEO and Local SEO. Depending on the kind of audience you want to attract and the content that you make, it may be necessary to optimize all of your content through one strategy or you can opt for a more complex strategy that makes the best of each strategy for different content.
You may also want to consider various audience research tools to better understand search volume and competitive density for your content.
1. What Is Local SEO?
Local SEO, as the name suggests, is the type of optimization that you might want to make if you're looking to rank highly in local or location-specific searches.
These are the types of searches that you might carry out when looking for a coffee shop near you or if you want to find specific information about a store, like their opening hours.
These types of searches are great for your site if you have services that are tied to a specific location.
Local SEO began in the early 2000s just as location data in people's search results became possible.
This was part of the fundamental shift in search that allowed each user to receive personalized results.
The idea that identical searches for different users can return completely different results might, at first, seem strange but in many cases is necessary and even desirable.
When searching for "book store near me" it is certainly a good thing that a user in Los Angeles receives different results than one in New York.
As smartphones arrived in the late 2000s, local SEO brought the ability to search for a business while you are out in public, and search results would provide relevant and up-to-date information easily.
This was also a huge change for those businesses featured in those searches also.
When you're in a city that you are unfamiliar with, we so often now outsource recommendations to our search engines, so just imagine how valuable it can be to appear at the top of those searches.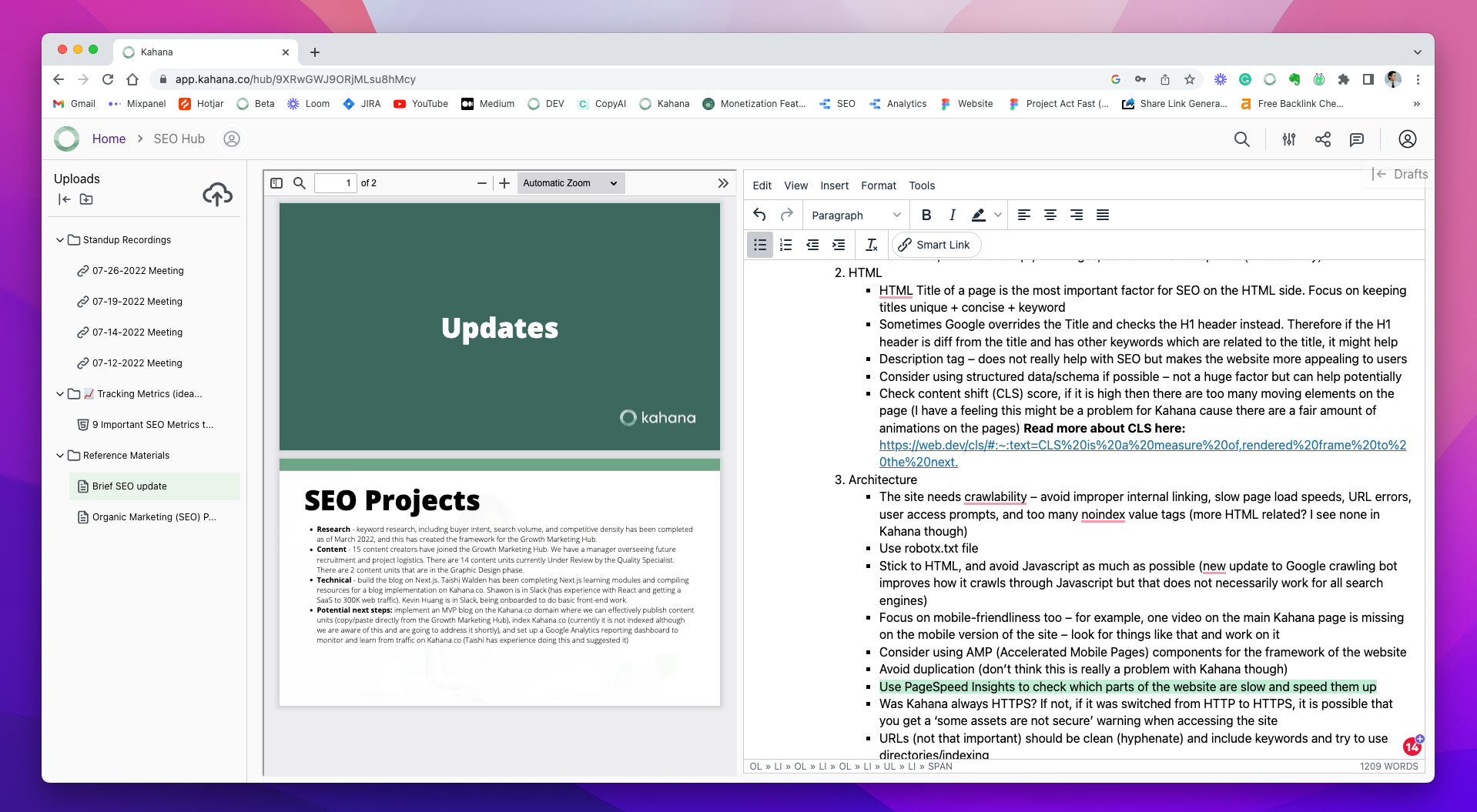 Claim Free SEO Template
This hub template is ready-made and pre-populated with materials to help you improve search engine optimization (SEO).
Gimme My Free Template
2. Why Local Search Is Important
The main reason why local SEO is such a powerful strategy is that you have the chance of capturing a highly valuable demographic that has shown a form of intent on purchasing.
The very nature of these searches tells us a great deal about the intent of the customer's intent when they carry out the search.
If you're downtown in your city and you search for "Pizza near me", even without a crystal ball, I think I can predict what you will be eating for lunch.
This is great news for a local restaurant if they can rank highly in that search because it means that they don't have to spend time trying to convince you that you want pizza, they just have to make you aware of my business and provide you with all the information you need.
The great thing about local search also, is that not only has the potential customer shown intent by carrying out these types of searches but because they are local, there is less of a barrier to them being able to follow through, and this is backed up by the numbers too.
According to this article on understanding consumers' local search behavior by Think with Google:
50 percent of people who carried out a local search on their phone, visited the location within 24 hours.
34 percent who searched on their computer or tablet did the same.
18 percent of local mobile searches lead to a sale within 24 hours.
These kinds of conversion rates are so valuable to a business.
When looking to close a sale, all businesses want to do is make that multichannel experience as easy and frictionless as possible, and what better way of doing that than capturing local people that have shown a desire for the service you have?
It's not difficult to see why businesses that rank highly see the value in local search but local SEO is also a benefit to the person carrying out the search since they are shown higher quality results that are attainable.
3. What is B2B SEO?
Business-to-business SEO is a different form of optimization that sets an extremely precise goal for potential customers.
The idea of B2B is to target key decision-makers at businesses that are likely to buy your service.
These decision-makers are low-volume but high-value customers because these potential customers are often acting on behalf of a business.
They carry out a lot of keyword research and so a compelling piece of content can be essential here and a powerful way of driving connection with those decision-makers by creating valuable content for them.
More complex sales funnels due to this type of considered and deliberative customers mean that B2B SEO is a time investment and requires building connections and credibility and can take 6 to 12 months to see results from these optimizations.
The key to building those relationships with this type of customer can be is in three parts. You need to provide value for them and be a credible source and an authority.
Providing value creates brand awareness and affinity over time, making you stand out against your competitors when it comes to them making a purchase.
Thought leadership also lends credibility to your business too.
Having earned the respect of your peers, the buyer knows that they can be confident in making a purchase on behalf of their business because you are a highly credible source.
Finally, authority acts as a proxy measurement of the quality of service you can provide.
4. Why B2B SEO Is Important
So, if B2B is purposefully a low-volume tactic, then why is it important?
Isn't SEO about increasing traffic?
The reason that B2B SEO is important is the quality of traffic that is driven.
When targeting a specific group, you end up with a small group of visitors who are much more likely to be translated into sales.
This could be hundreds or even tens of visitors per month but if you can capture these and turn them into sales then this tactic can be worth it.
And the reason that SEO is such a powerful tool is that, as that one report claims, 89% of B2B decision-makers research their purchases online, and so by not engaging in an effective SEO strategy, you are missing out on a key and valuable demographic.
Thought leadership plays a crucial role in B2B SEO since it will often take many searches and lots of research in order for them to make a purchase.
It is thought that around 96% of B2B buyers look for content backed by thought leaders so you can see the power of creating thought leadership is a powerful driver of B2B SEO.
The Bottom Line
There is no binary choice between a local SEO and a B2B SEO strategy for your content, in fact, it's quite the opposite.
By understanding the benefits of each you can tailor your strategy to include the best of both in a mix that works best for you.
Thought leadership is one of the most powerful forms of content that you can aspire to create.
The value created for customers and the respect for the creator in return make mean that in the best cases, everybody wins.