If you're looking to build and monetize a community of people online, there are a plethora of platforms out there to choose from. Two popular options that come up in discussions are Kahana and Circle.
While both platforms have elements of community building and monetization, they have different approaches and features that set them apart. In this blog post, we'll dive into the similarities and differences between Kahana and Circle.
How does Circle work?
Circle is a platform for creating online communities. Here's a quick rundown of how it works:
Set up your community: After signing up for an account on Circle, you can start creating your online community. You can customize your community's branding, and create discussion forums, member directories, and more.
Invite members: Once you've set up your community, you can invite people to join it. You can use email invitations, social media, or other methods to get people to join.
Engage with members: Once members have joined, you can use Circle's features to interact with them. You can post content, start discussions, and create events. Members can also interact with each other, creating a vibrant and engaging community.
Monetize your community: Circle offers several ways to monetize your community, including membership subscriptions, sponsorships, and paid content. You can use these features to generate revenue from your community.
Analyze and optimize: Circle provides analytics and reporting tools to help you understand how your community is performing. You can use this information to optimize your community and make improvements that increase engagement and revenue.
How does Kahana work?
Here's a brief overview of how it works:
Sign up for a free account: To get started, simply create a Kahana account at no cost. Once you've registered, you can begin creating monetized hubs.
Organize your content: You can either curate your existing content or generate new content directly on Kahana hubs. You can add a variety of media formats to your hub, including text, images, videos, and more.
Configure payment processing: Kahana uses Stripe to set up payment processing, allowing you to accept credit card payments from your subscribers.
Monetize your content: The main way to monetize your content on Kahana is by charging for access to your hubs. You can curate a hub, which is a collection of content that you can set a price on. You can offer one-time or recurring payment plans.
Collaborate with other creators: Kahana is a collaborative platform, so you can team up with other creators to create a hub, share content, and split revenue.
Manage your subscribers: Kahana provides a range of features to manage your subscribers, such as monitoring growth, viewing details, and managing payments.
For example, here's a hub created by Olivia Mancuso!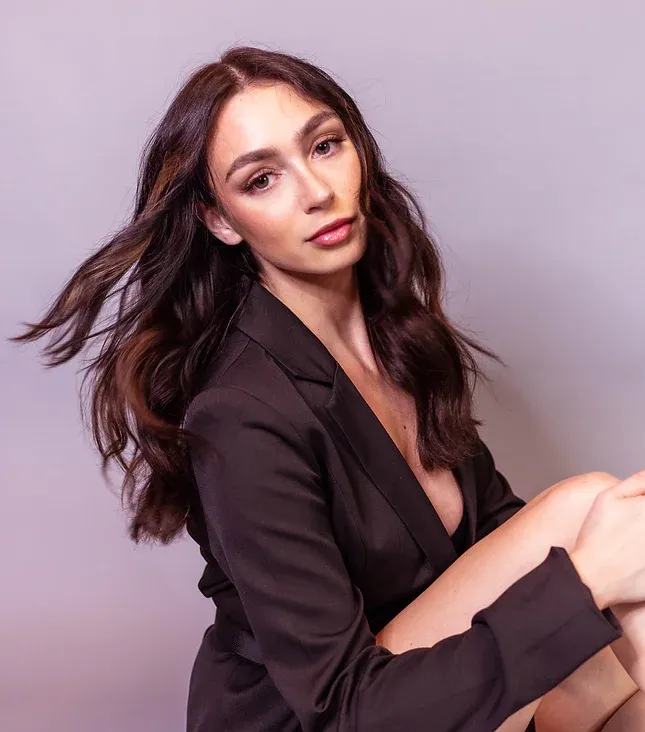 Olivia Mancuso: Manifesting Anything ($67)
This hub is for those who are dipping their toes into manifesting but don't want to spend thousands of dollars on a program or retreat to start their journey.
Check out Olivia Mancuso's Hub for Manifesting Anything
What are the differences between Kahana and Circle?
Starting with the goals, Kahana and Circle have slightly different focuses.
Community
Circle is hyper-focused on community management and nurturing and provides a robust solution around monetizing a community of people. This includes features such as building a website with a custom domain, hosting events, private messaging, and more, all centered around a community.
Kahana also has community-building elements, such as chat threads and the ability to manage subscribers, but it is more focused on quickly creating a digital product by curating content and information from various sources and turning it into a repository of knowledge that people can access. This can be hosted on platforms like Discord and allows you to build a community around your expertise.
✨
Kahana can actually act as a catalyst for a community to either start or rally around. You can start a hub for free, invite admins, editors, and commenters, and allow for that collaboration to attract others to your cause.
For example, Josh Slavin recently created a hub with Kahana and launched it on Product Hunt.
Costs
Another key difference is that Circle is pay-to-play, whereas Kahana is free. So even though Circle has a free trial, you eventually have to pay at least $49 a month, whereas Kahana allows you to monetize for free and only generates revenue when you do.
Security
Another huge difference is security. With Circle, while you can provide content and resources that your community can access, once they cancel their subscription if they download something or have access to a link, there is no way for you to prevent them from having access to it going forward.
On the other hand, with Kahana, everything is hosted in the Kahana platform and they can only engage with it and interact with it through there. So once their membership or subscription is canceled, they no longer have access to that content and you can prevent them from downloading or copy-pasting any of the information that is in the Kahana hub.
Monetization
Kahana is primarily focused on enabling creators to monetize their content through a variety of payment models, including one-time or recurring payments. Circle, on the other hand, provides monetization features such as membership subscriptions, sponsorships, and paid content.
Content Management
Kahana is a platform for managing and organizing digital content, while Circle is designed to facilitate discussion and collaboration within online communities. Kahana provides features for organizing content such as text, images, and videos, while Circle.so provides features such as discussion forums, member directories, and events.
Collaboration
Both Kahana and Circle are designed to facilitate collaboration between users, but the nature of the collaboration differs. Kahana is focused on enabling creators to work with other creators to curate and monetize content, while Circle is geared towards building and managing online communities, which require collaboration between members to grow and thrive.
Interface
The user interface and design of Kahana and Circle.so are different, with each platform offering a unique set of features and tools tailored to their specific purpose.
Getting featured
Kahana's Featured Hubs page showcases a curated selection of exceptional hubs created on the Kahana platform. Its purpose is to showcase the quality and diversity of content that can be produced with Kahana, as well as to help users discover new and interesting hubs to explore.
The Featured Hubs page includes hubs covering a wide range of topics, from business and marketing to health and wellness, and beyond. Users can browse through the collection, preview the content, and subscribe to the hubs that catch their attention. Creators are also welcome to suggest their own hubs for consideration to be featured on the page.
Pricing
Kahana Pricing
Signing up for Kahana is completely free, and there are no upfront fees or payment details required, even for the free plan. However, if you earn money through monetized hubs, Kahana will deduct a 5% commission from your earnings (excluding Stripe fees).
Kahana's free tier is intended to help users get started with the platform. With this tier, you can create up to two hubs and invite an unlimited number of collaborators. You can also set up payment processing to monetize your content. However, the free tier has certain limitations, including storage restrictions. If you require more advanced features, unlimited hubs, or higher limits, you can upgrade to one of Kahana's paid plans.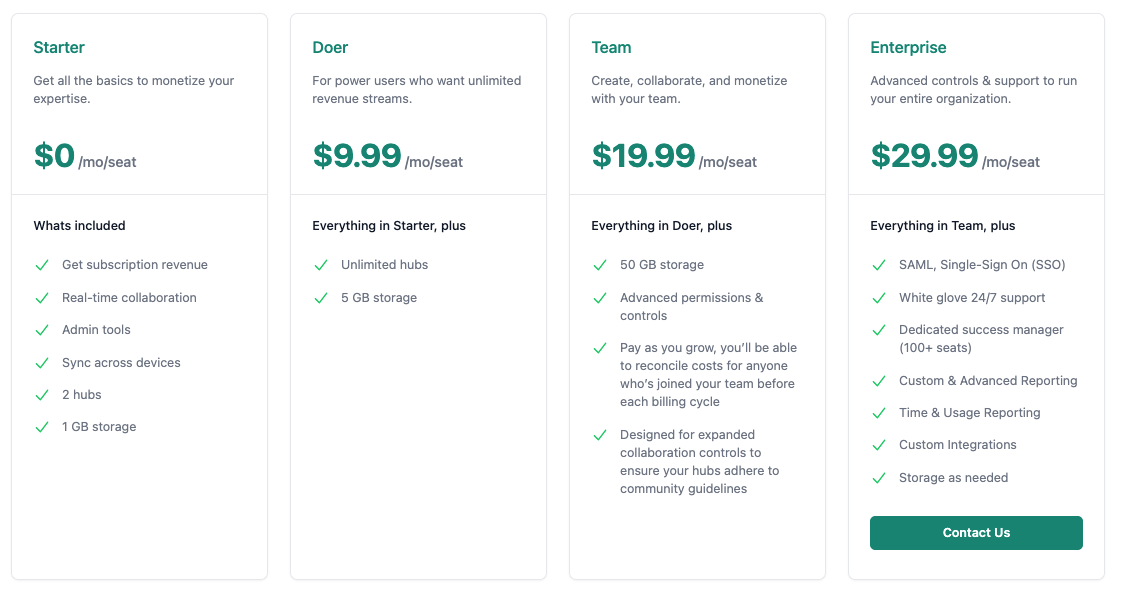 Circle Pricing
Circle offers a few different pricing options depending on the needs of the user.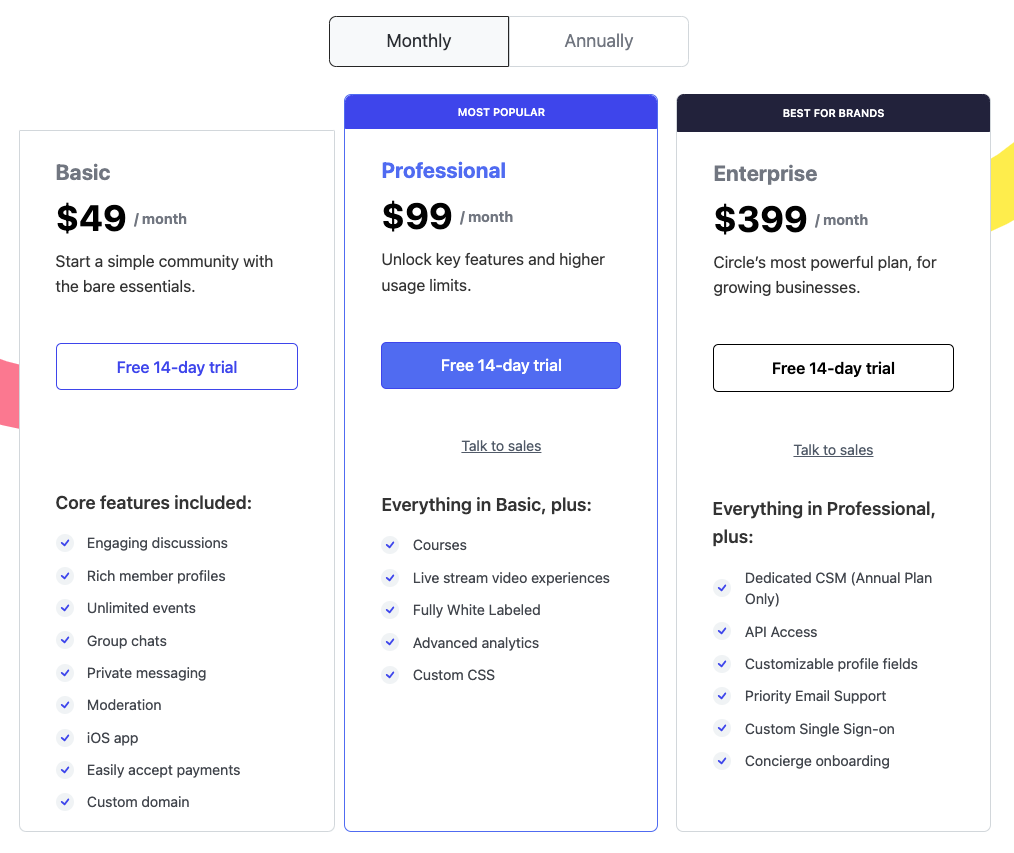 Sign up for FREE
You can use Kahana for free without any charges, even if you choose to stay on the free plan and don't have any subscribers for your hub.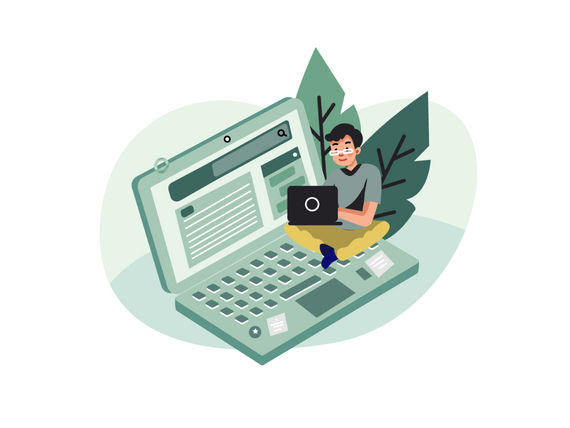 Grab your FREE Kahana account
Join +2000 creators and experts using Kahana to collaborate, co-create, and engage their communities. Kahana is free forever - not a free trial... just free.
Sign Up Now
Meet like-minded creators and experts
To get started, we suggest joining our Creators 'n Experts Community. By signing up, you can access a range of valuable resources and events, such as live webinars, interactive sessions, open office hours, a private Discord channel, and frequent networking opportunities - all at no cost.
💎
You will receive a unique gem for each milestone you achieve!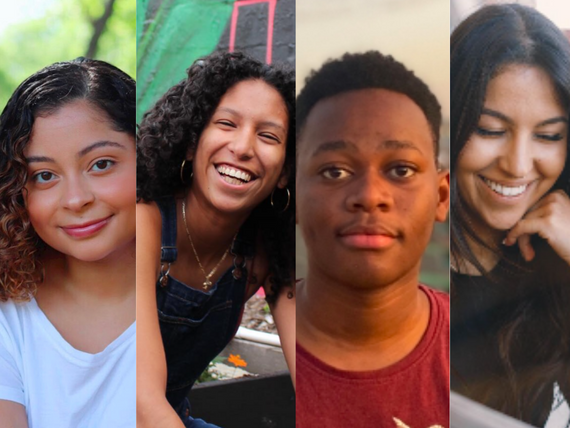 Join the Creators 'n Experts Community
Join a hodge-podge of other no-nonsense creators and experts turning passion, expertise, and life's work into income streams. What makes this community different? Who knows. We just care about making progress and helping each other go off 📈
Bring me to my people
Quick answers
In case you are unable to locate the answer you require or if the details seem outdated, please notify us so that we can provide better assistance.
🐦 Tweet us directly @KahanaHQ (fastest!)
💬 Leave a comment below
🗣️ Visit our Help Center & start a live chat