Are you looking for a platform to create and sell digital products? With so many options out there, it can be tough to know where to start. Two popular choices are Kahana and Kajabi, but which one is right for you?
In this blog post, we'll explore the key differences between Kahana and Kajabi, including pricing, collaboration, speed and simplicity, dynamic vs. static content, and recurring subscription revenue.
By the end of this post, you'll have a better understanding of which platform may be the best fit for your needs. Let's get started!
What are the differences between Kahana and Teachable?
Price
First, the price - Kahana is completely free to use and you only pay a transaction fee when someone purchases access to your hub, while Kajabi starts at $119 a month, which can be a significant barrier for new creators.
Collaboration
Another difference is collaboration - Kahana allows you to build hubs and digital products with others, while Kajabi does not.
Payback period
Additionally, Kahana is focused on speed and simplicity, allowing you to quickly turn existing content into a digital product and charge for access, while Kajabi has a longer payback period and requires more set-up time, including building a website and setting up analytics and email.
Flexibility
Kahana is also more dynamic, allowing for easy updates and generating recurring subscription revenue, while Kajabi is more static and primarily focused on one-time payments for courses.
How does Kajabi work?
Kajabi is an all-in-one platform designed for creating and selling digital products, including online courses, membership sites, and digital downloads. The platform offers a wide range of features and tools to help users build, market, and sell their products.
To get started with Kajabi, users first need to sign up for an account and choose a pricing plan. From there, they can use Kajabi's visual editor to create and customize their digital products, including course content, landing pages, and checkout pages.
Kajabi also offers a variety of marketing and sales tools to help users promote and sell their products. These include email marketing, affiliate marketing, and customizable sales funnels.
In addition to its sales and marketing features, Kajabi includes a suite of analytics tools to help users track the performance of their products and marketing campaigns. Users can also leverage Kajabi's built-in community and engagement features to connect with their audience and foster a sense of community around their products.
Overall, Kajabi is a powerful platform that offers a comprehensive suite of tools for creating and selling digital products.
How does Kahana work?
Kahana is a user-friendly platform that enables creators to easily monetize their digital content. Here's a quick rundown of how it works:
Create a Kahana account: The first step is to create an account on the platform, which is free of charge. Once you have an account, you can start creating monetized hubs right away.
Organize your content: You can either curate existing content or create new content directly on Kahana hubs. You can add various types of media such as text, images, videos, and more to your hub.
Set up payment processing: Stripe is used to set up payment processing on Kahana, allowing you to accept credit card payments from your subscribers.
Monetize your content: The primary way to monetize your content on Kahana is by charging for access to your hubs. You can create a hub, which is a collection of content that you can curate and set a price on. You can offer one-time payment or recurring payment plans.
Collaborate with others: Kahana is designed to be a collaborative platform, so you can work with other creators to create a hub, share content, and split revenue.
Manage your subscribers: Kahana provides various features to manage your subscribers, including tracking growth, viewing details, and managing payments.
For example, here's a hub created by Olivia Mancuso!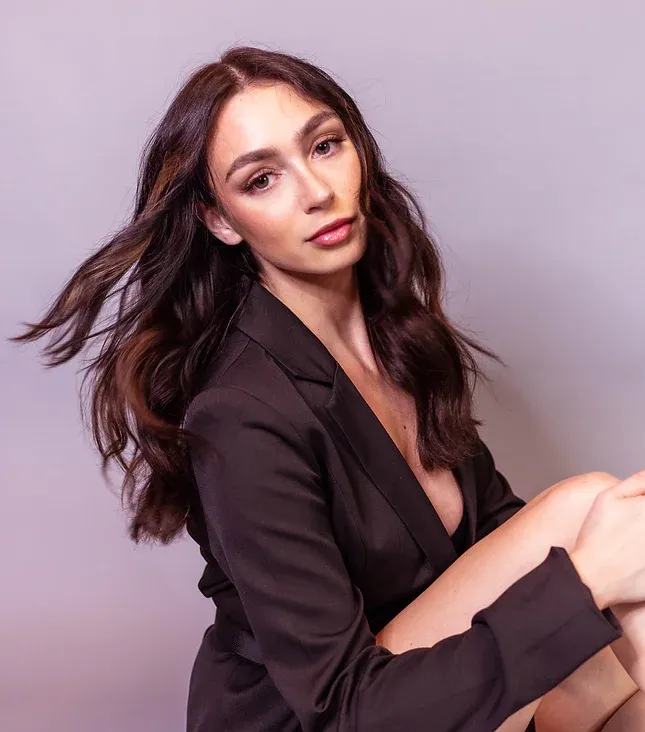 Olivia Mancuso: Manifesting Anything ($67)
This hub is for those who are dipping their toes into manifesting but don't want to spend thousands of dollars on a program or retreat to start their journey.
Check out Olivia Mancuso's Hub for Manifesting Anything
Why do people choose Kahana over Kajabi?
People choose Kahana over Kajabi for several reasons. Firstly, Kahana is completely free to use, whereas Kajabi comes with a hefty monthly fee. This makes it much more accessible to creators who may not have the budget to invest in a platform like Kajabi right away.
Another reason people choose Kahana is its focus on collaboration. Kahana is designed to be a collaborative platform, allowing creators to build hubs and digital products together. This can be a major advantage for creators who want to work with others to create high-quality content.
Kahana also offers a simpler and faster way to create digital products. It allows you to quickly pull in existing content and information and turn it into a collection that you can charge for access to. Kajabi, on the other hand, requires more time and effort to set up and create a full-fledged course.
Kahana's dynamic platform also makes it easy to add and remove content and make updates, which is important for keeping digital products relevant and up-to-date. Additionally, Kahana allows creators to generate recurring subscription revenue, whereas Kajabi is primarily focused on one-time payments.
Overall, Kahana's accessibility, collaboration features, speed and simplicity, dynamic platform, and subscription revenue options make it an attractive choice for many creators.
Kahana vs. Kajabi pricing plans
Finally, let's talk about the numbers. While both Kahana and Kajabi are useful platforms, Kahana comes with a significantly lower price tag.
Kajabi Pricing
Yes, Kajabi offers three main pricing plans for its platform:
Basic Plan: This plan costs $119 per month when billed annually, or $149 per month when billed monthly. It includes features such as unlimited landing pages, marketing emails, and 3 products, as well as up to three 3 and 1 admin users.
Growth Plan: This plan costs $159 per month when billed annually, or $199 per month when billed monthly. It includes all the features of the Basic Plan, as well as additional features such as up to 15 funnels, 25,000 contacts, and 10 admin users.
Pro Plan: This plan costs $319 per month when billed annually, or $399 per month when billed monthly. It includes all the features of the Growth Plan, as well as additional features such as up to 100 funnels, 25 admin users, and advanced automation.
Kajabi offers a 14-day free trial for each plan.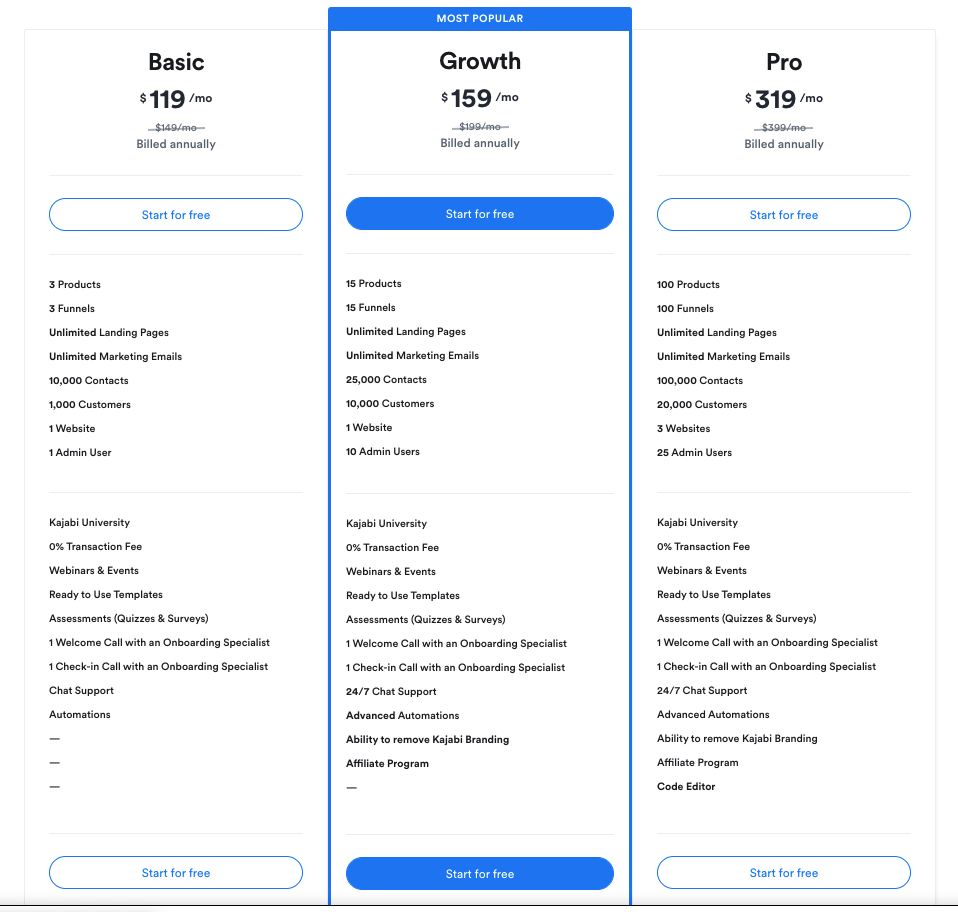 Kahana Pricing
Joining Kahana is completely free, and you won't be required to pay any fees upfront or provide any credit card or payment details, even if you choose the free plan. However, it's worth noting that if you earn money through monetized hubs, Kahana will take a 5% commission from your earnings (excluding Stripe fees).
Kahana's free tier is designed to help users get started with the platform. With this tier, you can create up to two hubs and invite an unlimited number of collaborators. You'll also be able to set up payment processing to monetize your content.
However, the free tier comes with certain limitations, such as storage restrictions. If you need more advanced features, unlimited hubs, or higher limits, you can upgrade to one of Kahana's paid plans.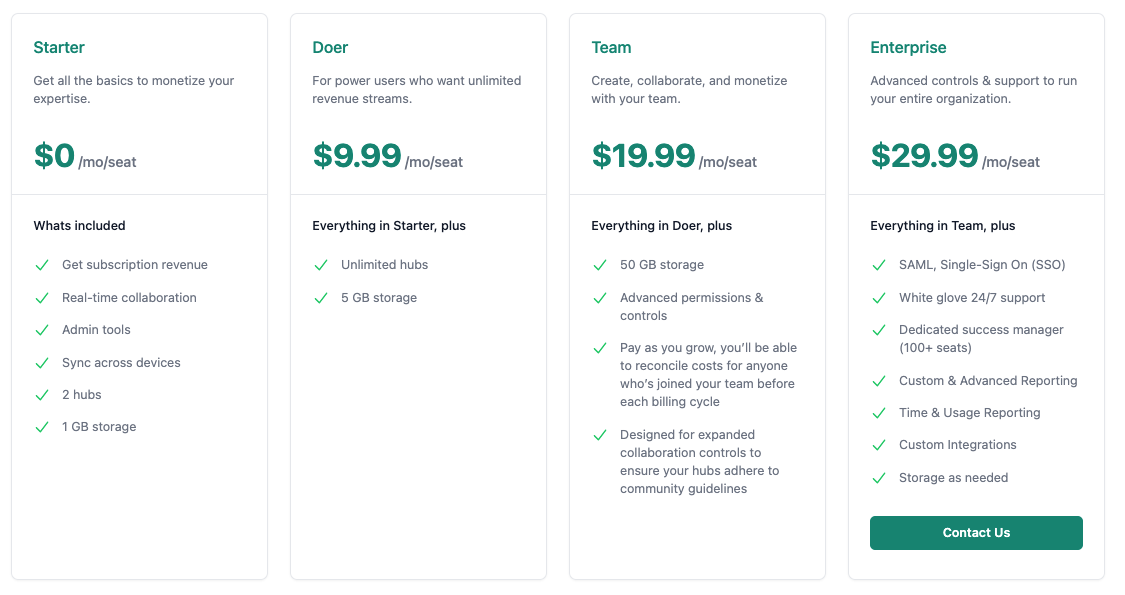 Sign up for FREE
You can use Kahana for free forever, without incurring any charges, even if you decide to remain on the free plan and do not acquire any subscribers for your hub.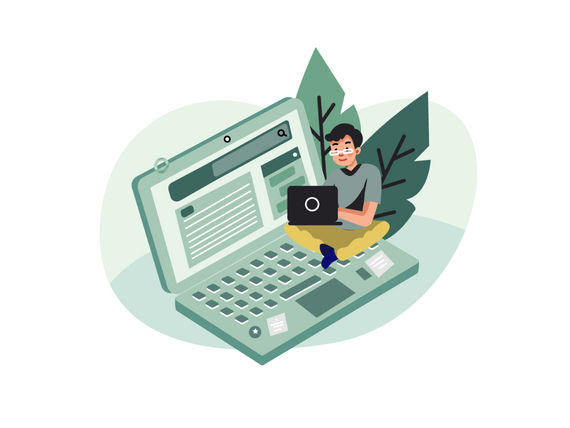 Grab your FREE Kahana account
Join +2000 creators and experts using Kahana to collaborate, co-create, and engage their communities. Kahana is free forever - not a free trial... just free.
Sign Up Now
Kahana Featured Hubs page
Kahana's Featured Hubs page is a carefully selected assortment of exceptional hubs developed on the Kahana platform. The page is intended to highlight the caliber and variety of content that can be produced using Kahana, as well as to assist users in discovering new and engaging hubs to explore.
The Featured Hubs page encompasses hubs on an extensive array of subjects, ranging from business and marketing to health and wellness, and beyond. Users can explore the assortment, preview the content, and subscribe to the hubs that capture their interest. Creators can also propose their own hubs to be considered for inclusion on the page.
Meet like-minded creators and experts
We recommend joining our Creators 'n Experts Community as a starting point. By registering, you can avail yourself of numerous valuable resources and events, including live webinars, interactive sessions, open office hours, a private Discord channel, and regular networking opportunities - all of which are completely free.
💎
You will receive a unique gem for each milestone you achieve!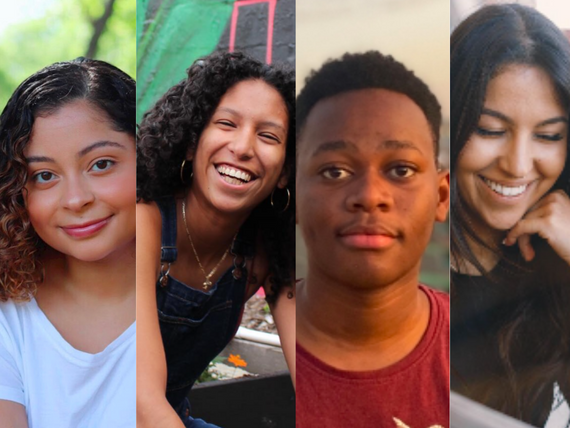 Join the Creators 'n Experts Community
Join a hodge-podge of other no-nonsense creators and experts turning passion, expertise, and life's work into income streams. What makes this community different? Who knows. We just care about making progress and helping each other go off 📈
Bring me to my people
Quick answers
If you cannot find the answer you're looking for or if the information appears to be outdated, please inform us so we can assist you better.
🐦 Tweet us directly @KahanaHQ (fastest!)
💬 Leave a comment below
🗣️ Visit our Help Center & start a live chat