Are you an expert or creator looking to monetize your knowledge and turn it into a revenue stream? With so many online platforms available, it can be overwhelming to decide which one is the best fit for you.
Two popular options are Kahana and Thinkific, each offering its own unique features and benefits.
In this blog post, we will explore the differences between Kahana and Thinkific to help you make an informed decision.
What is Thinkific?
Thinkific is an online course platform that allows people to sell online courses and other digital products. With Thinkific, users can create and customize their courses using a variety of multimedia tools, host their course on the platform, and market it to potential students using built-in tools or external marketing channels.
Thinkific also provides a range of features to help course creators engage with their students and track their progress, including quizzes, surveys, and progress tracking.
What is Kahana?
Kahana is a platform that enables creators and experts to turn their knowledge and collections of content into revenue. Kahana provides a collaborative space where multiple people can work together to build a hub that can include past courses, ebooks, audio, and many more pieces of content.
The platform is designed to be fast and easy to use, allowing creators to quickly turn their knowledge into a revenue stream without the need for extensive technical knowledge.
Kahana also provides a range of features to help creators track their revenue and interact with their audience, such as built-in analytics, commenting, and its integration with Stripe.
Collaboration
The first significant difference between Kahana and Thinkific is collaboration. Kahana is a collaborative platform that allows you to create hubs of content collections and knowledge that you can sell alongside other creators. You can have unlimited collaborators for free.
Thinkific, however, is more designed for individuals to create courses, and you can have two administrators on the same account, but it costs $199 a month. Kahana offers the support of the Kahana team and growing community, so you are never truly alone.
Flexibility
Kahana is much more oriented around dynamic products, while Thinkific is more centered around static courses. Kahana allows you to build dynamic collections of knowledge that you can easily update over time by curating information, content, and files. Potential subscribers believe it's important you will be updating your hub on a regular basis, while Thinkific is more oriented towards static courses that do not change over time.
Speed
Kahana allows you to quickly turn your knowledge into a revenue stream by quickly collecting existing information and putting it into a hub and charging for access, whereas building a course from scratch takes a much longer time and more hours that ultimately go into it.
Courses take longer to build, and there are more hidden production costs required to create them
Creating an online course requires careful planning and execution to ensure that your course is engaging, informative, and valuable to your target audience. Here are some key elements that typically go into creating an online course:
Define learning objectives: What do you want your students to learn from your course? Clearly define your learning objectives and ensure that your course content aligns with these objectives.
Develop a course outline: Once you have your learning objectives in place, create a course outline that organizes your content into sections and topics.
Create course content: This is the heart of your online course, and includes text, video, audio, and other multimedia elements. Ensure that your content is clear, concise, and engaging, and that it aligns with your learning objectives.
Create assessments and assignments: To help your students retain the information they've learned, you can create quizzes, assignments, and other assessments.
Promote your course: Once your course is ready to launch, you need to market it to your target audience using various channels, such as social media, email marketing, or paid advertising.
Gather feedback and make improvements: Finally, collect feedback from your students to identify areas for improvement, and use this feedback to refine and enhance your course content.
By taking these steps, you can create an effective and engaging online course that helps your students achieve their learning goals.
What's the difference between Kahana and Thinkific?
Here are some key differences between Kahana and Thinkific:
Collaboration: Kahana is designed for collaborative content creation, and allows multiple creators to work together to build and sell digital products. In contrast, Thinkific is more suited for individual course creators.
Dynamic vs. Static content: Kahana allows creators to build dynamic collections of knowledge that can be updated over time, whereas Thinkific is focused on static courses that are not intended to be updated frequently.
Subscription vs. one-time payments: Kahana has more potential for taking advantage of subscription-based monetization, while Thinkific is more focused on one-time payments for courses.
Ease of use: Kahana is designed to be fast and easy to use, allowing creators to quickly turn their knowledge into revenue. Thinkific offers more comprehensive functionality but may require more time and effort to set up and use (e.g. purchasing equipment for filming a course, outlining a course, production costs, etc.).
Overall, both Kahana and Thinkific are powerful tools for turning knowledge into revenue, but they have different strengths and are suited for different types of creators and businesses.
How does Thinkific work?
Thinkific is an online course creation platform that allows experts and creators to create and sell courses to their audience. Here's how it works:
Sign up: Create an account on Thinkific and choose a pricing plan that suits your needs.
Create your course: Use Thinkific's course builder to create your course content, including videos, quizzes, and other materials. You can also customize your course site and add your own branding.
Set your pricing: Choose how much you want to charge for your course, and whether you want to offer it for free, as a one-time payment, or as a subscription.
Publish your course: Once you're ready, publish your course and make it available for purchase on your course site.
Promote your course: Use Thinkific's built-in marketing tools to promote your course and reach your target audience. You can also integrate with third-party marketing tools like Mailchimp and ConvertKit.
Manage your students: Thinkific offers a range of student management tools, including the ability to track student progress, communicate with students, and issue completion certificates.
Get paid: Thinkific handles payment processing for you and pays out your earnings on a regular basis according to your pricing plan.
Overall, Thinkific is designed to be an all-in-one platform that makes it easy for creators to create, sell, and manage online courses.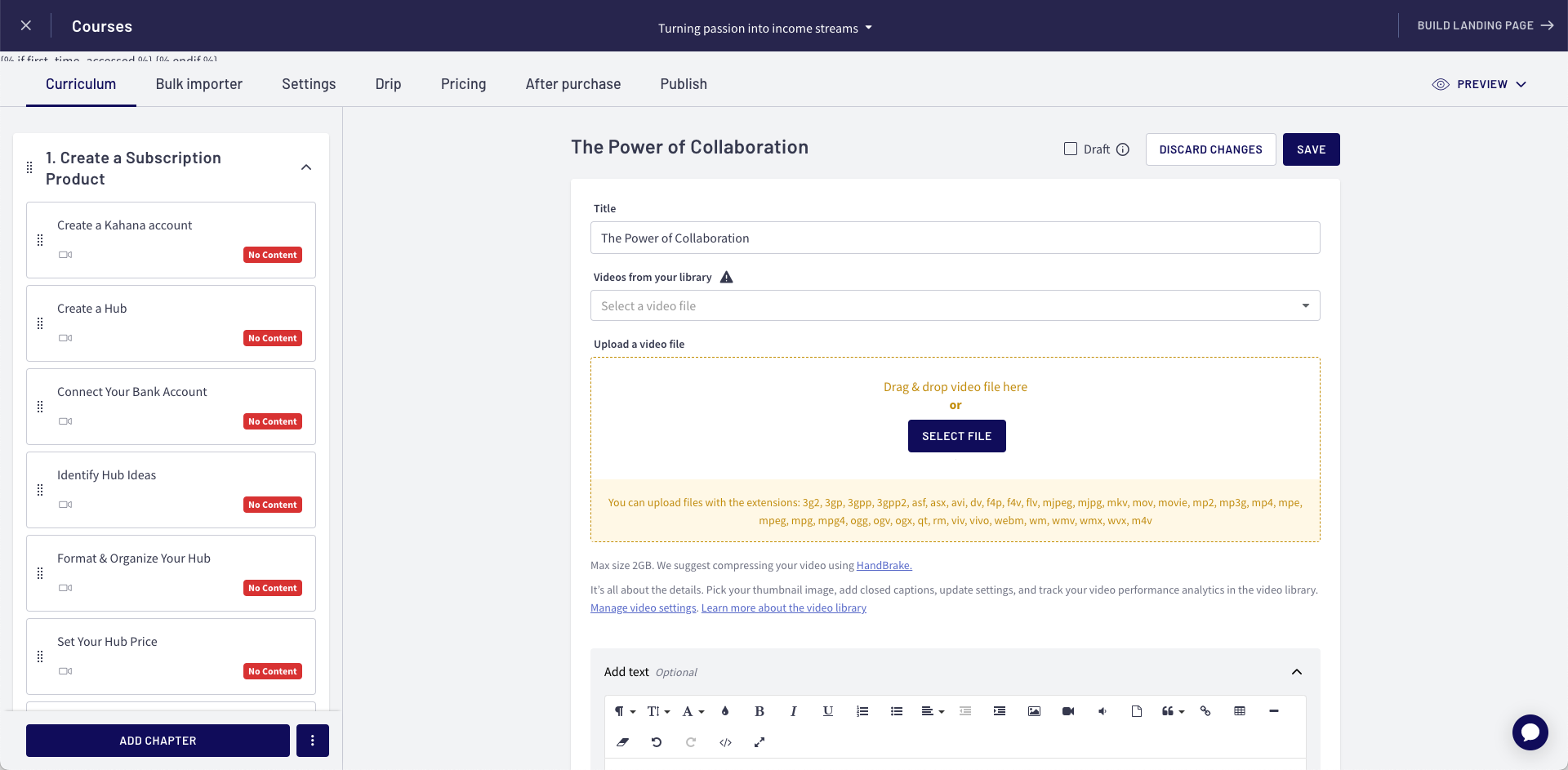 How does Kahana work?
Kahana is a platform that allows creators and experts to turn their knowledge into revenue by creating and monetizing online content hubs. Here's how it works:
Sign up: You can sign up for Kahana for free by creating an account on their website.
Create content hubs: Content hubs are collections of knowledge that you can create and organize on Kahana. You can curate information, documents, videos, podcasts, and other types of content in your hubs.
Customize your hubs: You can customize your hubs by creating folders and notes and formatting the content within them.
Monetize your hubs: You can monetize your hubs by setting a price and allowing users to access your content for a fee. Kahana integrates with Stripe to handle payment processing for you and pays out your earnings on an ongoing basis.
Collaborate with other creators: Kahana allows you to collaborate with other creators and build content hubs together. You can invite other creators to join your hub as viewers, editors, commenters, and admins.
Track your performance: Kahana provides analytics tools that allow you to track your hub's performance, including the number of views, subscribers, revenue, and comments.
Overall, Kahana offers a simple and flexible way for creators to create and monetize their knowledge without having to spend a lot of time and money building a complex course or website.
For example, here's a real hub created by Kelsey Vetter!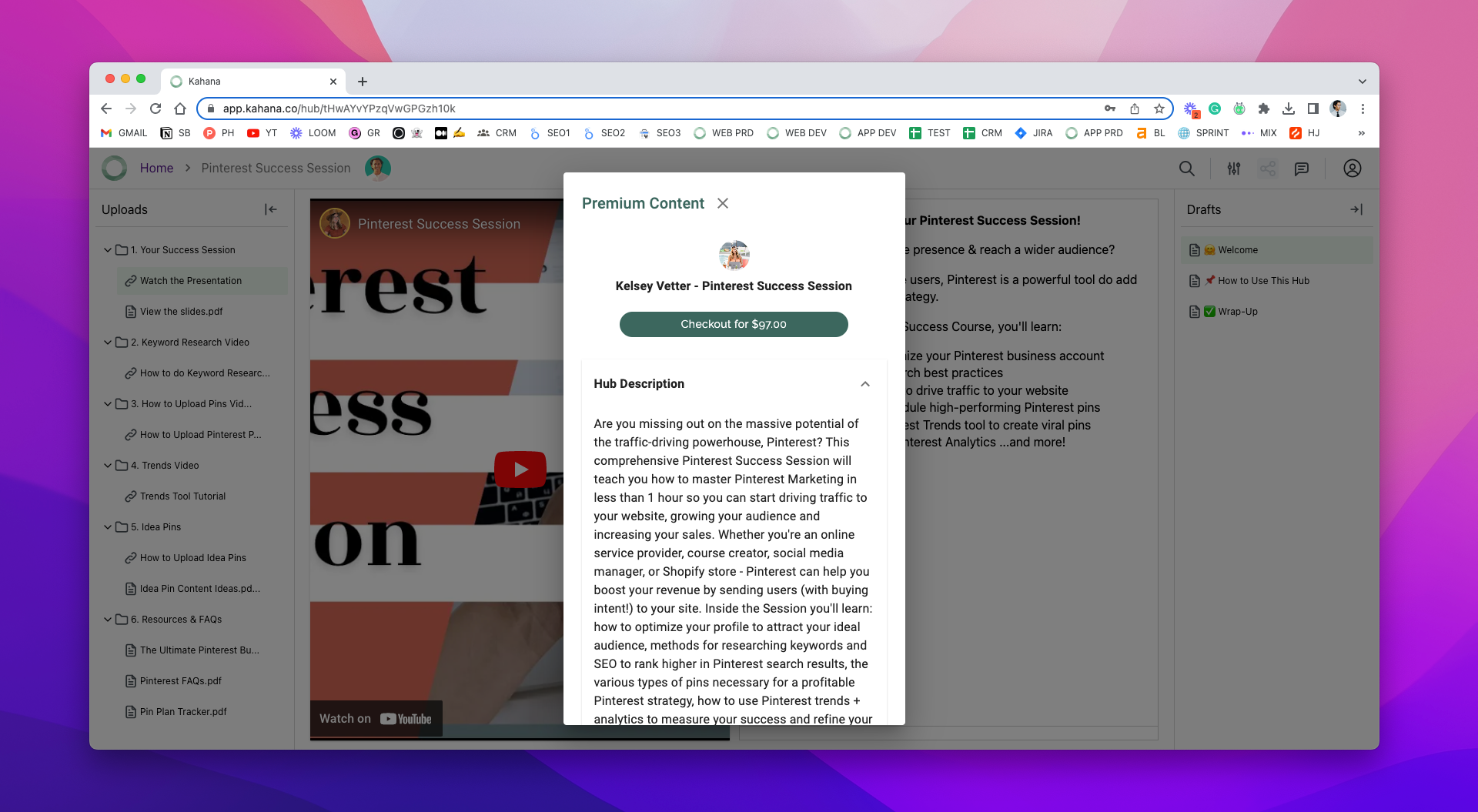 Kelsey Vetter's Pinterest Success Hub
Inside the hub, you'll learn: how to optimize your profile to attract your ideal audience, methods for researching keywords and SEO to rank higher in Pinterest search results, the various types of pins necessary for a profitable Pinterest strategy, how to use Pinterest trends + analytics to measure your success and refine your strategy & much more!
Check out Kelsey's Pinterest Success Hub
Kahana Featured Hubs page
Kahana's Featured Hubs page is a curated collection of some of the best hubs created on the Kahana platform. It is designed to showcase the quality and diversity of the content that can be created using Kahana, as well as to help users discover new and interesting hubs to explore.
The Featured Hubs page includes hubs on a wide range of topics, from business and marketing to health and wellness, and more. Users can browse the collection, preview the content, and subscribe to the hubs that interest them. Additionally, creators can submit their own hubs for consideration to be featured on the page.
Kahana vs. Thinkific pricing plans
Finally, let's discuss the financial aspect. Kahana and Thinkific both offer freemium subscription models.
Kahana Pricing
By signing up for Kahana, you can get started on the platform completely free without any out-of-pocket costs, and even the free plan does not require any credit card or payment information.
It's important to note that although there are no upfront costs to monetize your content on Kahana, the platform does charge 5% of your earnings when you make money through monetized hubs, exclusive of Stripe fees.
The free tier allows users to create up to two hubs with unlimited collaborators in each hub and set up payment processing to start monetizing their content. However, the free tier has some restrictions such as limited storage. If you require unlimited hubs, advanced features, or higher limits, upgrading to one of Kahana's paid plans is an option.
For more on pricing, check out the Kahana pricing page.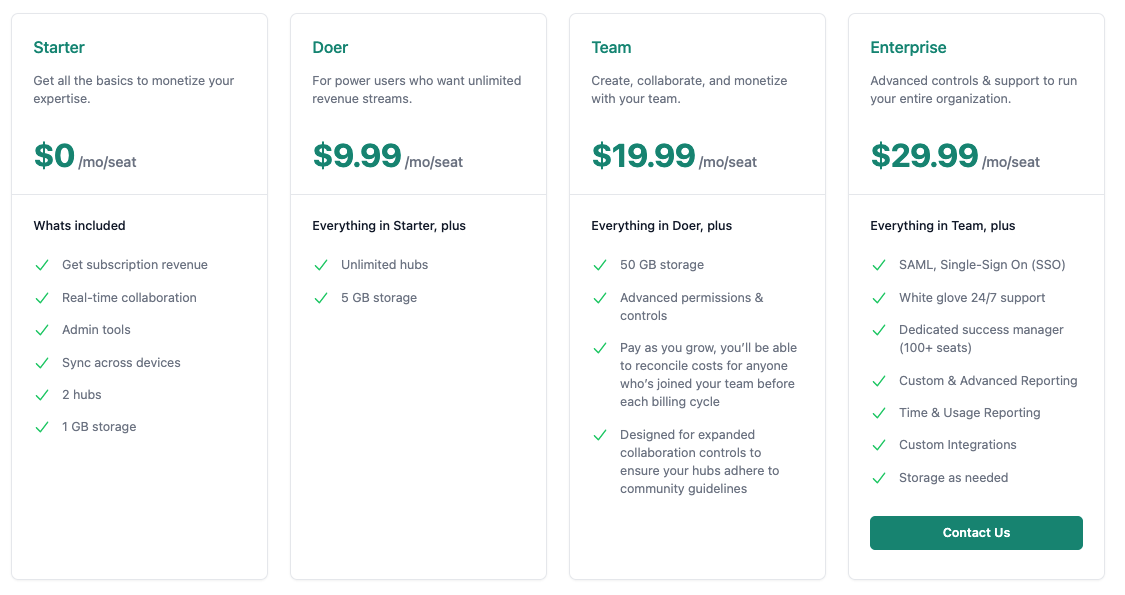 Thinkific Pricing
Thinkific payments are also processed through Stripe. To learn more, here is a deeper breakdown of how Thinkific payments work.
For more information: check out the Thinkific pricing page.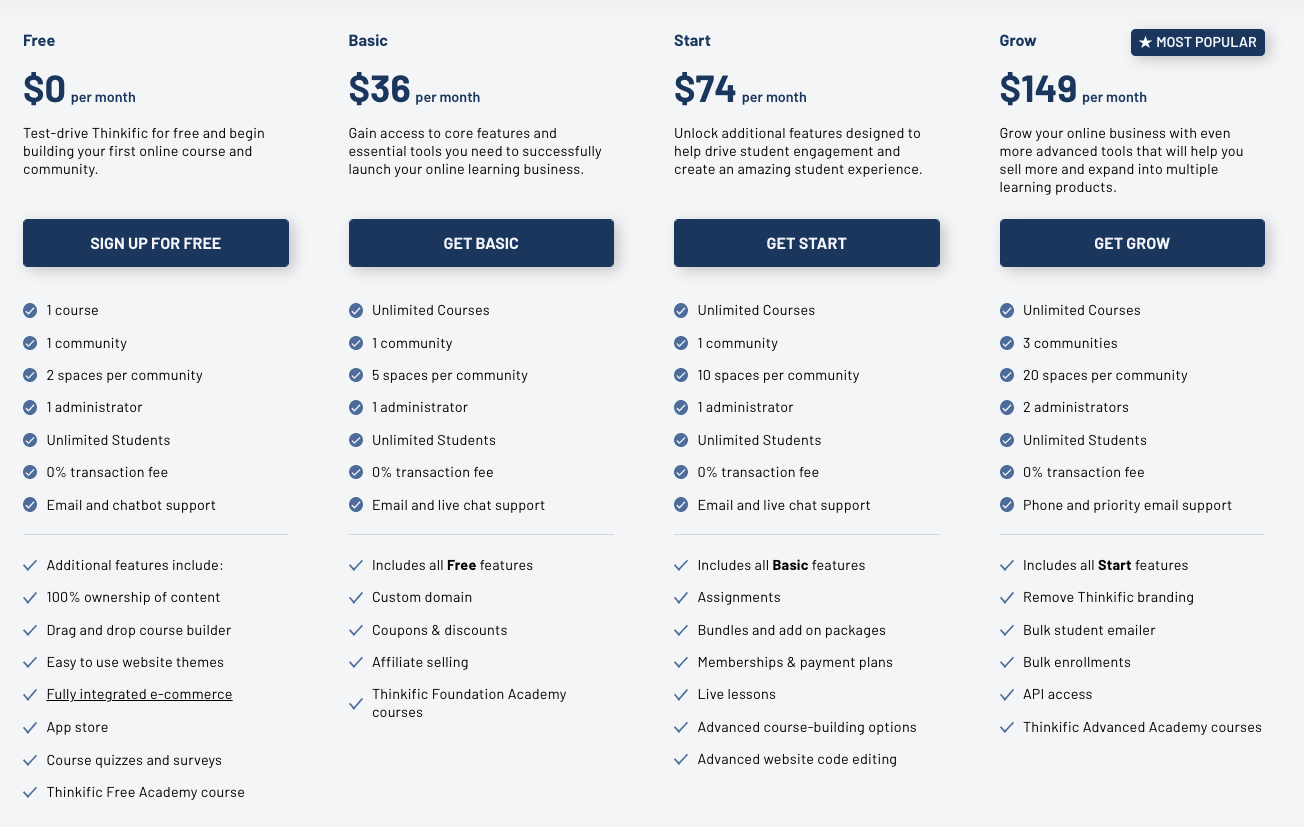 Sign up for FREE
Kahana is completely free to use forever. Even if you choose to stay on the free plan and don't gain any subscribers for your hub, you won't ever have to pay anything.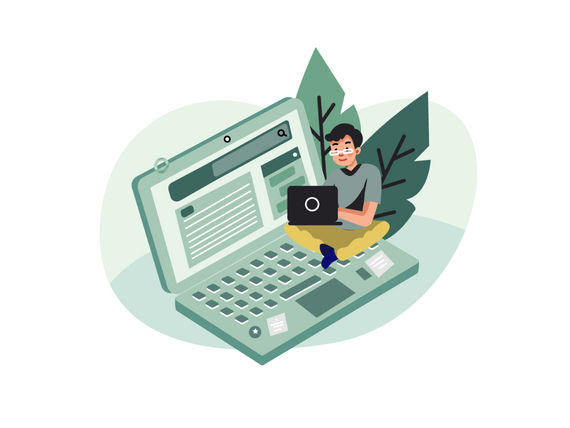 Grab your FREE Kahana account
Join +2000 creators and experts using Kahana to collaborate, co-create, and engage their communities. Kahana is free forever - not a free trial... just free.
Sign Up Now
Looking for more?
To begin your journey, you can join Kahana's Creators 'n Experts Community. By signing up, you'll have access to a plethora of valuable tools and events, including live webinars, interactive sessions, open office hours, a private Discord channel, and ongoing networking opportunities - all of which are completely free. Furthermore, you'll receive a distinct gem as a reward for each goal you achieve! 💎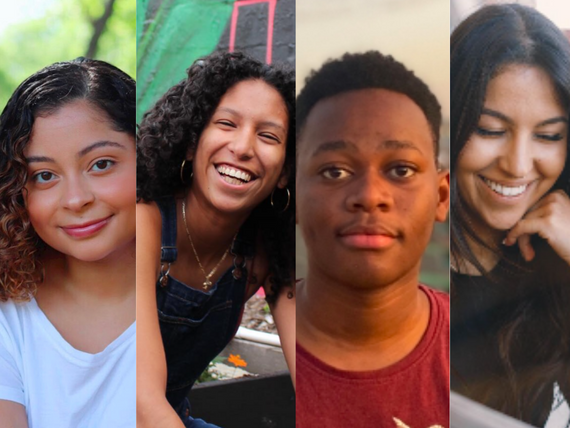 Join the Creators 'n Experts Community
Join a hodge-podge of other no-nonsense creators and experts turning passion, expertise, and life's work into income streams. What makes this community different? Who knows. We just care about making progress and helping each other go off 📈
Bring me to my people
Quick answers
If you cannot find the answer you're looking for or if the information appears to be outdated, please inform us so we can assist you better.
🐦 Tweet us directly @KahanaHQ (fastest!)
💬 Leave a comment below
🗣️ Visit our Help Center & start a live chat