Both Kahana and OnlyFans are platforms that help creators generate subscription revenue, but there are a few key differences.
Firstly, Kahana is a two-in-one platform where the structure is designed to help you create the digital product you're ultimately selling. It organizes all the information, materials, files, and content that you're turning into a digital product and acts as the paywall as well. In contrast, OnlyFans acts purely as a paywall, and you're responsible for creating the content that lives behind it.
Secondly, there's a difference in the type of content. Kahana is generally more focused on educational content about a specific niche, skill, field, or topic. OnlyFans, on the other hand, has a wider range of content and generally features a lot of adult content.
Thirdly, Kahana is a collaborative platform, so you can co-create and build digital products together with other creators. In contrast, OnlyFans is more designed for individual creators. While you can collaborate to create videos behind an OnlyFans account, it's only living under one person's account, whereas with Kahana, you can literally build a product together.
Comparing Kahana vs. OnlyFans
According to this article from Influencer Marketing Hub, the purpose of OnlyFans is to provide a platform for creators to create and distribute valuable, premium content they can't get anywhere else.
Since a lot of the content on OnlyFans is explicit, users have to be at least 18 and will need a government-issued ID in order to sign up. Every creator's branded content is also protected by OnlyFans, ensuring that it can't be shared outside the platform. In fact, if a user tries to take a screenshot on the site, the content will show up blacked out. Users are also subject to banning if they're caught trying to screenshot or record what's going on.
Why do people choose Kahana over OnlyFans
People might choose Kahana over OnlyFans for several reasons. One reason is that Kahana is designed to help creators create educational content about a specific topic or skill, whereas OnlyFans is known for featuring a lot of adult content.
If a creator wants to focus on educational content, Kahana may be a better fit.
Another reason is that Kahana is a collaborative platform, which means that creators can work together to build digital products. This can be helpful if a creator wants to work with others to create a more comprehensive and polished product.
Additionally, Kahana combines the paywall and the actual content into one platform, whereas, with OnlyFans, creators need to set up their own paywall and are responsible for creating and managing the content separately. This can make Kahana a more convenient and streamlined option for creators who want an all-in-one platform.
Kahana vs. OnlyFans pricing plans
Last but not least, let's talk numbers. Both Kahana and OnlyFans are useful platforms, but Kahana has a significantly less expensive price tag.
Kahana Pricing
There is no out-of-pocket cost for signing up for Kahana. In addition, no credit card or payment information is required for the free plan. Kahana also offers paid plans for premium features. While there is no upfront cost to monetize, Kahana takes 5% of earnings as users earn money through monetized hubs (not including fees associated with Stripe).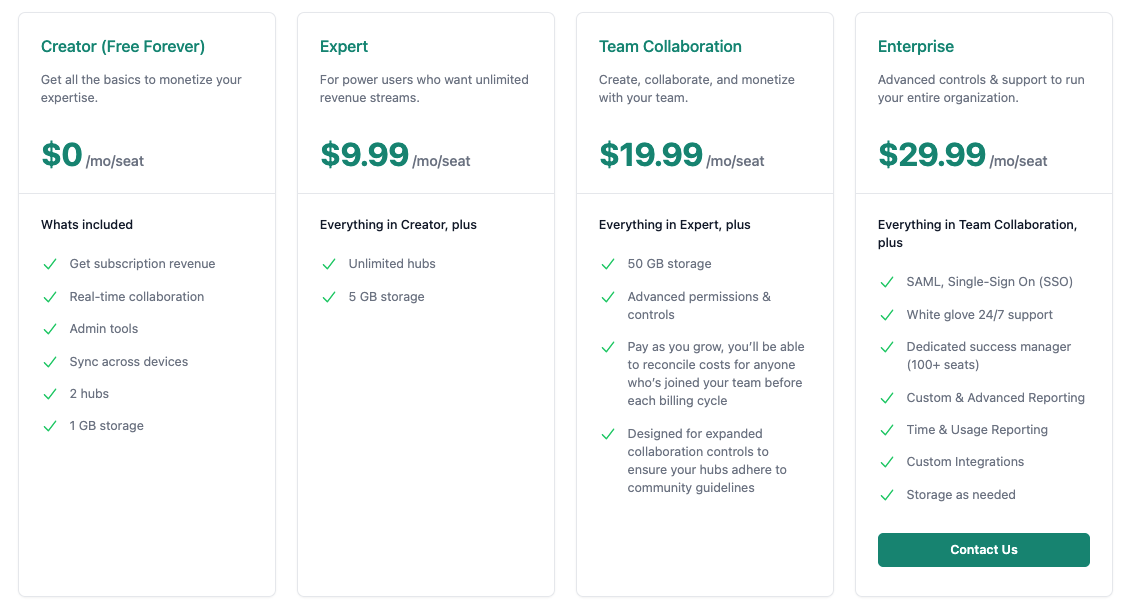 OnlyFans Pricing
OnlyFans takes a 20% commission on earnings, which means creators keep 80% of the revenue they generate. The subscription price typically ranges from $4.99 to $49.99 per month, but creators can choose to offer additional paid content or services to their subscribers at different price points. It's important to note that OnlyFans is primarily known for its adult content, but it can also be used for other types of content creation.
Earning money with Kahana
Kahana provides a platform for you to create and organize your content, set up payment processing, and manage subscriptions.
The main way to monetize with Kahana is to create a hub, which is a collection of content that you can sell as a subscription. You can add YouTube videos, written content, images, and other types of media to your hub and set a price for access. You can also create multiple hubs on different topics or for different audiences.
Here's an example of a real hub created by Kelsey Vetter!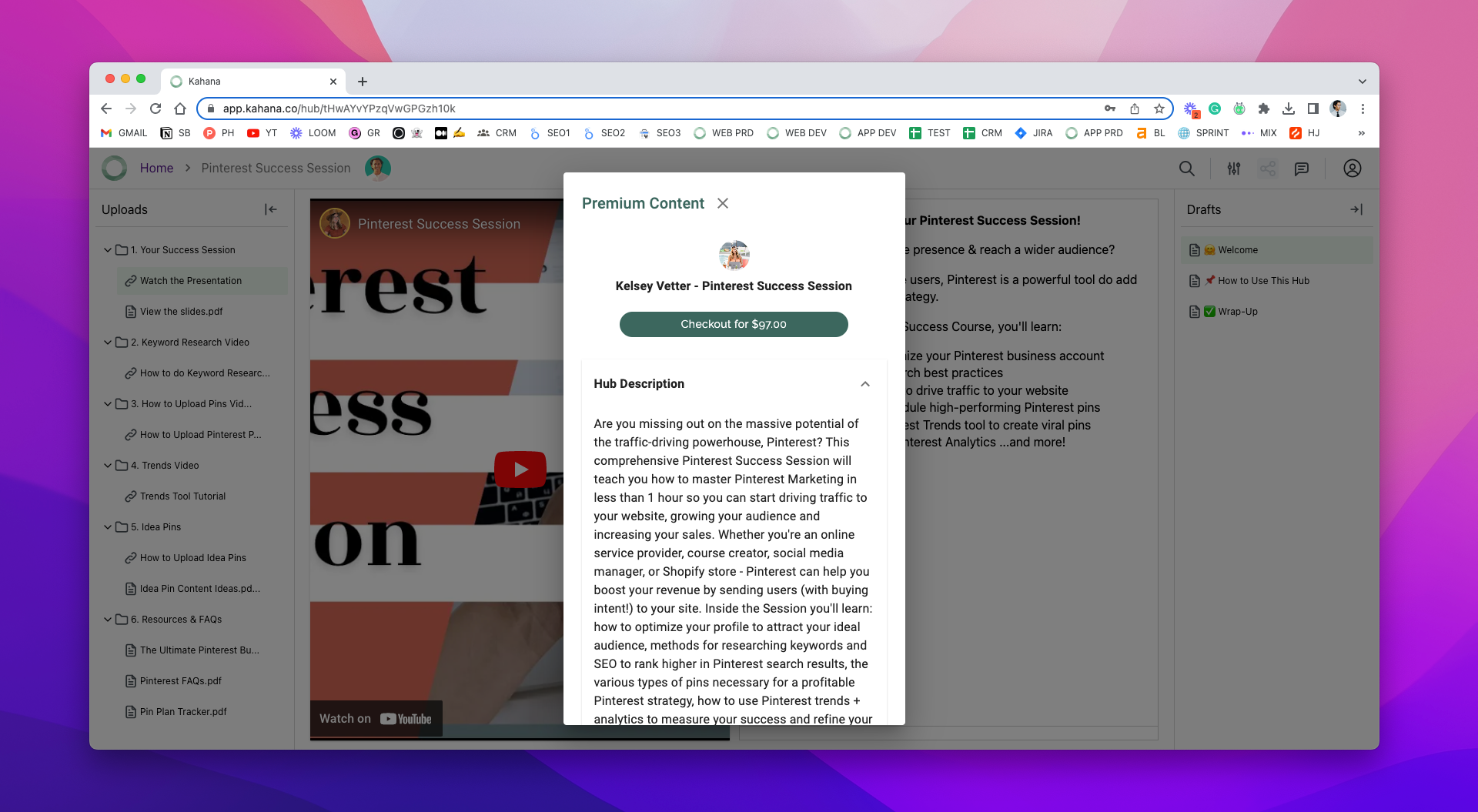 Kelsey Vetter's Pinterest Success Hub
Whether you're an online service provider, course creator, social media manager, or Shopify store - Pinterest can help you boost your revenue by sending users (with buying intent!) to your site. Inside the hub, you'll learn: how to optimize your profile to attract your ideal audience, methods for researching keywords and SEO to rank higher in Pinterest search results, the various types of pins necessary for a profitable Pinterest strategy, how to use Pinterest trends + analytics to measure your success and refine your strategy & much more!
Check out Kelsey's Pinterest Success Hub
Kahana also allows for collaboration between creators, so you can co-create content with others and share in the revenue generated from the subscriptions. This can be a powerful way to create high-quality content that appeals to a wider audience.
Additionally, through its broader community and platform, Kahana provides tools and resources to help you market your digital products and grow your subscriber base. You can use social media, email marketing, and other tactics to promote your hubs and attract new subscribers.
Sign up for FREE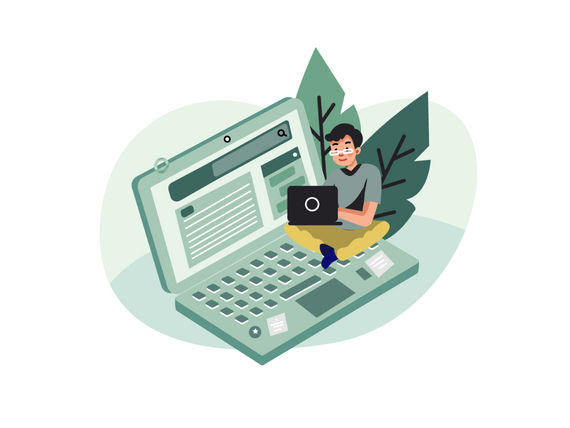 Grab your FREE Kahana account
Join +2000 creators and experts using Kahana to collaborate, co-create, and engage their communities. Kahana is free forever - not a free trial... just free.
Sign Up Now
Quick answers
Don't see your answer?
🐦 Tweet us directly @KahanaHQ (fastest!)
💬 Leave a comment below
🗣️ Visit our Help Center & start a live chat