Embarking on the journey of selling digital products warrants a strategic choice between two prominent platforms—Linktree or Beacons?
As creators, entrepreneurs, and digital product enthusiasts navigate the landscape of online commerce, the decision to leverage Linktree or Beacons becomes pivotal. Each platform brings its own set of features, functionalities, and advantages, but the ultimate question remains: which is the superior choice for selling digital products effectively?
Choosing the right platform can be an overwhelming task, with a myriad of public reviews, blogger insights, video testimonials, and platform-generated content. Our analysis is grounded in publicly available information, drawing from their official websites, review platforms, and independent long-form assessments.
If you have any questions or you believe we have something wrong, please let us know in the comments or email us at info@kahana.co! We are always trying to improve and ensure our information is up-to-date.
💡
Caveat:
Kahana
is a free platform that is compatible with Linktree and Beacons, that empowers you to build unique shopping experiences for your digital products while preventing unauthorized sharing.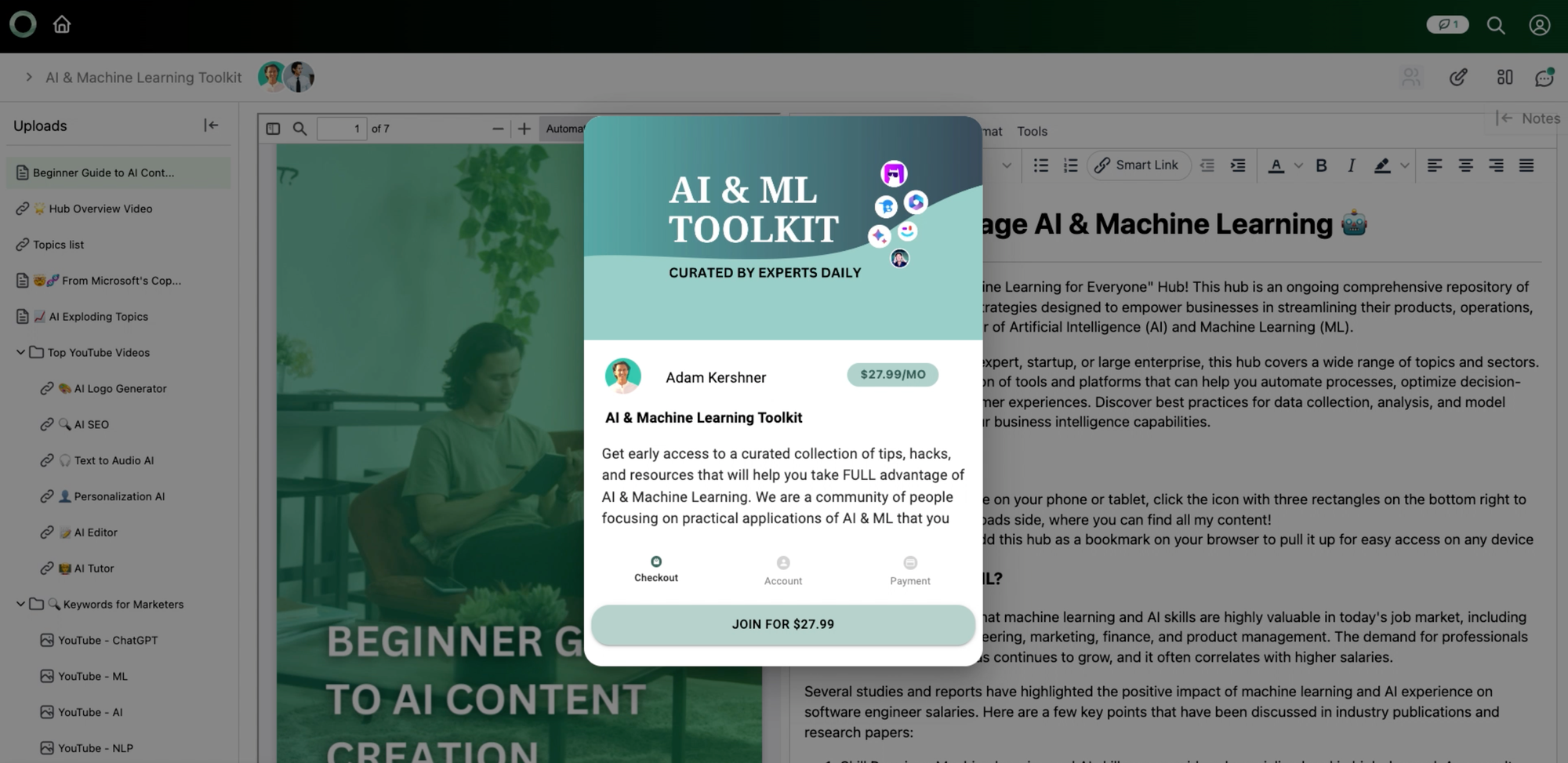 Sell securely on Linktree and Beacons
Kahana works seamlessly with Linktree and Beacons to help you sell your digital products securely and prevent unauthorized sharing for free.
Claim my free account
Linktree vs. Beacons: Key Takeaways
Your digital products can get stolen: Both limit you to using download links to deliver your paid digital products, leaving you vulnerable to unauthorized sharing and redistribution.
Benefits: Both platforms are easy to use and are perfect for setting up a simple "link-in-bio" website quickly.
Linktree vs. Beacons pricing: Both Linktree and Beacons are free to use and have a significant amount of free features and functionality. They both have paid plans with more robust tools and capabilities.
Linktree: a quick overview
Acting as a centralized hub, Linktree enables users to compile multiple links into a single, visually appealing landing page. This not only enhances the overall user experience but also proves invaluable for those looking to share various digital products, services, or online resources seamlessly. Whether you're a content creator, entrepreneur, or marketer, Linktree offers a convenient solution for directing your audience to specific destinations with just one click, streamlining the digital navigation process.
Who is Linktree best for?
Whether you're a social media personality, artist, or small business owner, Linktree offers a user-friendly solution to consolidate various links into a single, visually appealing landing page. This proves particularly beneficial for individuals and brands with diverse digital offerings, such as downloadable products, e-commerce stores, blog posts, or social media profiles. Linktree's versatility caters to those looking to enhance their online presence by simplifying the navigation experience for their audience, making it an ideal tool for anyone seeking to optimize link sharing on various platforms.
Linktree key features
Centralized Link Hub: Linktree provides a centralized hub where users can compile multiple links into a single, visually appealing landing page.
Customization Options: Users can customize their Linktree page to align with their brand, incorporating personalized colors, themes, and layouts.
Link Analytics: Linktree offers insights into link performance, allowing users to track clicks and optimize their content strategy based on audience engagement.
Unlimited Links: Users enjoy the flexibility of adding an unlimited number of links to their Linktree page, accommodating various digital offerings.
User-Friendly Interface: With an intuitive and easy-to-navigate interface, Linktree ensures a seamless experience for both content creators and their audiences.
Responsive Design: Linktree's pages are designed to be responsive, adapting to different devices and screen sizes for a consistent and user-friendly viewing experience.
Integration Capabilities: Linktree integrates seamlessly with various social media platforms, making it convenient for users to share their centralized link hub across different channels.audiences
Linktree: pricing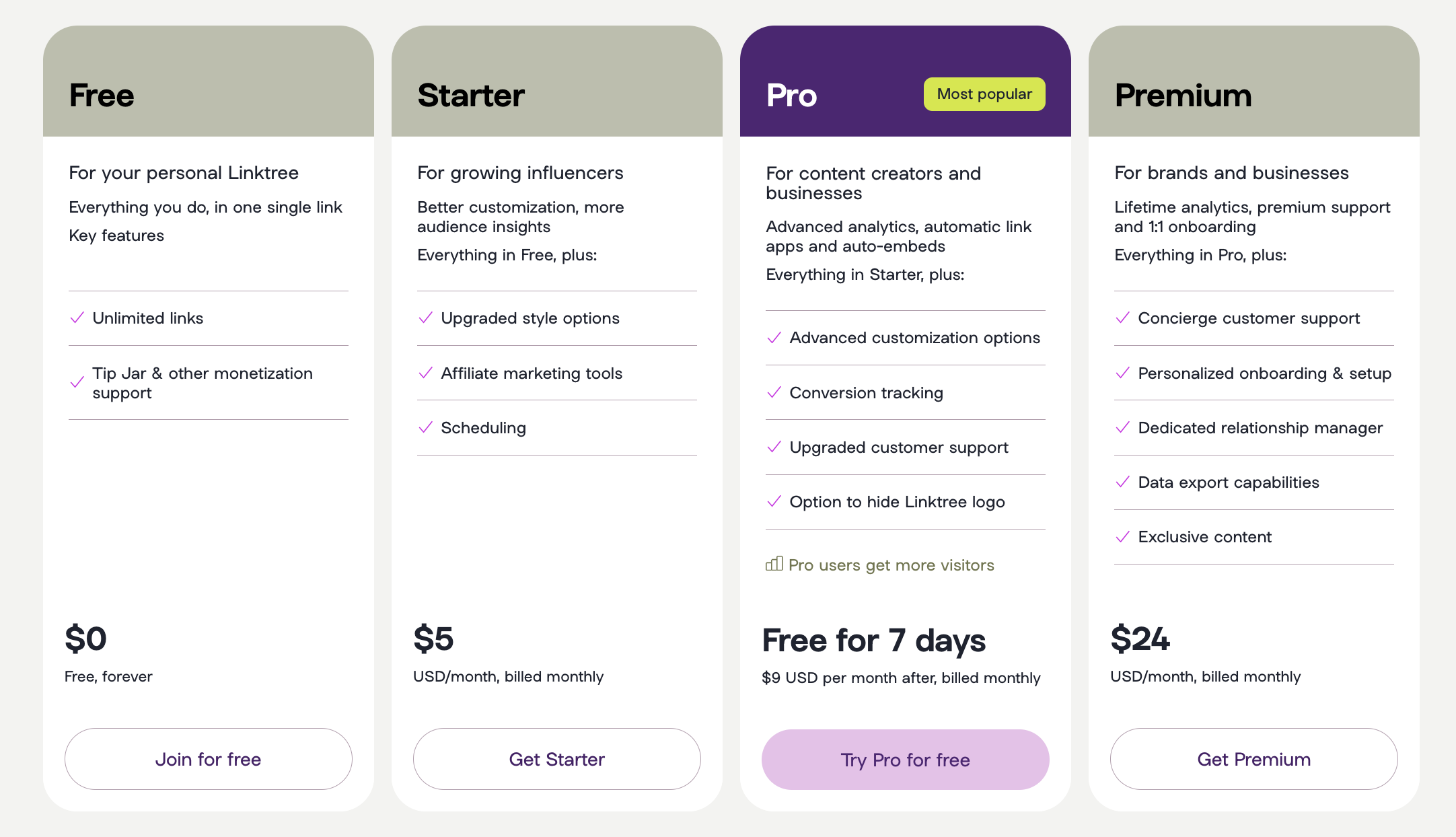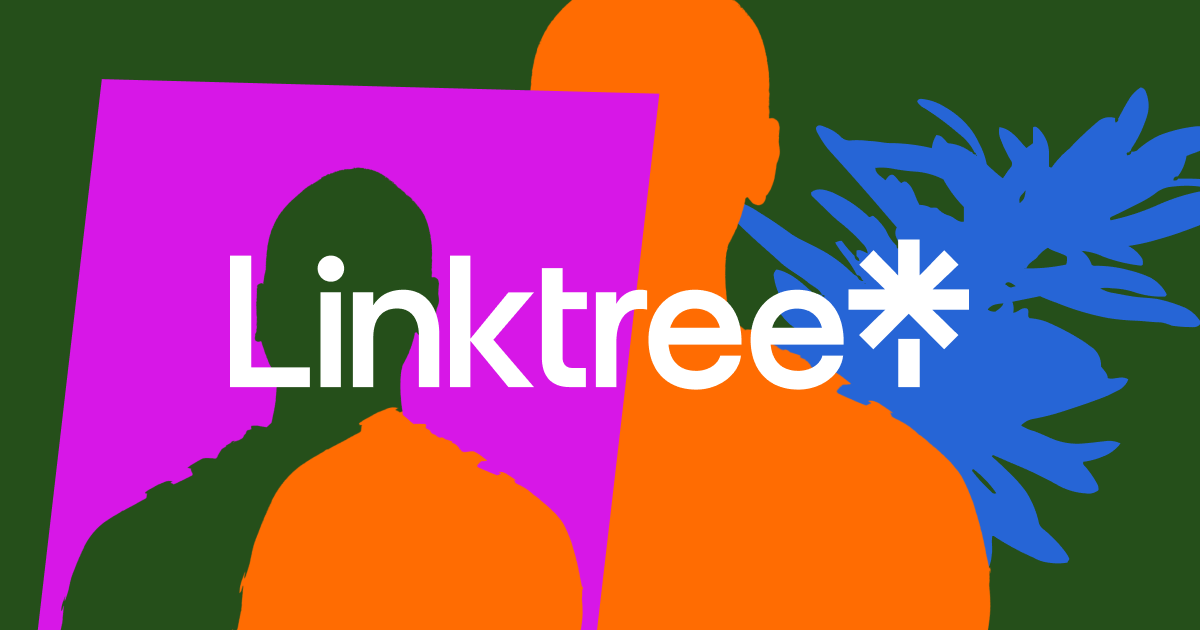 Beacons: a quick overview
Serving as a comprehensive marketing tool, Beacons allows users to create personalized mobile websites effortlessly. This approach enables individuals and businesses to showcase their digital products, services, or portfolios in a visually engaging and mobile-responsive format. With a focus on user-friendly design and functionality, Beacons empowers creators, marketers, and entrepreneurs to establish a captivating online presence that seamlessly translates across various devices. Whether you're promoting digital products, services, or your personal brand, Beacons provides a versatile solution for crafting mobile-friendly websites that captivate and convert audiences effectively.
Who is Beacons best for?
Tailored for creators, entrepreneurs, and marketers, Beacons is best suited for those who prioritize a visually engaging and mobile-responsive online presence. Whether you are an artist showcasing a portfolio, a small business promoting products, or a content creator looking to captivate your audience on mobile devices, Beacons offers a versatile solution. Its user-friendly design and focus on mobile accessibility make it an excellent choice for anyone aiming to enhance their digital visibility and effectively communicate their brand or offerings to a diverse and dynamic audience.
Beacons key features
Mobile Website Creation: Beacons enables users to effortlessly create personalized mobile websites, providing a dynamic platform to showcase digital products, services, or portfolios.
Visual Appeal: With a focus on visually engaging design, Beacons allows users to craft mobile-friendly websites that captivate and resonate with their target audience.
Responsive Design: The platform ensures a mobile-responsive experience, adapting seamlessly to various devices and screen sizes for optimal user interaction.
User-Friendly Interface: The intuitive interface of Beacons simplifies the website creation process, making it accessible for users with varying levels of technical expertise.
Analytics Insights: Beacons provides robust analytics features, offering valuable insights into user engagement and website performance. Users can track metrics such as visitor behavior, click-through rates, and other key data points to refine their marketing strategies and enhance overall effectiveness.
Beacons pricing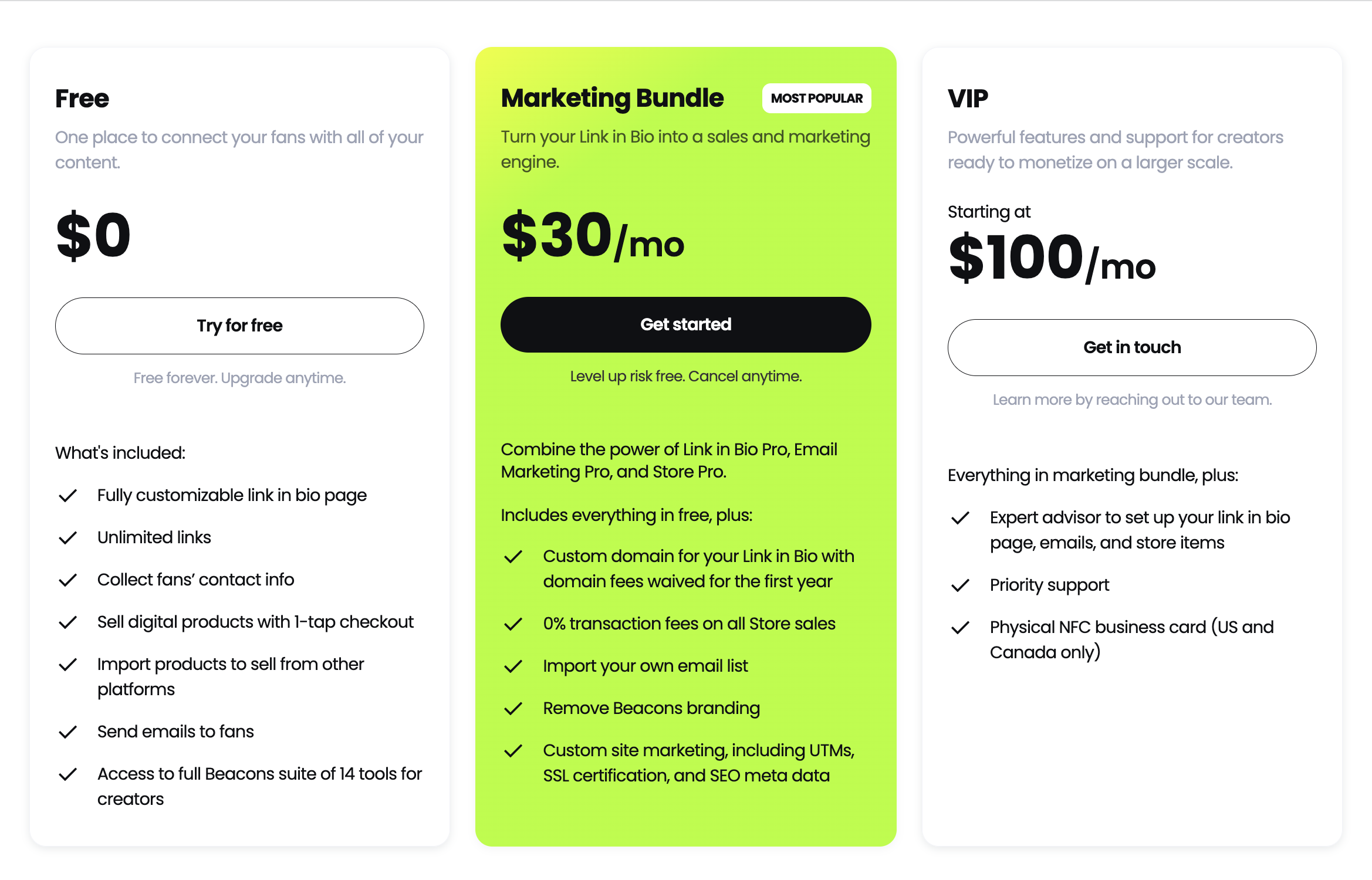 Linktree pros and cons
Pros: Linktree presents a straightforward and free solution for swiftly creating a link-in-bio landing page, making it especially attractive for users who want a hassle-free way to share multiple links. Its user-friendly interface, customization options, and link analytics contribute to a seamless link-sharing experience.
Cons: The reliance on download links poses a potential drawback, as it can make digital products vulnerable to unauthorized sharing and redistribution.
Beacons pros and cons
Pros: Beacons offers a robust platform for crafting visually engaging and mobile-responsive websites, making it an excellent choice for individuals and businesses seeking an effective mobile marketing solution. Its emphasis on visual appeal and responsive design ensures a captivating user experience across various devices. The user-friendly interface simplifies the website creation process, catering to users with varying technical expertise.
Cons: if you are specifically focused on protecting digital products from unauthorized sharing and downloads, Beacons may fall short, as its primary function revolves around mobile website creation rather than secure digital product distribution.
TL;DR: To sell digital products securely through Linktree or Beacons, consider using Kahana
Kahana redefines how digital products are sold, emphasizing heightened security. Unlike traditional methods relying on download links, Kahana prevents customers from directly downloading your products. This robust safeguarding extends to protect valuable assets like PDFs, e-books, and templates from unauthorized sharing.
To learn more about how Kahana protects digital products and see the approach in action, you can check out our less than 3-minute video.
Get in touch
If you have any questions or want to get in touch, please feel free to email us at info@kahana.co or start a Live Chat on our website!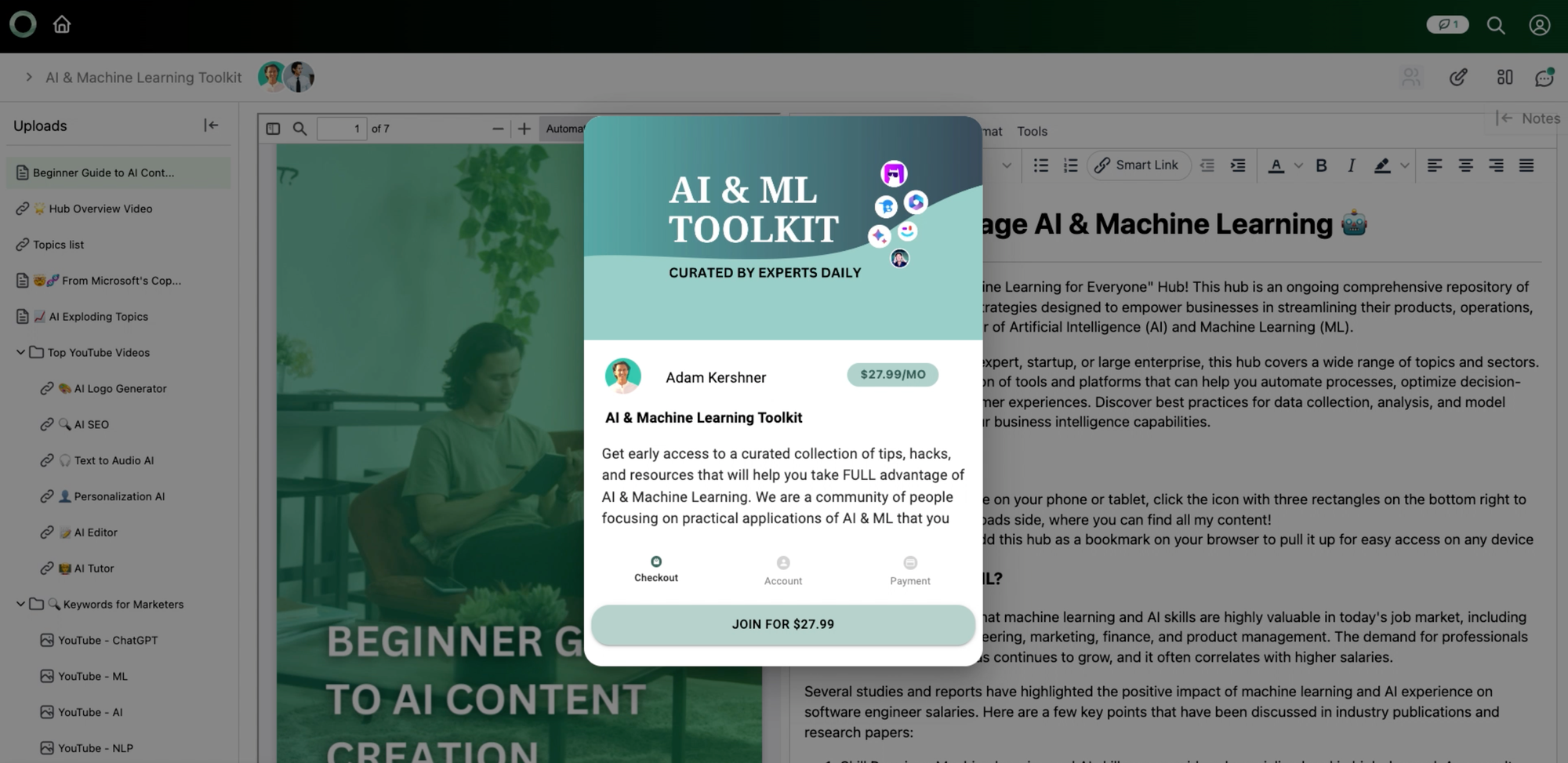 Safeguard your creative work
Give your best resources, PDFs, files, Google Sheets, Notion templates, frameworks, and more - get income back. Prevent unauthorized sharing and protect your digital assets. 100% for free.
Claim my free account