Selecting the ideal platform for displaying and marketing your creations holds immense significance. This analysis compares Linktree vs. Podia, aiming to provide valuable insights for creators navigating the diverse options available.
Whether you seek a streamlined approach for link sharing or an all-encompassing solution for online courses, memberships, and digital products, both platforms bring distinct offerings to the table. Let's embark on a detailed exploration of Linktree and Podia to discern the optimal fit for your digital product selling endeavors.
Navigating the selection of an appropriate platform can be an overwhelming task. The landscape is filled with public reviews, blogger write-ups, video reviews, and promotional content directly from the platforms. In this sea of information, determining which sources are reliable and trustworthy becomes a challenging endeavor.
To assist you in making an informed decision, our team at Kahana has conducted thorough research, gathering and organizing information on Linktree and Podia. Our insights are drawn from various sources, including the platforms' official websites, review sites, and comprehensive independent long-form reviews.
Although these platforms differ significantly, we recognize the strengths of both, and our intention is not to criticize either. Instead, we aim to emphasize key aspects to consider for each platform. If you have any questions or you think we missed something, please let us know in the comments. We are always looking to improve and ensure our articles are up-to-date with the latest information.
💡
Note:
Kahana
is a free platform that is compatible with both Linktree and Podia, that empowers you to build unique shopping experiences for your digital products while preventing unauthorized sharing.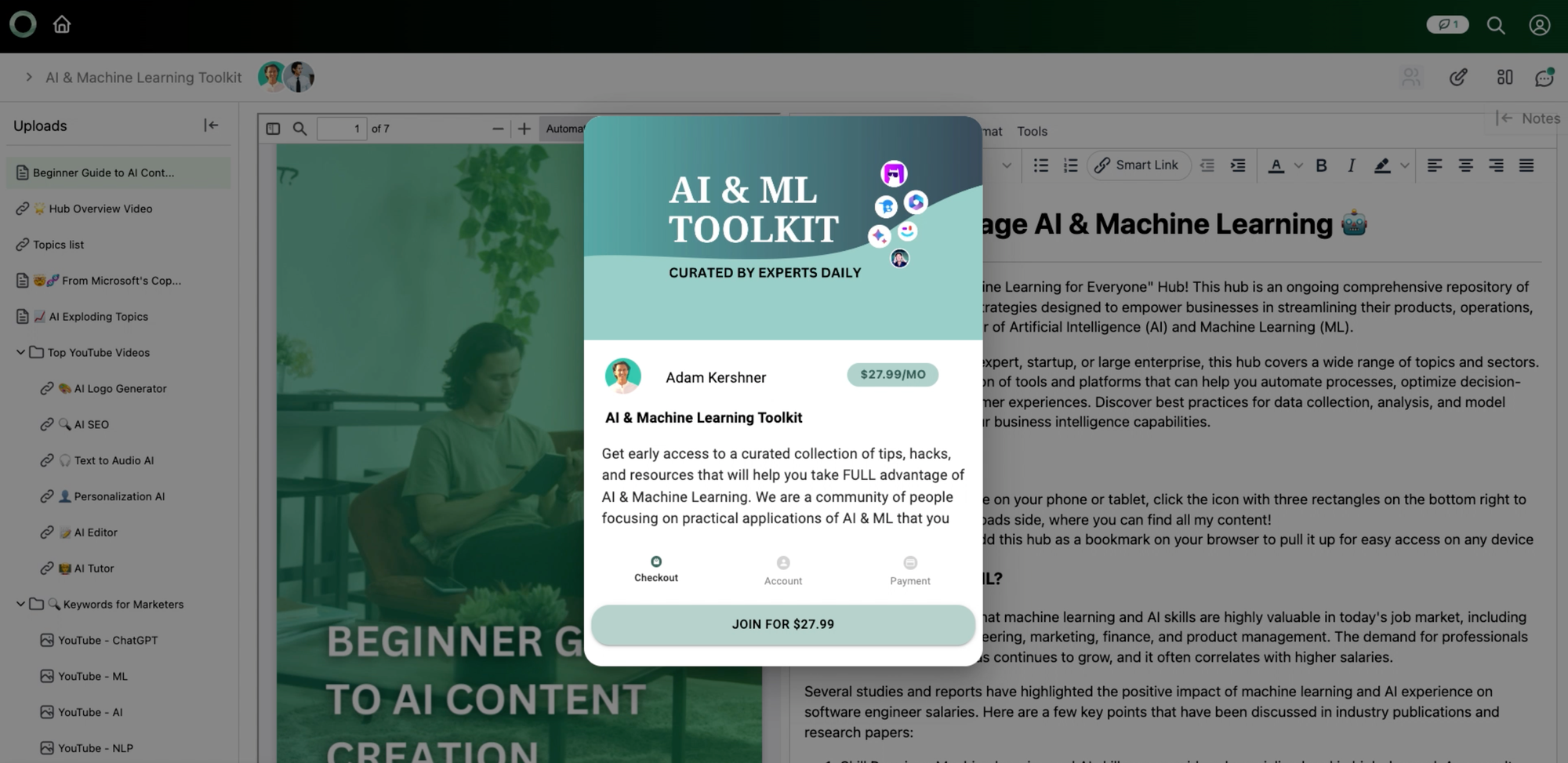 Sell securely on Linktree or Podia - for free
Kahana works seamlessly with Linktree or Podia to help you sell your digital products securely and prevent unauthorized sharing for free.
Claim my free account
Linktree vs. Podia: Key Takeaways
You risk your digital products getting stolen: While Linktree and Podia play crucial roles in boosting visibility and facilitating sales, they share a limitation in relying on download links for digital product delivery. This common approach leaves users susceptible to unauthorized sharing and redistribution of their digital content.
Linktree vs. Podia: Linktree and Podia cater to distinct needs in the digital landscape. Linktree, a versatile link-in-bio tool, primarily focuses on enhancing visibility and providing a centralized hub for social media profiles. It simplifies content sharing by offering a single link that directs followers to various online platforms. On the other hand, Podia is a robust platform that enables you to create a website and landing page for your online business (comparable to Squarespace and Wix).
Linktree: a quick overview
Linktree is a versatile tool designed to optimize the link-sharing experience on social media platforms. Serving as a streamlined "link in bio" solution, Linktree enables users to curate a list of important links, directing followers to various destinations without the need for constantly changing bio links. It acts as a centralized hub, simplifying navigation for users, whether they are promoting products, content, or other online resources. With a user-friendly interface and customization options, Linktree provides a convenient way for individuals and businesses to showcase multiple links seamlessly.
Who is Linktree best for?
Linktree is an ideal solution for individuals and businesses seeking a straightforward method to optimize their online presence. It is particularly well-suited for content creators, influencers, and businesses active on social media platforms like Instagram, where the limitation of a single link in the bio can be restrictive. Linktree is perfect for those who want to efficiently direct their audience to various content, such as blog posts, videos, products, or external websites, without the hassle of frequently updating the bio link. Its simplicity and ease of use make it an excellent choice for anyone looking to enhance the visibility of multiple online assets through a centralized link-sharing platform.
Linktree key features
Multiple Links: Linktree allows users to display multiple links in a single, customizable landing page. This is particularly useful on platforms like Instagram, where there is a limitation on the number of links in the bio.
Customization: Users can personalize their Linktree page with custom colors, fonts, and themes to align with their brand identity.
Link Tracking: Linktree provides basic analytics, allowing users to track the performance of their links, including the number of clicks each link receives.
Mobile Responsiveness: The platform is designed to ensure optimal display and functionality on various mobile devices, catering to the mobile-centric nature of social media.
Free Version: Linktree offers a free version with essential features, making it accessible for individuals and small businesses.
User-Friendly Interface: The intuitive interface makes it easy for users to set up and manage their Linktree pages without the need for technical expertise.
Integration: Linktree integrates seamlessly with popular social media platforms, simplifying the process of sharing the link in bio across various channels.
Link Thumbnail Images: Users can add custom thumbnail images to each link, enhancing the visual appeal of their Linktree page.
QR Code: Linktree generates a QR code for each user, enabling easy sharing and access to the link page.
Linktree pricing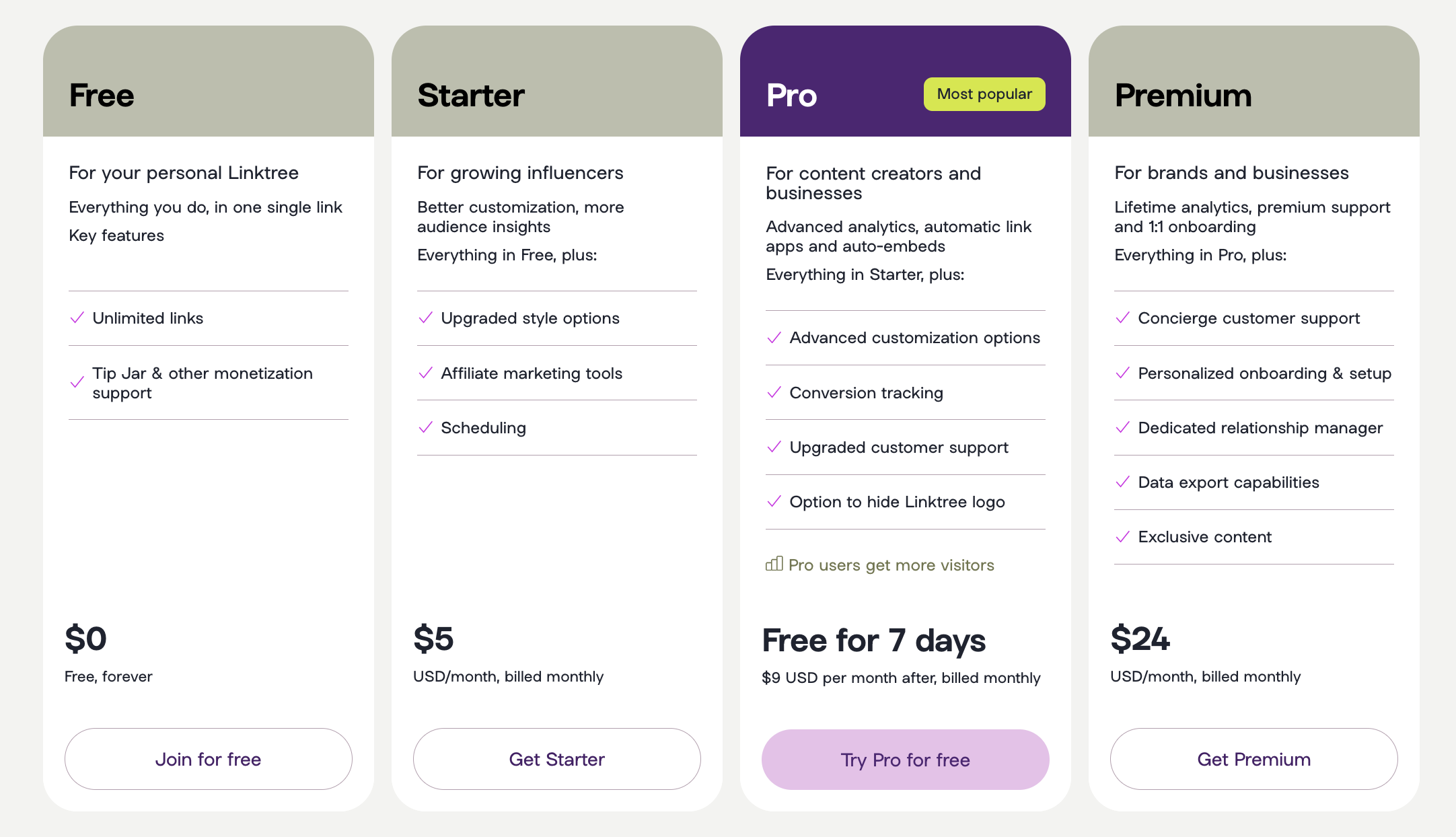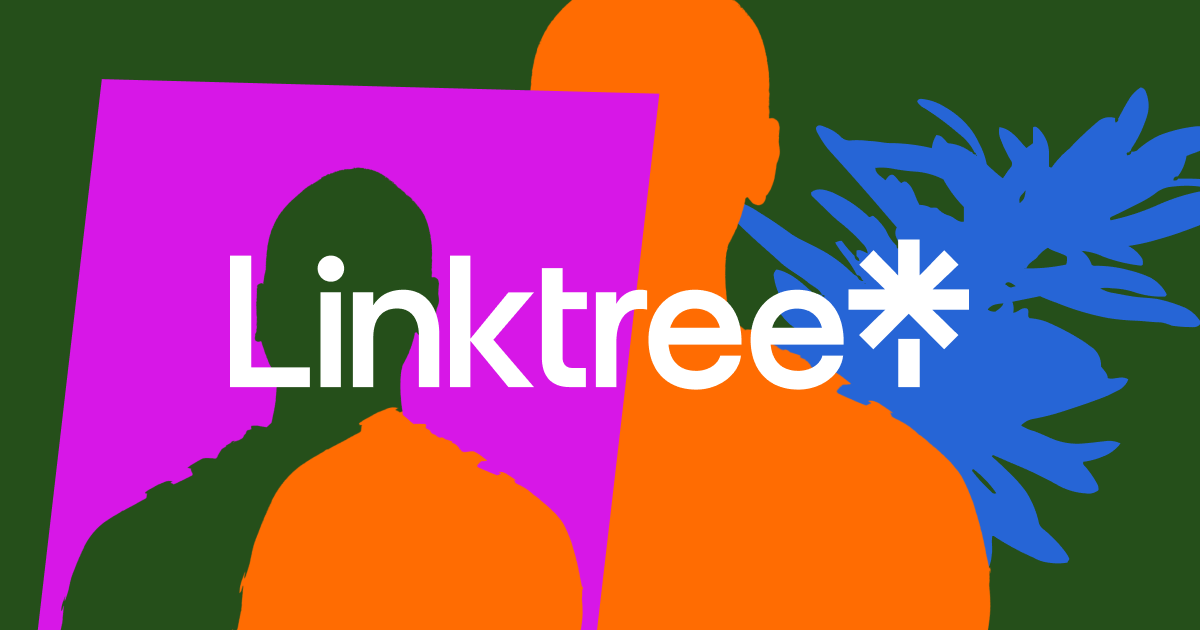 Podia: a quick overview
Podia is an integrated online platform designed to empower creators and entrepreneurs in building, selling, and marketing their digital products. With built-in features like live chat, email marketing, and affiliate marketing, Podia simplifies the entire process of launching an online business with digital products. While it may lack some advanced course creation tools, Podia's user-friendly interface and comprehensive features make it a valuable platform for those seeking a solution for their digital product ventures that is both robust and easy to set up.
Who is Podia best for?
Creators and Educators: Podia is an ideal platform for individuals in the education sector, including teachers, instructors, and coaches, who want to create and sell online courses.
Digital Product Sellers: It caters to creators selling digital products, such as ebooks, templates, and downloads, providing an integrated platform for marketing and sales.
Community Builders: For those who wish to foster an online community around their courses or products, Podia offers basic community functions for discussions and interactions.
Entrepreneurs and Artists: Podia is suitable for entrepreneurs and artists looking for a user-friendly platform to build websites, sell products, and connect with their audience.
Email Marketers: The platform integrates email marketing features, making it convenient for users to manage their email campaigns and communicate with their audience.
🚩
While Podia is effective for displaying digital products using custom landing pages and links, it falls short in protecting against unauthorized sharing post-purchase. It utilizes download links and buttons, potentially exposing your digital content to redistribution.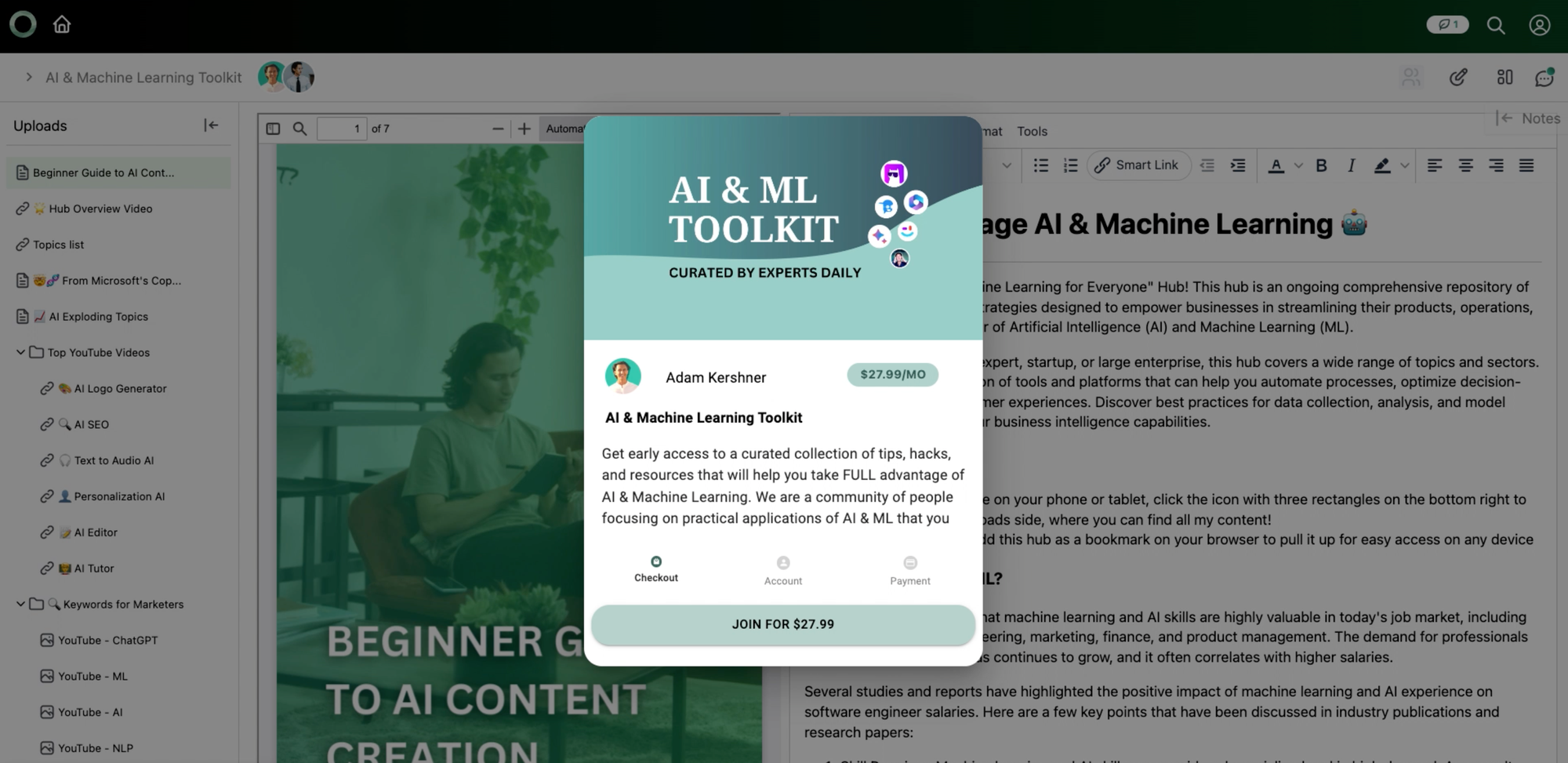 Podia key features
Email Marketing: Integrated broadcasts, campaigns, and analytics.
Custom Website: Modern, mobile-friendly site and landing pages for digital products with easy customization.
Community: Podia's basic community features provide creators with the tools to build a thriving online space, facilitating discussions,
Podia pricing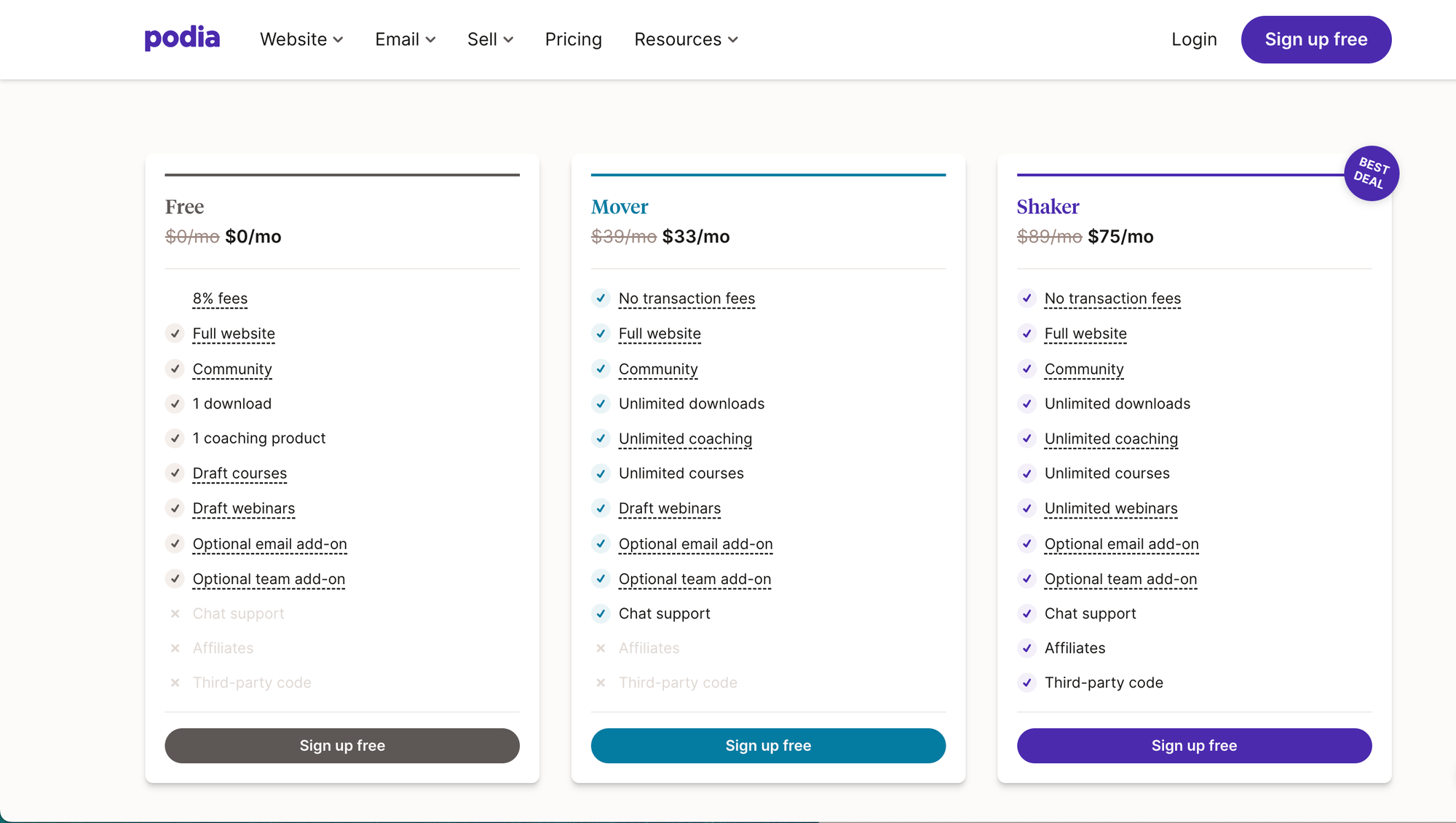 Linktree pros and cons
Linktree pros
Easy Link Management: Linktree simplifies the process of sharing multiple links through a single bio link on social media profiles.
Enhanced Visibility: Enables users to showcase various content, including websites, social media, and promotional links, enhancing their online presence.
Customization Options: Allows for customization with themes, colors, and personalized backgrounds, enabling users to align their Linktree page with their brand identity.
Analytics and Insights: Users can gain insights into link clicks, analyzing the effectiveness of their shared content.
Linktree Cons
Download Link Vulnerability: As Linktree primarily relies on download links, there is a risk of digital products being shared or redistributed without permission.
Limited Customization for Free Users: While customization options exist, free users have limited access to advanced branding features available in premium plans.
Analytical Insights Availability: Advanced analytics features are often reserved for premium users, restricting access for those on free plans.
Podia pros and cons
Podia pros
Versatile Landing Pages for Marketing: The platform allows for the creation of versatile landing pages, enhancing marketing efforts and providing creators with tools to effectively promote and sell their digital products.
Email Marketing: Use email marketing tools, including broadcasts and automated campaigns, to simplify communication and audience engagement.
Podia cons
Download Link Vulnerability: Podia, similar to other platforms, relies on download links for digital products, which poses a risk of unauthorized sharing post-purchase.
Limited Course Creation Tools: While suitable for many creators, Podia lacks some advanced course creation tools found in other dedicated platforms, limiting customization options.
Video Source Restrictions: Restricts video sources to Amazon S3 or Google Drive, which may not be as flexible as embedding from various platforms like YouTube or Vimeo.
Affiliate Marketing Considerations: While offering an affiliate marketing feature for paid plans, it may not be as sophisticated as standalone affiliate marketing tools, affecting the efficiency of affiliate programs for some users.
For those seeking to establish an online presence without delving into complex coding, free website builders like Podia, Squarespace, and Wix present accessible and user-friendly options. While each platform has its unique strengths, they share common ground as easy-to-use tools designed to simplify the website-building process.
TL;DR: To sell digital products securely through Linktree and Podia, consider using Kahana
Kahana introduces an innovative protective hub design for selling digital products, prioritizing enhanced security. In contrast to conventional methods dependent on download links, Kahana restricts customers from directly downloading your products. This proactive measure significantly safeguards your valuable assets, including PDFs, e-books, and templates, mitigating the risk of unauthorized sharing.
Your customers retain complete freedom to read, discuss, and engage with your digital products directly via Kahana. Yet, the intentional exclusion of a downloadable link or button effectively minimizes the potential for unauthorized copying or redistribution of your digital content.
To see exactly how Kahana protects digital products, you can check out our less than 3-minute video.
Get in touch
If you have any questions or want to get in touch, please feel free to email us at info@kahana.co or start a Live Chat on our website!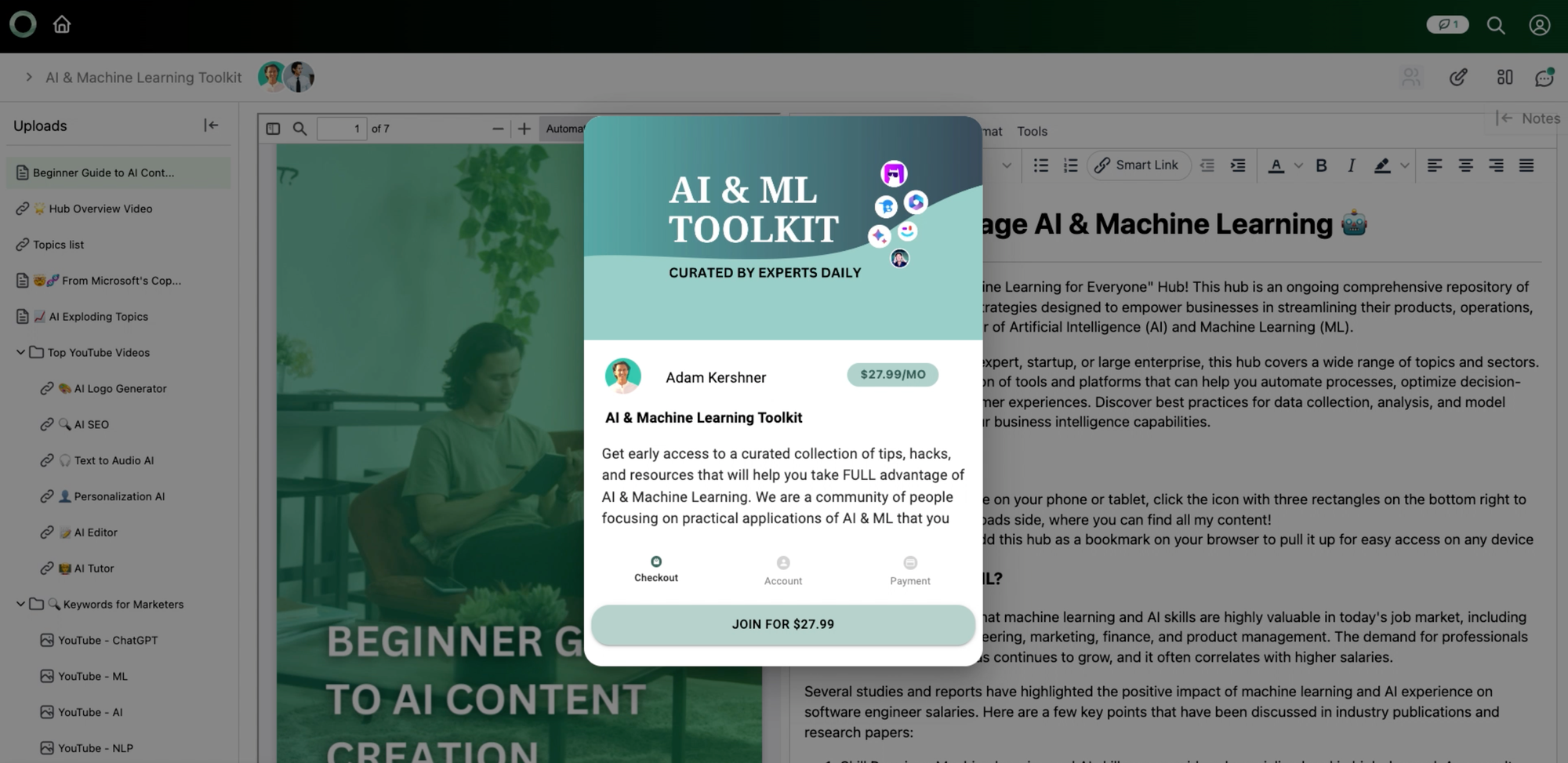 Safeguard your creative work
Give your best resources, PDFs, files, Google Sheets, Notion templates, frameworks, and more - get income back. Prevent unauthorized sharing and protect your digital assets. 100% for free.
Claim my free account