Choosing the right platform for optimizing your online presence can be a crucial decision. In this article, we explore the features of both Linktree and Hopp (by Wix).
Selecting the ideal platform can be overwhelming, given the multitude of public reviews, blogger insights, video reviews, and platform-generated content. Discerning which sources to rely on is a challenge.
In our efforts to assist, the Kahana team has conducted thorough research, aggregating data on both Linktree and Hopp. This compilation is derived from various sources, including the platforms' official websites, review sites, and independent long-form reviews, aiming to provide users with a comprehensive understanding of these tools.
We believe these tools are great and can serve you well. In this article, we want to highlight key considerations for each platform.
✅
Note:
Kahana
is a free platform that is compatible with both Linktree and Hopp, that empowers you to build unique shopping experiences for your digital products while preventing unauthorized sharing.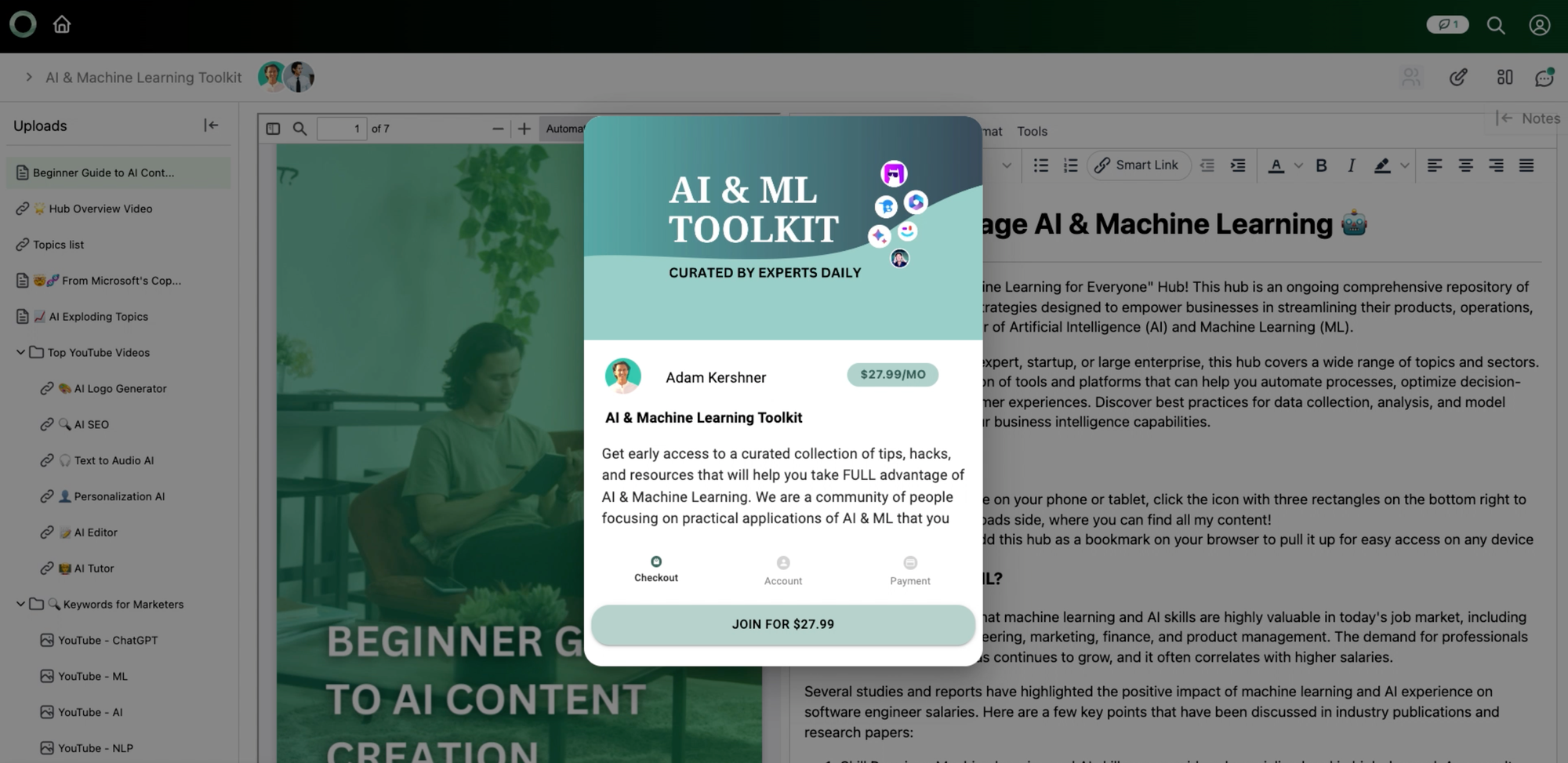 Sell securely with Linktree or Hopp - for free
Kahana works seamlessly with Linktree or Hopp (by Wix) to help you sell your digital products securely and prevent unauthorized sharing for free.
Claim my free account
Linktree vs. Hopp (by Wix): Key Takeaways
🚩 Your digital products can get stolen: Linktree and Hopp emerge as impactful tools in elevating visibility and simplifying sales processes. However, both platforms share a common limitation: reliance on download links for delivering digital products. This shared vulnerability exposes creators to the risks of unauthorized sharing and redistribution. Despite their strengths in enhancing online presence, users should be mindful of the potential challenges associated with secure product delivery on both Linktree and Hopp.
Linktree: Linktree stands out as a valuable tool for individuals seeking to streamline their online presence and enhance visibility. By offering a centralized "Link in Bio" space, Linktree addresses the limitations imposed by social media platforms, providing users with a singular hub for all their essential links.
Hopp (by Wix): Hopp offers a versatile suite of tools for content creators and influencers to enhance their reach. Its Link in Bio feature provides a centralized location for your links, overcoming restrictions imposed by social platforms. Hopp also introduces tools like link shortening, customizable landing pages, and pre-rolls to engage your audience effectively.
Linktree: a quick overview
Linktree is a dynamic link-in-bio tool crafted for individuals and businesses dealing with link restrictions on platforms like Instagram. It simplifies the process of sharing multiple links by providing users with a customizable landing page. This streamlined approach allows creators to efficiently guide their audience to specific content or actions without the hassle of frequently changing profile links. Whether you're a content creator or a business, Linktree offers a user-friendly solution for optimizing link sharing on social media.
Who is Linktree best for?
Linktree serves as a valuable tool for a diverse range of users, from freelancers and small businesses to creative professionals and hobbyists. If you find yourself juggling multiple online destinations, such as a photography portfolio, an art collection, or a side hustle selling handmade crafts, Linktree provides an efficient way to unify these links.
Whether you're a budding chef sharing recipes, a fitness enthusiast offering workout routines, or a travel blogger sharing destination guides, Linktree is designed to streamline your online presence. It's a versatile solution for anyone looking to overcome the limitations of sharing only one link on platforms like Instagram and effectively direct their audience to various aspects of their digital footprint.
Linktree key features
Unlimited Links: Linktree allows you to add as many links as you need, providing a centralized hub for your digital presence.
Customization Options: Tailor the look and feel of your Linktree page with various themes, color schemes, and layout options to match your brand or personal style.
Link Thumbnails & Icons: Enhance the visual appeal and organization of your links by adding custom thumbnails and icons, making it easier for users to navigate.
Link Tracking: Gain insights into your Linktree's performance by tracking clicks on individual links, allowing you to analyze user engagement and optimize your content strategy.
Analytics: Linktree offers analytics features, allowing you to monitor user interactions, track click-through rates, and understand the effectiveness of your linked content.
Mobile Responsiveness: Ensure a seamless experience for users on various devices with Linktree's mobile-responsive design, making navigation smooth and accessible.
Social Icons: Integrate social media icons into your Linktree page, offering users alternative ways to connect with you across various platforms.
Free Themes: Choose from a selection of free themes to customize the overall appearance of your Linktree page without additional costs.
Linktree pricing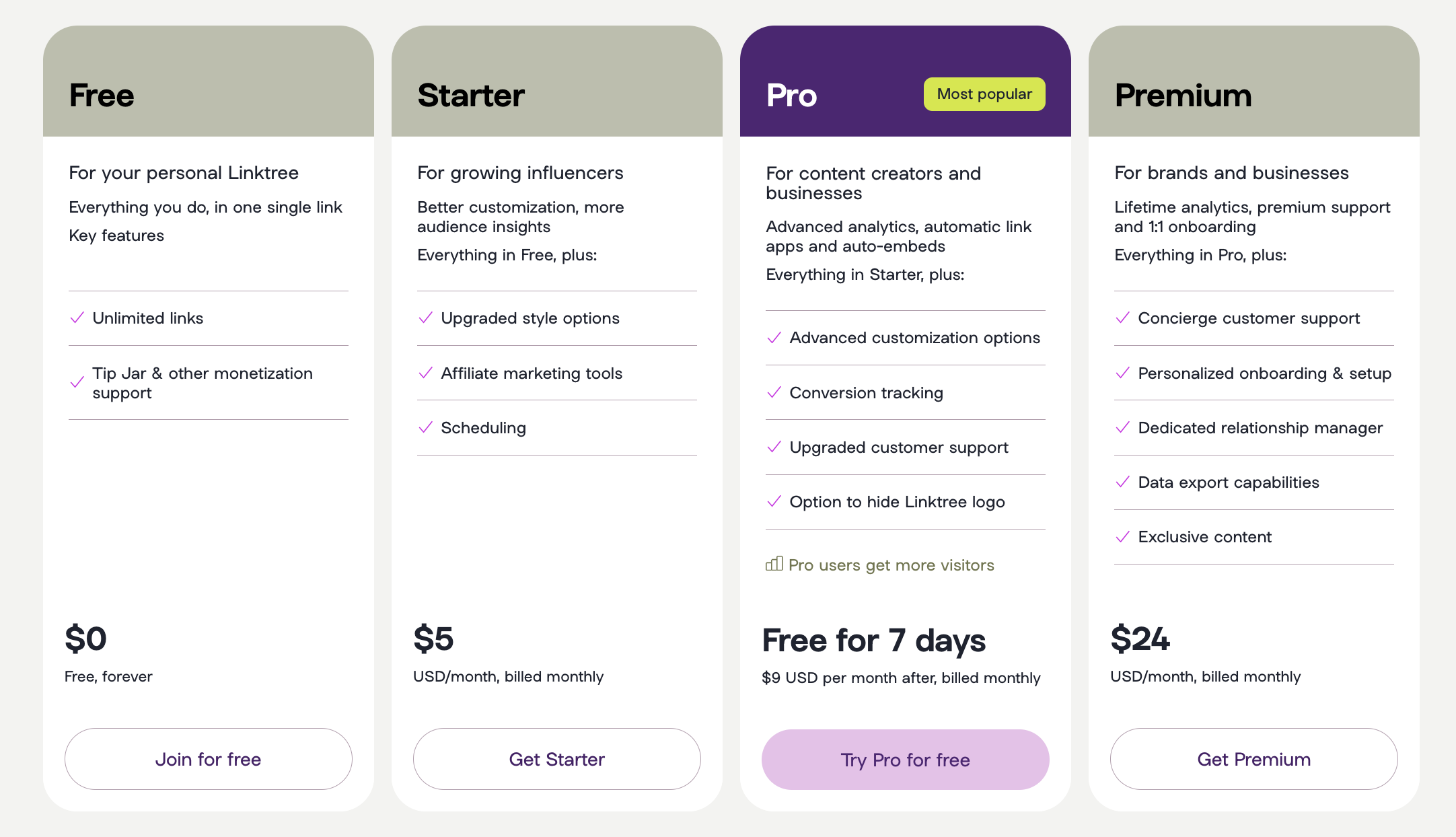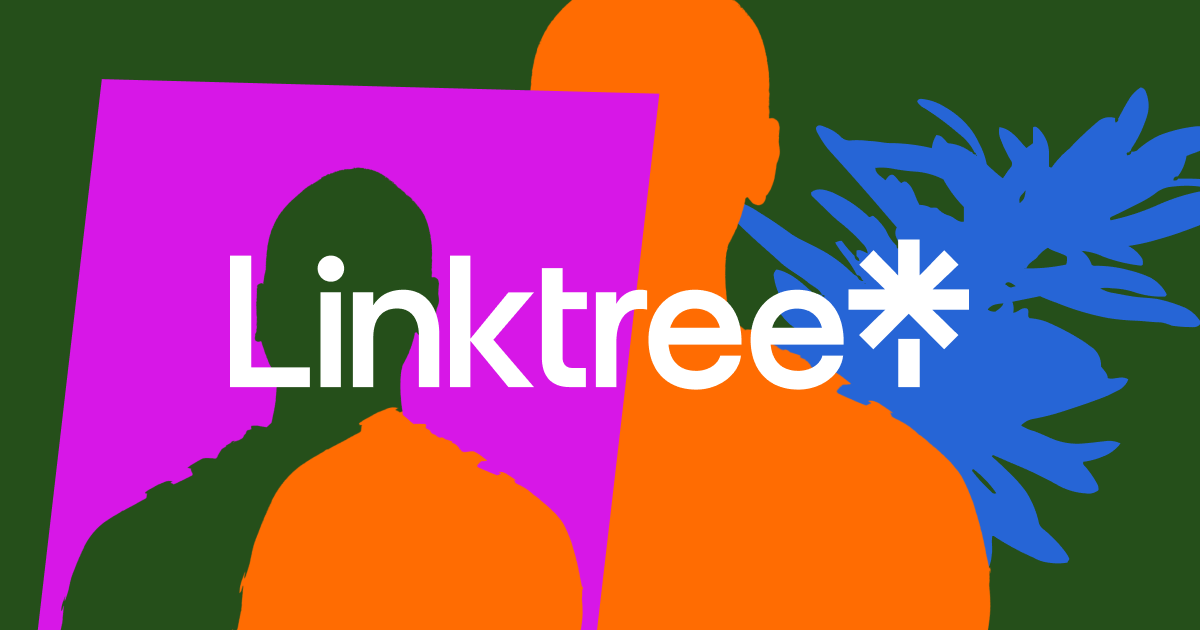 Hopp (by Wix): a quick overview
Hopp by Wix is a versatile tool designed for content creators and influencers seeking to amplify their online presence and engage effectively with their followers.
At its core, Hopp provides a dynamic "Link in Bio" solution, empowering users to consolidate all their relevant content into a single, easily accessible landing page. Beyond the standard link-sharing functionality, Hopp introduces a range of tools to enhance user engagement, including link shortening, customizable landing pages, and pre-roll features.
With an emphasis on simplicity and accessibility, Hopp enables users to build a comprehensive online brand, seamlessly integrating with social media platforms.
Whether you're sharing services, products, blog posts, or promotional content, Hopp simplifies the process and offers robust tracking and analytics to optimize your digital strategy.
Who is Hopp best for?
Hopp caters to a diverse audience of content creators, influencers, and businesses seeking an all-encompassing solution for their online presence. It's ideal for individuals who want to overcome the limitations of traditional link-sharing methods on social media platforms.
Whether you're an artist, entrepreneur, blogger, or service provider, Hopp provides the flexibility to curate a personalized and visually appealing "Link in Bio" page. This tool is particularly beneficial for those who want to showcase a variety of content, products, or services in a single, streamlined location.
Hopp: key features
Link in Bio with Search Engine: Overcome social media linking restrictions with a "Link in Bio" page that includes a built-in search engine. This allows your audience to find specific products or resources by entering codes assigned to each item.
Shorten Links: Condense lengthy URLs into shareable formats using Hopp's link-shortening tool. Customize the shortened URL with your brand name, trigger promotions upon link clicks, and track its performance.
Landing Pages: Create dedicated pages effortlessly, choosing what to promote and share with your audience. Shareable URLs make it easy to connect your followers to the content you care about, and you can track the overall performance of your landing pages.
Pre-Rolls: Select content or actions to show visitors before they reach their intended link destination. This feature allows you to display specific content, such as videos or promotions, before visitors access their target URL.
Insights and Analytics: Keep an eye on the performance of your Hopp website with detailed insights. Track analytics related to card views and link clicks in real-time, helping you optimize your digital strategy.
Customization Options: Customize the look and feel of your Hopp pages with various design options. Choose from presets or design your own, allowing you to align the visual presentation with your brand identity.
User-Friendly Interface: Hopp boasts a user-friendly interface, making it easy for both beginners and website pros to create and manage their online presence. The simplicity of the tool ensures that users can have their Hopp website online in minutes.
Integration with Wix: Hopp seamlessly integrates with Wix accounts, offering a convenient and familiar login process for users who are already part of the Wix ecosystem. This integration enhances the overall user experience.
Flexible Content Sharing: Share your Hopp website across various platforms, including social networks, business cards, email signatures, brochures, and online profiles. This flexibility allows you to connect with your audience wherever they prefer to engage with your content.
Hopp pricing
Hopp is free to use. You can check out the Hopp website for more detailed information.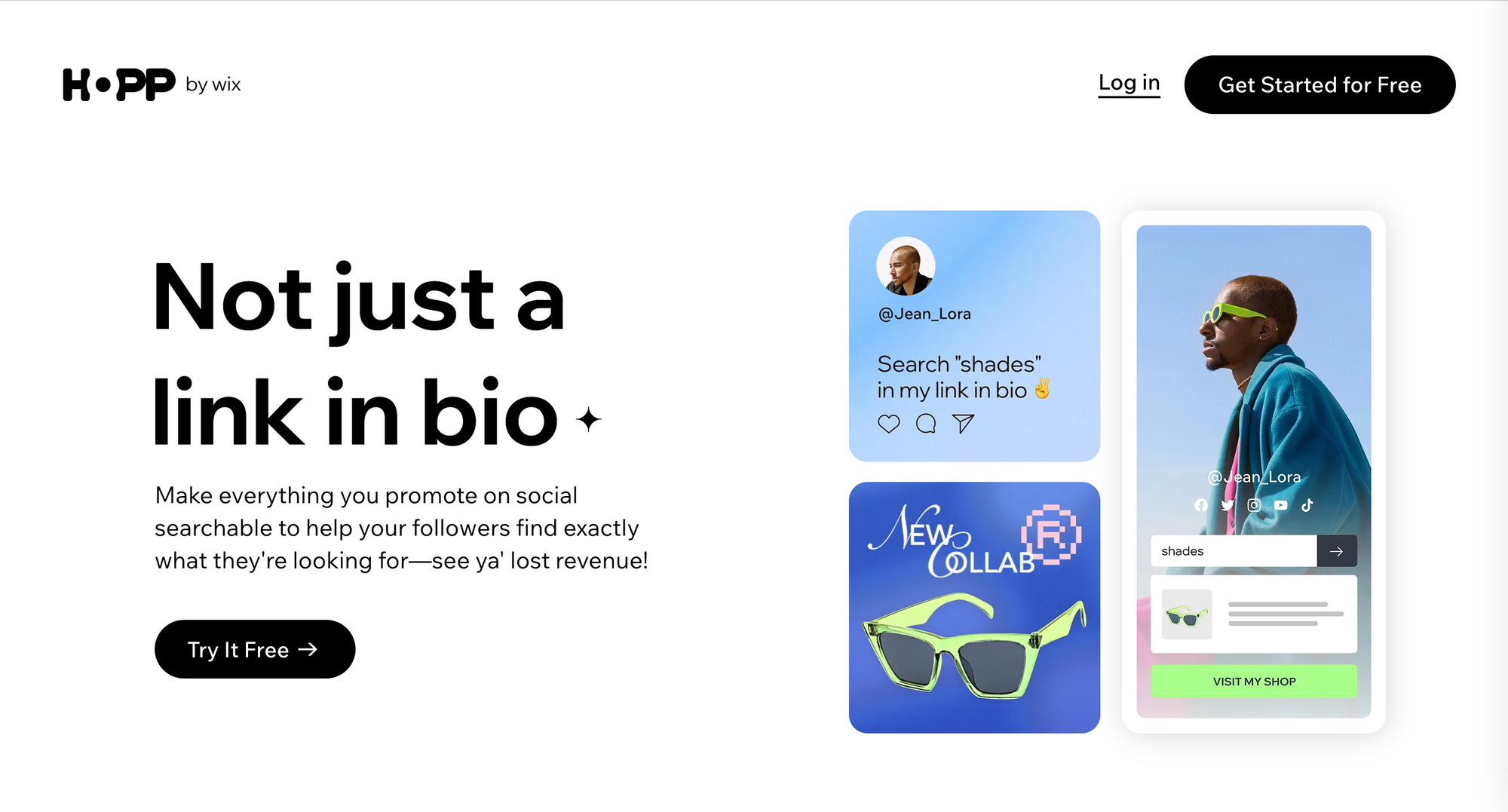 Linktree pros and cons
Linktree Pros
Easy Link Management: Linktree provides a simple and user-friendly platform for managing multiple links in one place, making it convenient for users to navigate through various resources.
Free to Use: Linktree offers a free version, allowing users to create a basic "Link in Bio" page without incurring any costs.
Quick Setup: Setting up a Linktree page is a quick and straightforward process, making it accessible to users without advanced technical skills.
Customization Options: Users can customize the appearance of their Linktree page with different themes and colors, adding a touch of personalization to their online presence.
Analytics Insights: Linktree provides basic analytics to track link clicks and visitor interactions, offering insights into the performance of shared links.
Linktree Cons
Unauthorized Sharing Risk: Linktree relies on direct download links, posing a risk of unauthorized sharing and distribution of digital products, as users can easily download the linked content.
Limited Features in Free Version: While the free version is available, it comes with limitations in terms of features and customization options compared to premium plans.
Uniform Appearance: Customization options are somewhat limited, leading to a uniform appearance across Linktree pages, which may not suit users with specific branding preferences.
Dependency on External Platforms: Linktree acts as an intermediary platform, redirecting users to external content. This dependency may not be suitable for those looking for a more integrated and immersive user experience.
Potential for Link Clutter: As more links are added to a Linktree page, there's a risk of visual clutter, potentially overwhelming users with too many choices.
Hopp pros and cons
Hopp Pros
Versatile Link Management: Hopp by Wix offers a versatile link management system, enabling users to create a dynamic and interactive "Link in Bio" page with various tools and features.
Diverse Content Integration: Users can integrate a wide range of content, including text, images, GIFs, YouTube videos, blog posts, and more, creating a comprehensive online presence.
Search Engine Inclusion: Hopp includes a search engine within the "Link in Bio" page, allowing audiences to search for specific content using assigned codes, improving accessibility.
Link Shortening and Customization: Hopp provides a link-shortening tool, allowing users to create easily shareable links. Customization options further enhance branding by incorporating brand names into shortened URLs.
Pre-Rolls for Enhanced Engagement: Hopp introduces pre-rolls, enabling users to show specific content or actions to visitors before they reach their intended link destination, enhancing user engagement.
Hopp Cons
Risk of Unauthorized Sharing: Hopp, like Linktree, relies on download links, presenting a risk of unauthorized sharing and redistribution of digital products as users can download the linked content.
Complexity for Beginners: The diverse range of features may pose a challenge for beginners, requiring a learning curve for those new to the platform or unfamiliar with content creation tools.
External Platform Dependency: Similar to Linktree, Hopp serves as an intermediary platform redirecting users to external content, which might not suit those seeking a more seamless user experience.
Potential for Visual Overload: As users integrate diverse content, there's a potential for visual overload, especially if not organized strategically, possibly overwhelming the audience.
Limited Free Features: While Hopp offers a free version, certain advanced features may be limited, and users may need to opt for premium plans for full access to all tools.
TL;DR: To sell digital products securely through Linktree and Hopp, consider using Kahana
Kahana's secure hub architecture introduces a winning strategy for marketing digital products, prioritizing enhanced protection. Unlike conventional approaches dependent on download links, Kahana prevents customers from directly downloading your products. This safeguard shields your precious assets, including PDFs, e-books, and templates, from any unauthorized sharing risks.
Your customers retain complete freedom to engage with your digital products on Kahana, fostering reading and discussion. Yet, the intentional exclusion of a downloadable link or button significantly reduces the risk of unauthorized copying or redistribution of your digital content.
To see exactly how Kahana protects digital products and see the approach in action, you can check out our less than 3-minute video.
Get in touch
If you have any questions or want to get in touch, please feel free to email us at info@kahana.co or start a Live Chat on our website!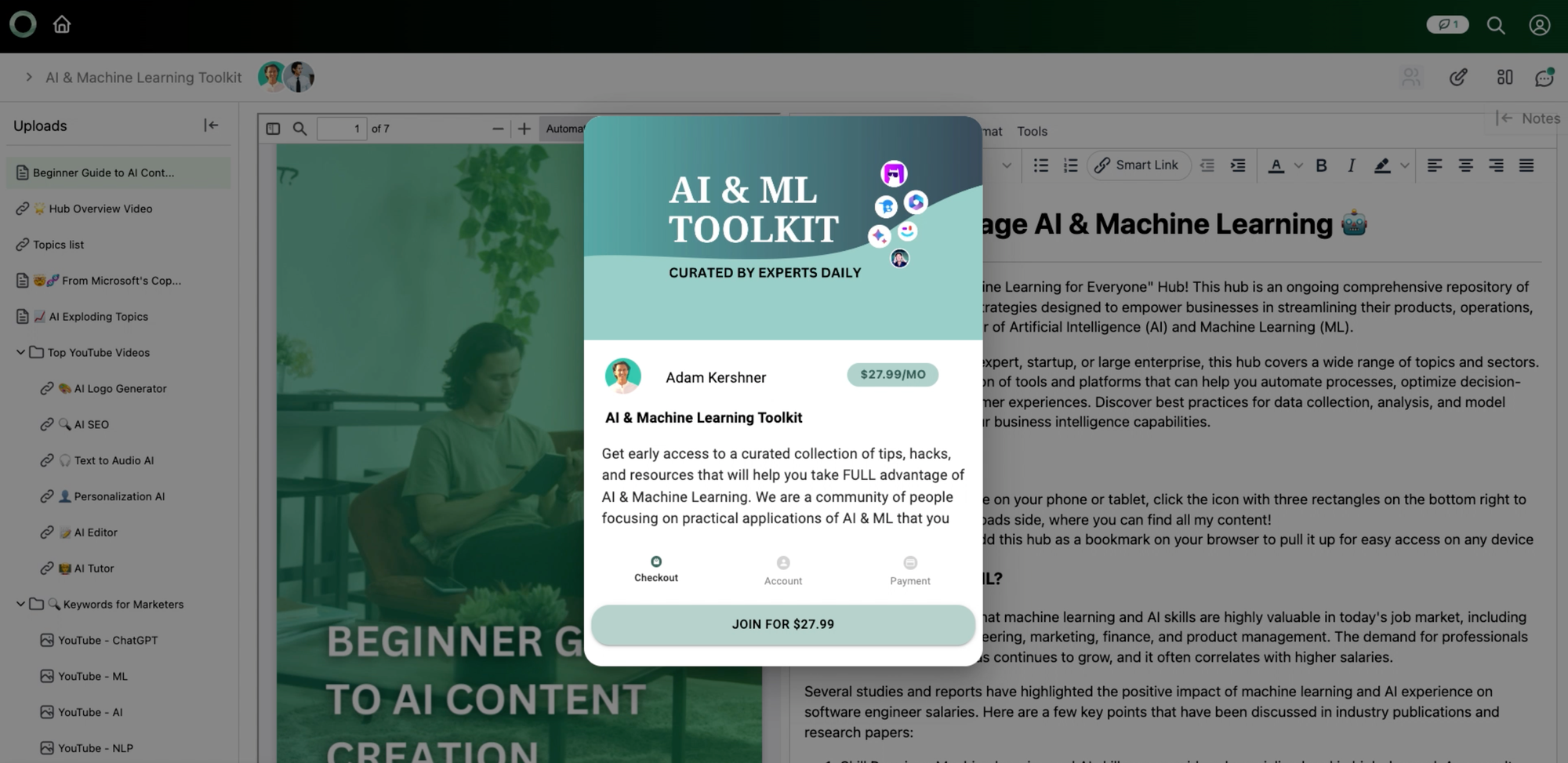 Safeguard your creative work
Give your best resources, PDFs, files, Google Sheets, Notion templates, frameworks, and more - get income back. Prevent unauthorized sharing and protect your digital assets. 100% for free.
Claim my free account