In the dynamic realm of digital product sales, choosing the right platform is pivotal for creators and entrepreneurs seeking secure and effective solutions. In this comparison between Linktree and Milkshake, we delve into the features, advantages, and potential drawbacks of each.
Whether you're a seasoned digital product creator or just starting, this guide aims to provide insights to help you make an informed decision on the platform that aligns best with your goals for selling digital products.
Choosing the right platform can be overwhelming with numerous reviews and information sources. At Kahana, we've researched Linktree and Milkshake based on their official content, reviews, and independent analyses. Our aim is to highlight key considerations for each platform, assisting you in making an informed decision without bias.
If you have any questions or if we missed something, please let us know in the comments!
💡
Note:
Kahana
is a free platform that is compatible with both Linktree and Milkshake, that empowers you to build unique shopping experiences for your digital products while preventing unauthorized sharing.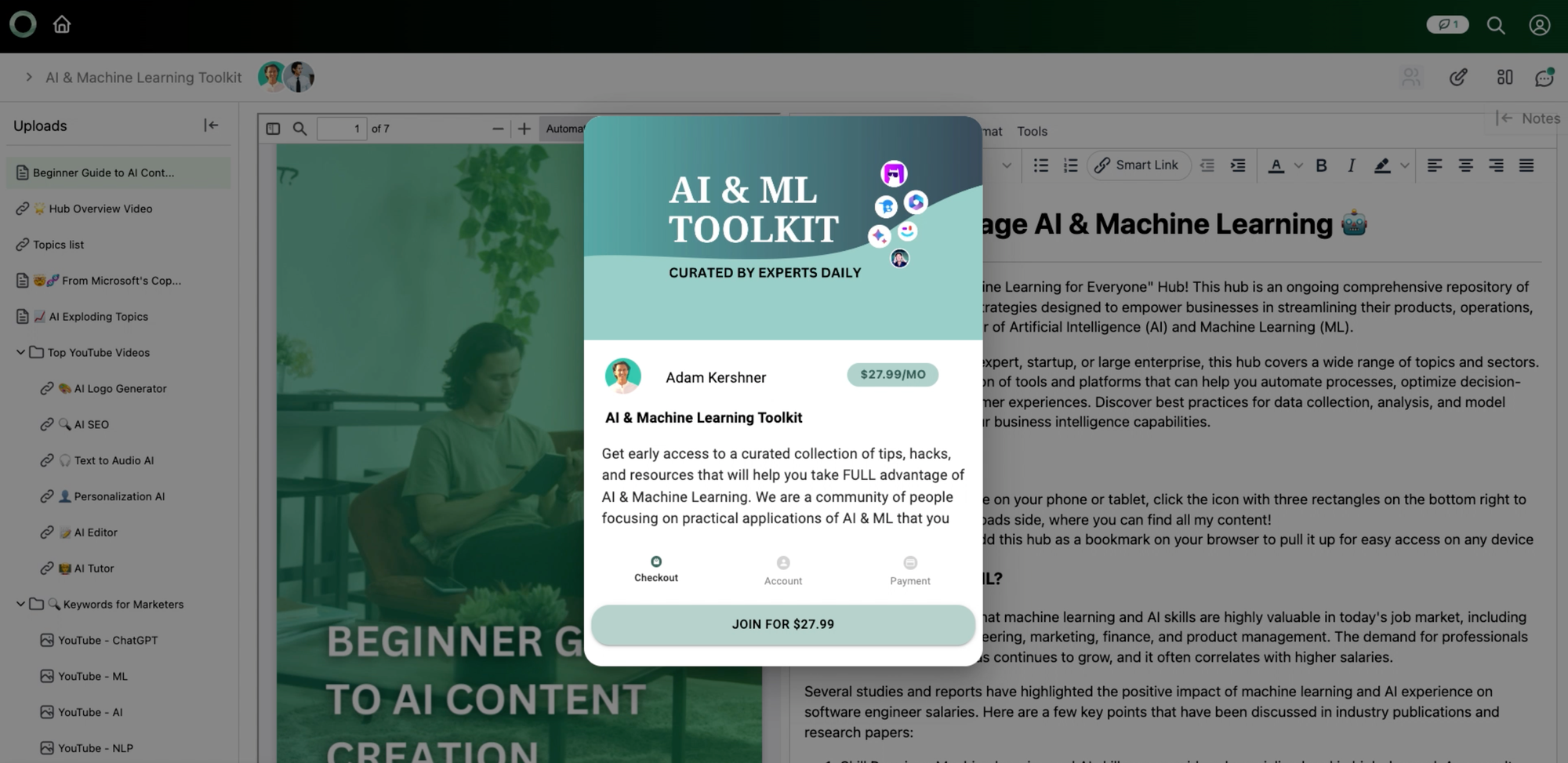 Sell digital products securely - for free
Kahana works seamlessly with Linktree or Milkshake to help you sell your digital products securely and prevent unauthorized sharing - all for free.
Claim my free account
Linktree vs. Milkshake: Key Takeaways
Your digital products can get stolen: While Linktree and Milkshake are effective tools for improving visibility and facilitating sales, both platforms share a common limitation: they rely on download links to deliver digital products, exposing them to potential unauthorized sharing and redistribution risks.
Benefits of Linktree and Milkshake: Linktree and Milkshake offer distinct advantages for users seeking to enhance their online presence and streamline digital product sales. Linktree provides a straightforward and free solution to create a link-in-bio page, making it easy for users to share multiple links in a single location. It's user-friendly and supports customization. On the other hand, Milkshake is a free app that enables users to create simple websites directly from their phones. It's particularly useful for connecting with followers through social media profiles. Both platforms contribute to increased visibility and accessibility for creators, allowing them to share their content and products more effectively.
Linktree: a quick overview
Linktree is a widely used tool that simplifies the process of sharing multiple links through a single bio link. It is especially popular among content creators and businesses on social media platforms. Linktree offers a straightforward solution for directing followers to various content and resources without the need for constantly changing bio links.
Who is Linktree best for?
Linktree is an ideal platform for content creators, influencers, and businesses looking for a quick and simple solution to optimize their social media presence. It caters to individuals who want to consolidate multiple links into a single, easily accessible location. If you're active on various platforms and want to direct your followers to specific content or landing pages without overwhelming them with choices, Linktree offers a user-friendly and efficient solution. Whether you're a blogger, artist, or entrepreneur, Linktree streamlines the process of sharing and promoting your digital products seamlessly across different channels.
Linktree key features
Links & Buttons: Create a centralized hub for all your important links and buttons, making it easy for your audience to navigate to specific content.
Customization: Tailor the appearance of your Linktree profile with customizable themes, ensuring it aligns with your brand aesthetics.
Analytics: Gain insights into your Linktree performance with analytics, allowing you to understand user engagement and optimize your strategy.
Marketing Tech: Integrate marketing tools and technologies to enhance your promotional efforts and reach a wider audience.
Management: Efficiently manage your digital presence with tools for email and phone number collection, embedding multimedia content, and utilizing various app links.
Extended Themes: Customize your Linktree profile further with extended theme options, enabling a unique and visually appealing presentation.
Social Icons: Integrate social media icons to connect your audience with your various social profiles directly from your Linktree.
Headers: Create distinct sections using headers to organize your links and improve navigation.
Free Themes: Utilize a range of free themes to personalize your Linktree without incurring additional costs.
Support Banner: Communicate important messages or updates through a support banner displayed prominently on your Linktree profile.
Link Thumbnails & Icons: Enhance the visual appeal of your links with customizable thumbnails and icons.
Unlimited Links: Enjoy flexibility in adding as many links as needed to cater to your diverse content and offerings.
LInktree pricing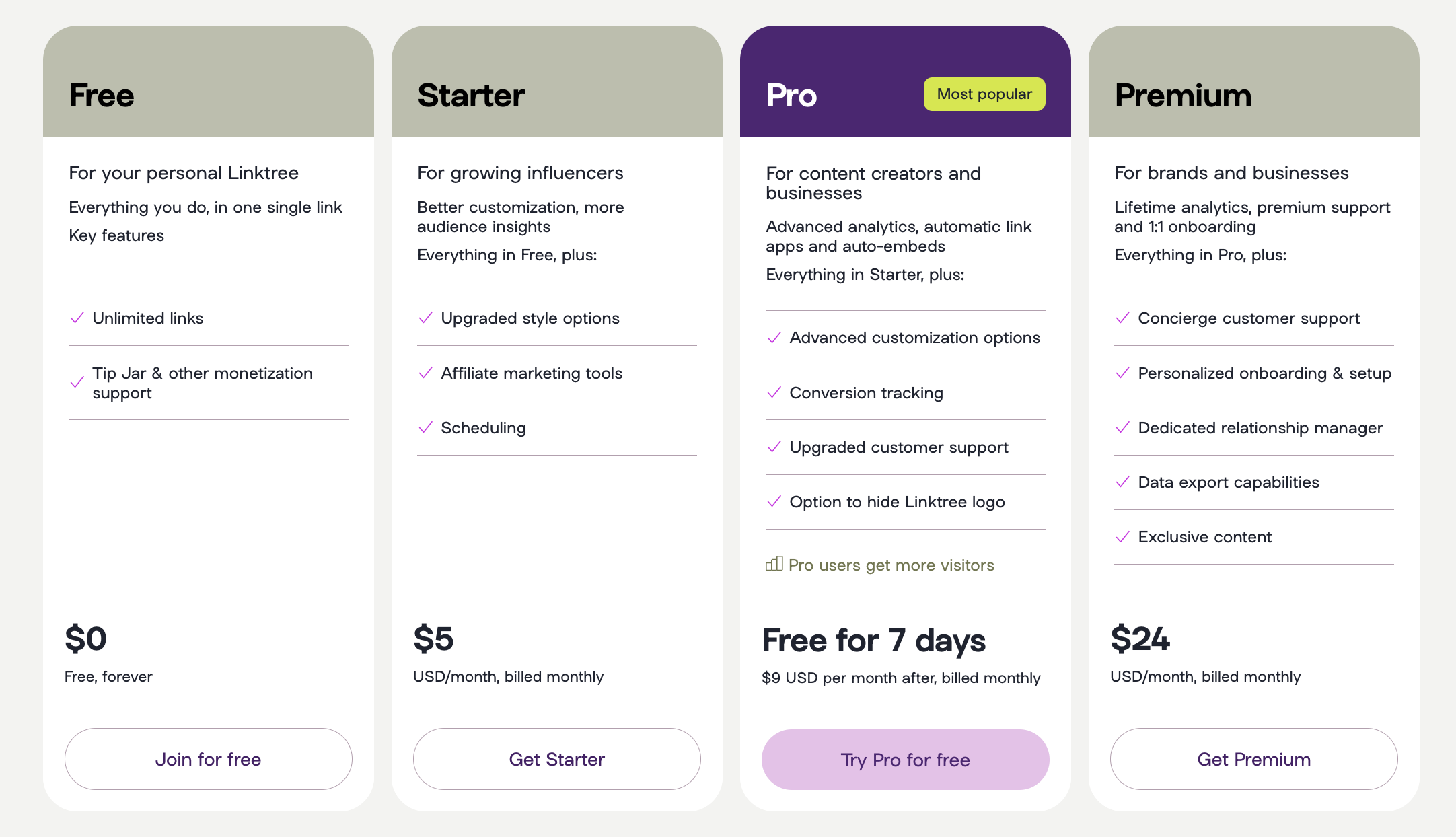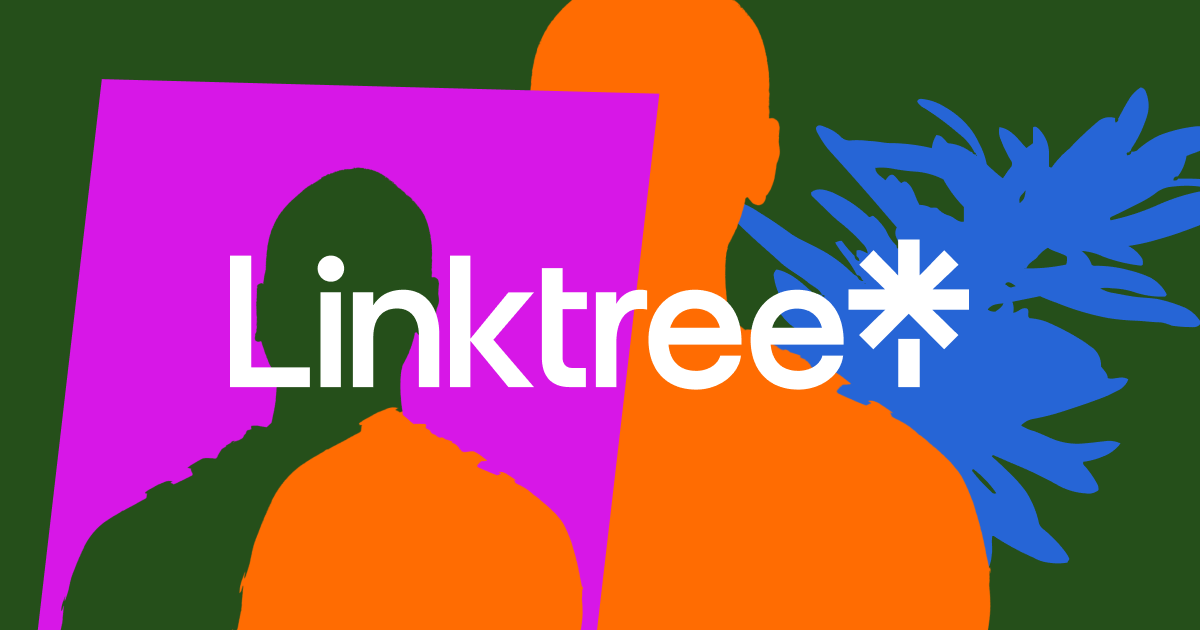 Milkshake: a quick overview
Milkshake is a free mobile app designed to enable users to create simple, attractive websites directly from their phones. The app provides an easy way for individuals, especially those active on social media, to share a personalized website link showcasing their work, content, and other relevant information. Milkshake emphasizes simplicity and accessibility, making it a suitable option for those looking to build a basic online presence effortlessly.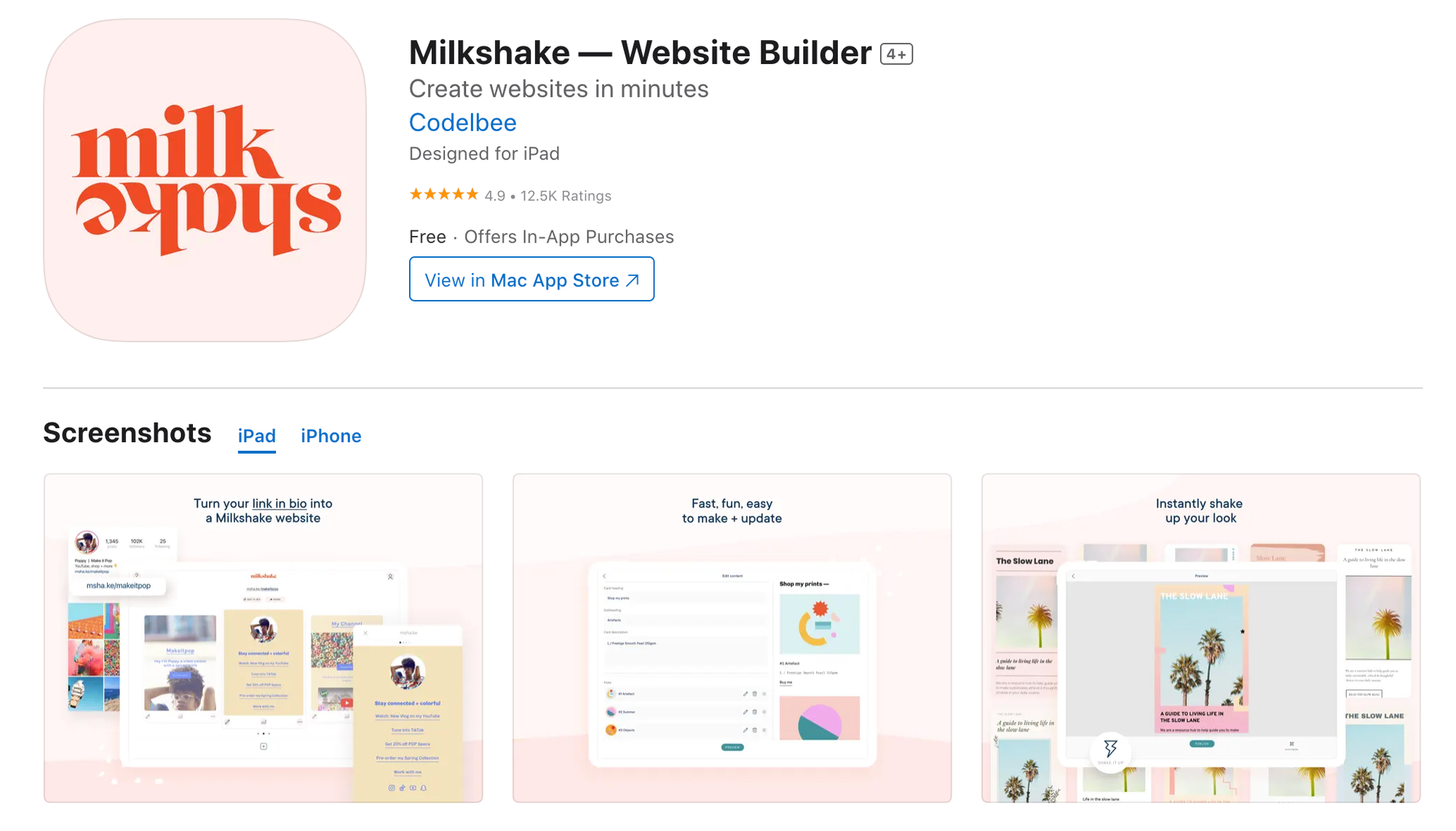 Who is Milkshake best for?
Milkshake is ideal for individuals and entrepreneurs who are seeking a user-friendly and cost-effective solution to establish a vibrant online presence. It caters to content creators, influencers, freelancers, and small businesses looking to create a visually appealing website directly from their mobile devices. Milkshake is particularly well-suited for those who want to showcase their personal brand, portfolio, or a specific project without the need for complex website development. With its easy-to-use interface and free accessibility, Milkshake empowers anyone, regardless of technical expertise, to effortlessly build and launch a website, making it an excellent choice for those who prioritize simplicity, creativity, and a seamless mobile experience.
Milkshake key features
Instant Website Creation:

Build and update your Milkshake website instantly using your iPhone or iPad.
No need for desktops, design skills, or website-building expertise.

Card-Based Structure:

Create pages (cards) for your Milkshake website, each functioning like an Instagram Story.
Customize each card with various content types, including text, images, GIFs, videos, blog posts, podcast episodes, contact details, promotions, and links.

Customizable Looks:

Shake up the look of your cards to choose the best design.
Customize looks with brand colors, fonts, logos, and images.
All designs are beautiful, professional, and mobile-responsive.

Publish and Share:

Publish your Milkshake website online for free.
Add your 'link in bio' to social profiles, including Instagram, TikTok, Snapchat, and more.
Easily connect followers to your Milkshake website.

User-Friendly Interface:

Whether you're a beginner or an experienced website builder, create your Milkshake website in minutes.

Insights and Analytics:

Monitor website performance with Insights.
Track analytics of card views and link clicks in real-time for optimization.

Versatile Usage:

Use Milkshake to introduce yourself, share services, products, passion projects, promotions, testimonials, and social profiles.
Keep followers updated on blog posts, podcast episodes, ebooks, and resources.
Promote YouTube videos, recommend favorites, highlight latest work, receive bookings, and launch new ventures.

Multiple Sharing Options:

Share your Milkshake website on various social networks, business cards, email signatures, brochures, posters, online profiles, portfolio sites, resumes, and media kits.
Reach followers and customers on platforms like Instagram, TikTok, Snapchat, Facebook, YouTube, Pinterest, Twitter, LinkedIn, Twitch, Tumblr, WhatsApp, Threads, Discord, Linktree, and WeChat.
Milkshake pricing
You can access all Milkshake features for free, and you only need to pay a small monthly subscription to get rid of the Milkshake branding. But if you're looking to turn your content creation career into a business empire, Linktree is a stronger choice.
Linktree pros and cons
Linktree Pros
Ease of Use: Linktree is user-friendly, making it easy for individuals to set up and customize their link-in-bio pages.
Centralized Links: Allows users to centralize multiple links in one place, simplifying the navigation for followers.
Link Tracking: Provides basic analytics to track the performance of your links, including click-through rates.
Integration: Integrates with various social media platforms, allowing users to share their Linktree link across multiple profiles.
Linktree Cons
Download Links: One of the significant drawbacks is the reliance on download links, making it susceptible to unauthorized sharing of digital products.
Brand Presence: The free version includes the Linktree logo, which may affect the overall branding of users' pages.
Milkshake pros and cons
Milkshake Pros:
Mobile-Friendly Creation: Milkshake allows users to build and update websites directly from their iPhones or iPads, making it convenient for on-the-go content creation.
Card-Based Design: The card-based structure provides a visually engaging format, resembling Instagram Stories, and allows for diverse content inclusion.
Easy Customization: Users can personalize each card with text, images, videos, and more, and customize the overall look with brand colors, fonts, and logos.
Insights and Analytics: Milkshake offers insights to track the performance of the website, including card views and link clicks, helping users optimize their content strategy.
Milkshake Cons:
Download Links: Similar to Linktree, Milkshake is susceptible to the use of download links, posing a risk of unauthorized sharing and redistribution of digital products.
Limited Desktop Functionality: The platform primarily focuses on mobile content creation, potentially limiting features available for users who prefer desktop functionality.
TL;DR: To sell digital products securely through Linktree and Milkshake, consider using Kahana
Kahana's innovative hub design introduces a heightened level of security to the digital product sales landscape. Diverging from conventional methods dependent on download links, Kahana prohibits customers from directly downloading your products. This distinctive approach serves to safeguard your valuable assets, including PDFs, e-books, and templates, shielding them from the risks associated with unauthorized sharing.
While your customers enjoy the complete freedom to read, discuss, and engage with your digital products directly on Kahana, the intentional omission of a downloadable link or button acts as a safeguard, minimizing the potential for unauthorized copying or redistribution of your digital content.
To learn more about how Kahana protects digital products and see the unique approach in action, check out our less than 3-minute video.
Get in touch
If you have any questions or want to get in touch, please feel free to email us at info@kahana.co or start a Live Chat on our website!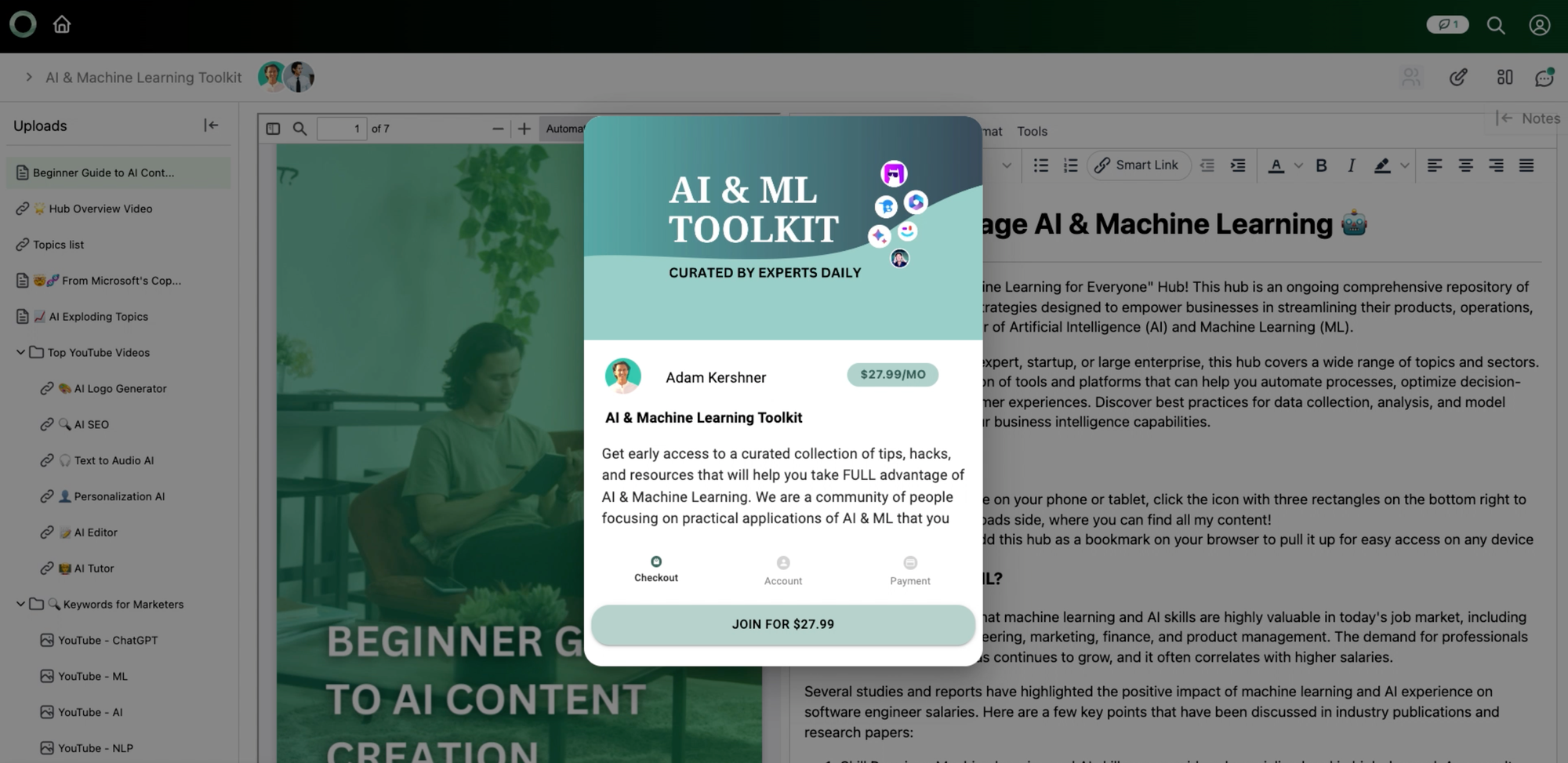 Start safeguarding your creative work
Give your best resources, PDFs, files, Google Sheets, Notion templates, frameworks, and more - get income back. Prevent unauthorized sharing and protect your digital assets. 100% for free.
Claim my free account