Navigating the landscape of digital product sales has become increasingly intricate, and two platforms, Linktree and Stan Store, offer distinctive solutions to content creators seeking efficient ways to monetize their online presence.
Linktree has been a pioneer, revolutionizing how users share multiple links on social media, providing a centralized hub for a curated collection of destinations.
On the other hand, Stan Store emerges as an alternative, positioning itself as an all-in-one e-commerce shop seamlessly integrated with social media platforms like TikTok and Instagram.
All this begs multiple questions:
Linktree vs. Stan Store: what's the difference?
What's actually better when it comes to Linktree vs. Stan Store?
Is Stan Store actually worth the price?
The Kahana team has conducted thorough research and gathered data on both Linktree and Stan Store, drawing from various sources including their official websites, review platforms, and independent, in-depth reviews. Our intention is not to criticize or undermine any platform; rather, we aim to shed light on essential aspects of each, offering insights for your consideration.
✅
Note:
Kahana
is a free platform that is compatible with both Linktree and Stan Store, which empowers you to build unique shopping experiences for your digital products while preventing unauthorized sharing.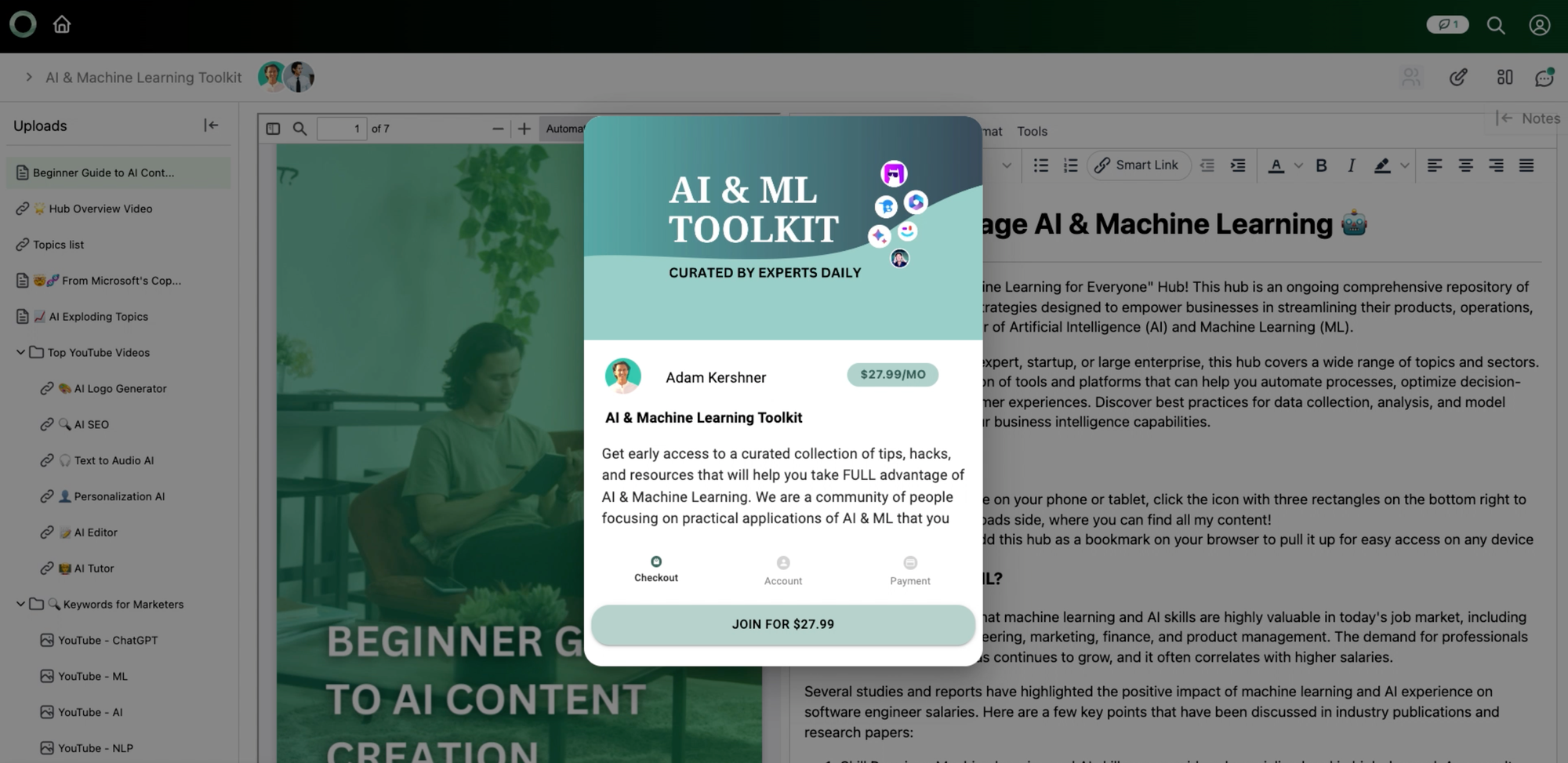 Sell securely on Linktree or Stan Store - for free
Kahana works seamlessly with Linktree or Stan Store to help you sell your digital products securely and prevent unauthorized sharing for free.
Claim my free account
Linktree vs. Stan Store: Key Takeaways
For both, the risk of digital product theft is a concern: Although Linktree and Stan Store are beneficial tools for improving visibility and facilitating sales, they both rely on download links for delivering digital products. This reliance exposes you to the potential threat of unauthorized sharing and redistribution.
It comes down to your budget: Linktree and Stan Store serve a common purpose within your online business by offering a simplified "link in bio" store. While they differ slightly in features, they have pros and cons that are largely similar, and thus choosing between them depends on your preferences and budget. Stan Store introduces additional capabilities beyond link sharing, such as 1-tap checkout and calendar integration. To determine whether its added value is truly essential or just a nice to have, you can explore the 14-day free trial and compare it with the free link-in-bio store alternatives like Linktree, Beacons, or Pensight. Regardless of your choice, you should consider using Kahana alongside any of these link-in-bio stores to secure any digital products and prevent unauthorized sharing.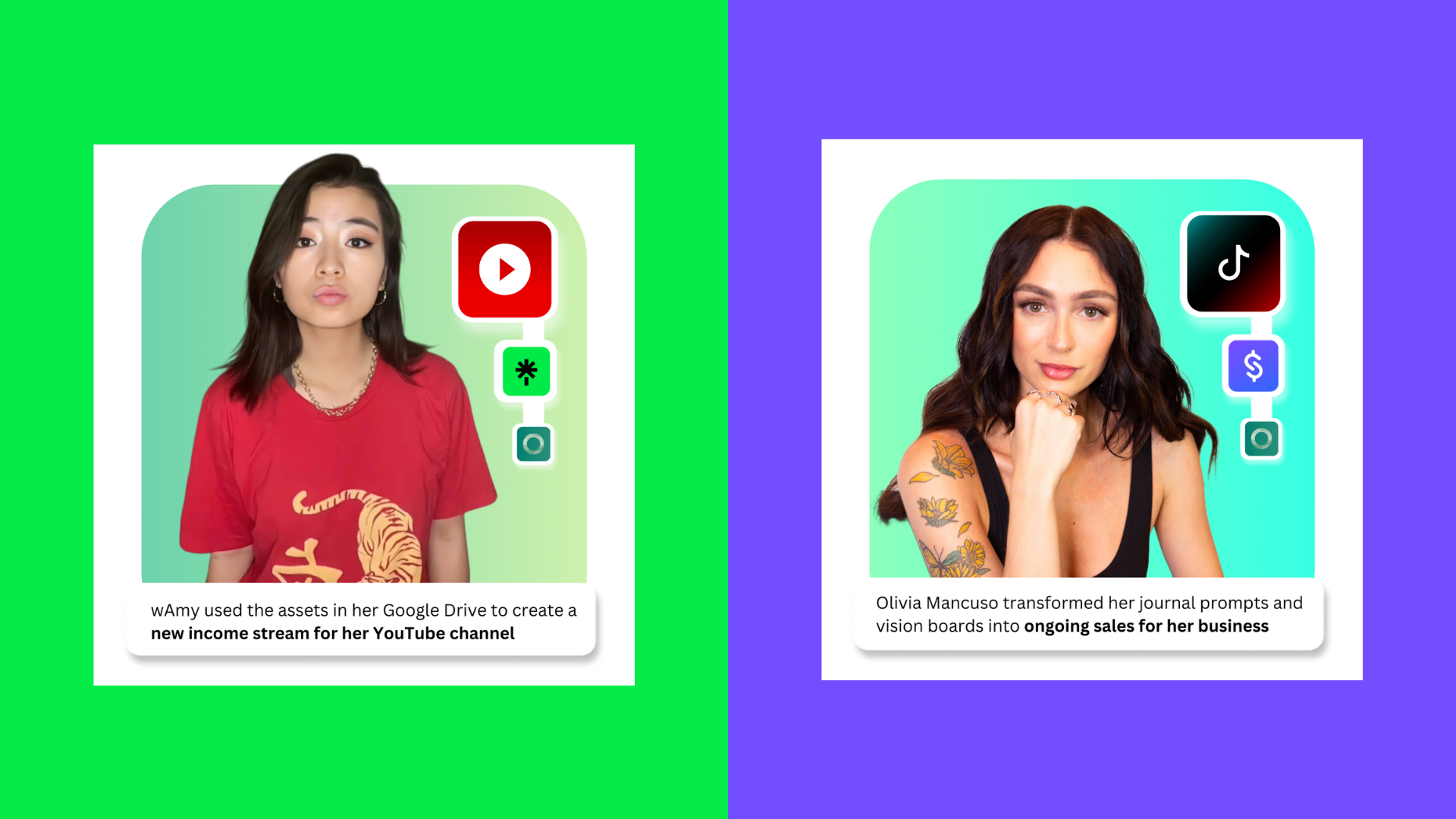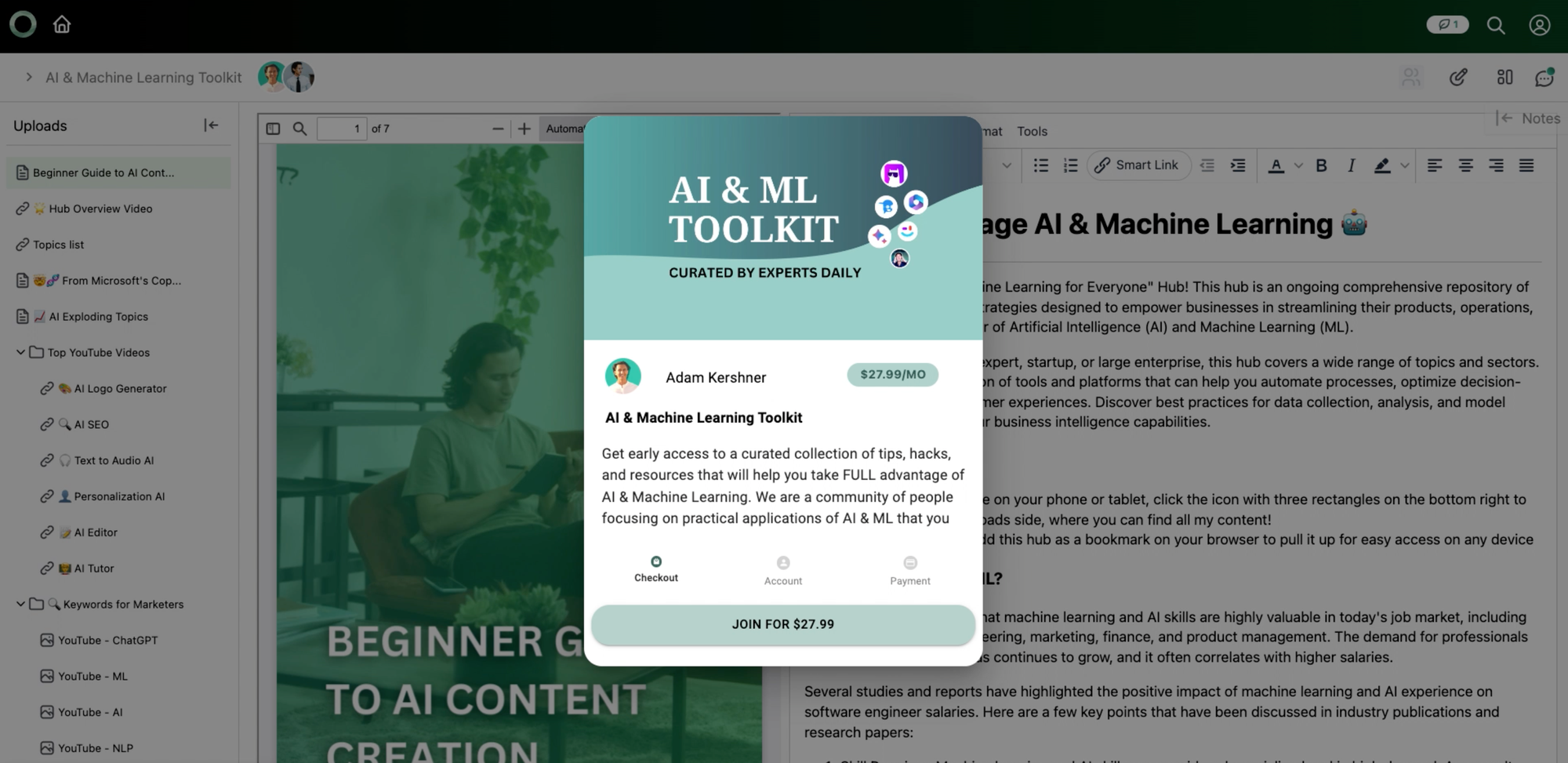 Linktree: a quick overview
Linktree offers a straightforward approach to sharing multiple links on social media, introducing a single, customizable link that directs visitors to a thoughtfully curated landing page known as a "Linktree."
Linktree serves as a central hub for presenting a range of content. Its intuitive design addresses the challenge of optimizing limited space in social media bios, effectively connecting audiences to various online resources.
This designated space acts as a display for a variety of links, providing individuals and businesses with a platform to showcase diverse online destinations, whether it be social media profiles, websites, blogs, or product pages.
Who is Linktree best for?
Best suited for individuals and businesses aiming to boost their digital presence on platforms like Instagram, TikTok, and Twitter, Linktree caters to the diverse needs of freelancers showcasing portfolios or businesses promoting a variety of content. The platform's user-friendly interface makes it an excellent choice for efficiently guiding audiences to different online destinations.
Linktree key features
Centralized Link Page: Linktree enables users to create a single, customizable landing page housing multiple links, offering a convenient way to share diverse content with their audience.
User-Friendly Interface: Designed with simplicity and intuitiveness, Linktree ensures easy navigation for both creators and their audience, making it accessible to users with varying technical expertise.
Customization Options: Users can personalize their Linktree page by choosing themes, colors, and fonts, ensuring brand consistency and a visually appealing presentation.
Link Tracking and Analytics: Linktree provides basic analytics, allowing users to monitor link performance, track click-through rates, and gain insights into audience engagement.
Mobile Optimization: Acknowledging the prevalence of mobile users, Linktree optimizes created landing pages for a seamless experience on various devices, especially smartphones.
Unlimited Links: Linktree users benefit from the flexibility of adding an unlimited number of links to their centralized hub, accommodating the diverse range of content they wish to share.
Linktree pricing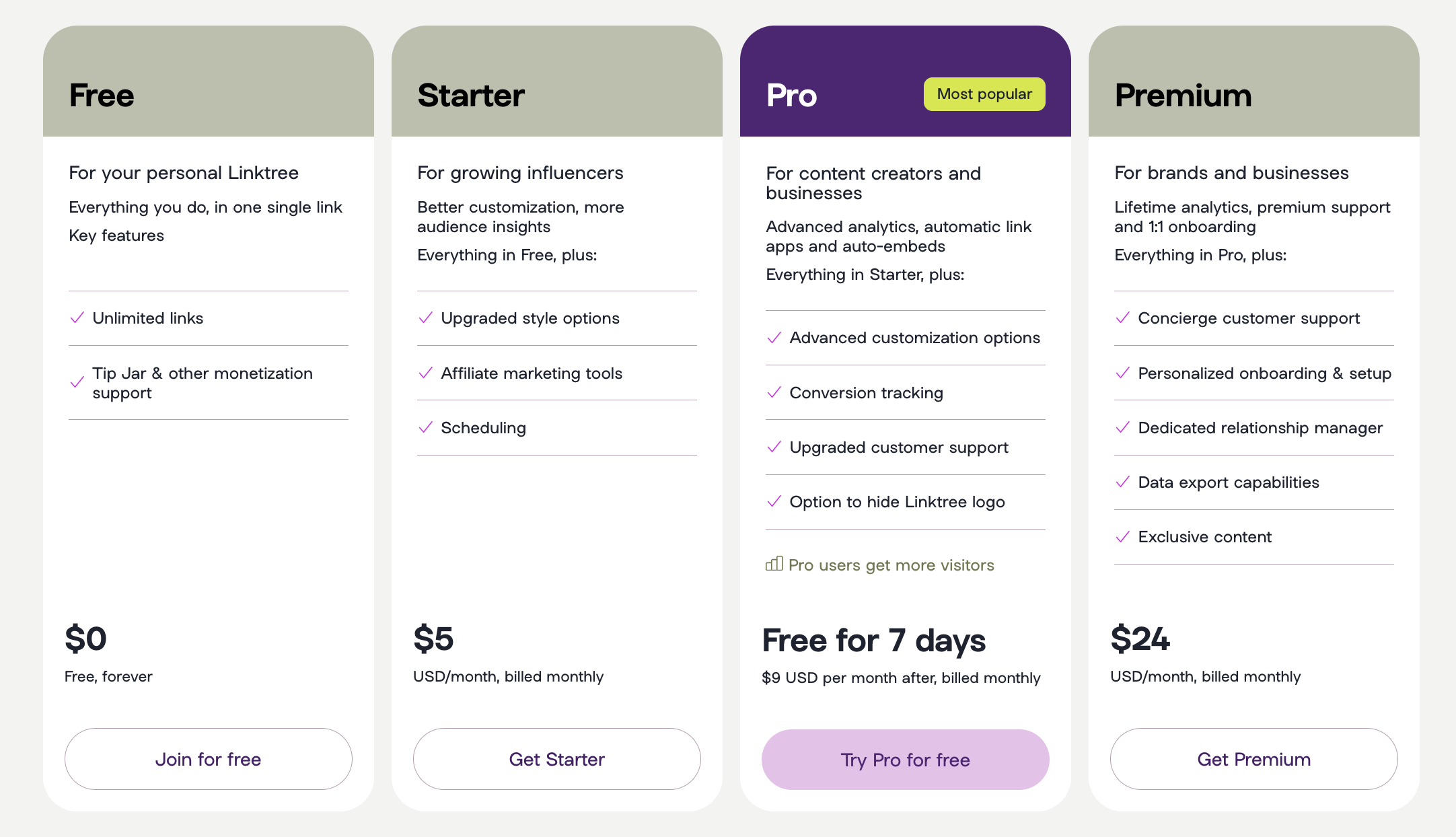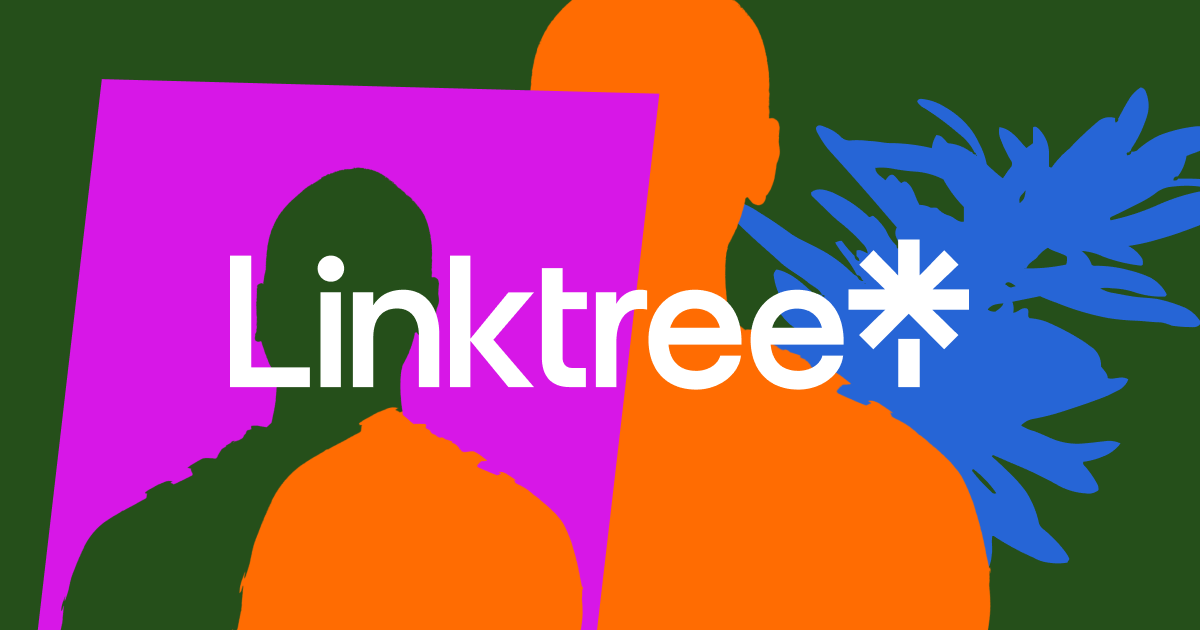 Stan Store: a quick overview
With pricing starting at $29 a month and a commission-free model, Stan Store facilitates the showcasing and listing of offers, be it one-on-one sessions, digital products, or memberships. The platform's minimalist interface prioritizes clarity in purchasing options, enabling users to sell digital products, host online courses, manage memberships, capture email sign-ups, and schedule appointments.
Who is Stan best for?
Stan Store is ideal for a diverse range of content creators and online businesses looking to monetize their digital offerings. This platform caters to individuals and businesses active on social media platforms such as Instagram, TikTok, and Facebook. It particularly suits content creators, influencers, artists, and businesses seeking an integrated solution for selling digital products, offering courses, managing memberships, capturing email sign-ups, and scheduling appointments. Whether you are a solo entrepreneur, freelancer, or have a significant online following, Stan Store provides a user-friendly option to enhance your digital presence and efficiently monetize your content.
Stan Store list of key features
1-Tap Checkout To Increase Conversions: Stan Store streamlines the purchasing process with a 1-tap checkout feature, keeping the pitch and checkout buttons on a single page. This simplicity significantly boosts conversion rates compared to traditional websites, where customers often face multiple steps before completing a purchase.
Multiple Product Options, Unlimited Product Possibilities: Stan Store empowers creators with various monetization options, including email lists, subscription memberships, calendar bookings, e-courses, digital downloads, personalized video responses, and referral programs.
Simple Calendar Bookings: Stan Store facilitates calendar integrations for consulting, coaching, and 1:1 meetings. Creators can set availability, preferred meeting locations, and buffer times before/after each session. The seamless synchronization with Google Calendar ensures a hassle-free booking experience for both creators and customers.
Multiple Themes and No Stress Customization: Stan Store simplifies the process of creating an aesthetically pleasing website with customizable themes and stress-free customization. Creators can effortlessly drag and drop products, arrange them as needed, and choose from various themes to match their audience's style. The platform offers color customization for brand consistency and allows personalized confirmation emails for a unique touch.
Stan Store pricing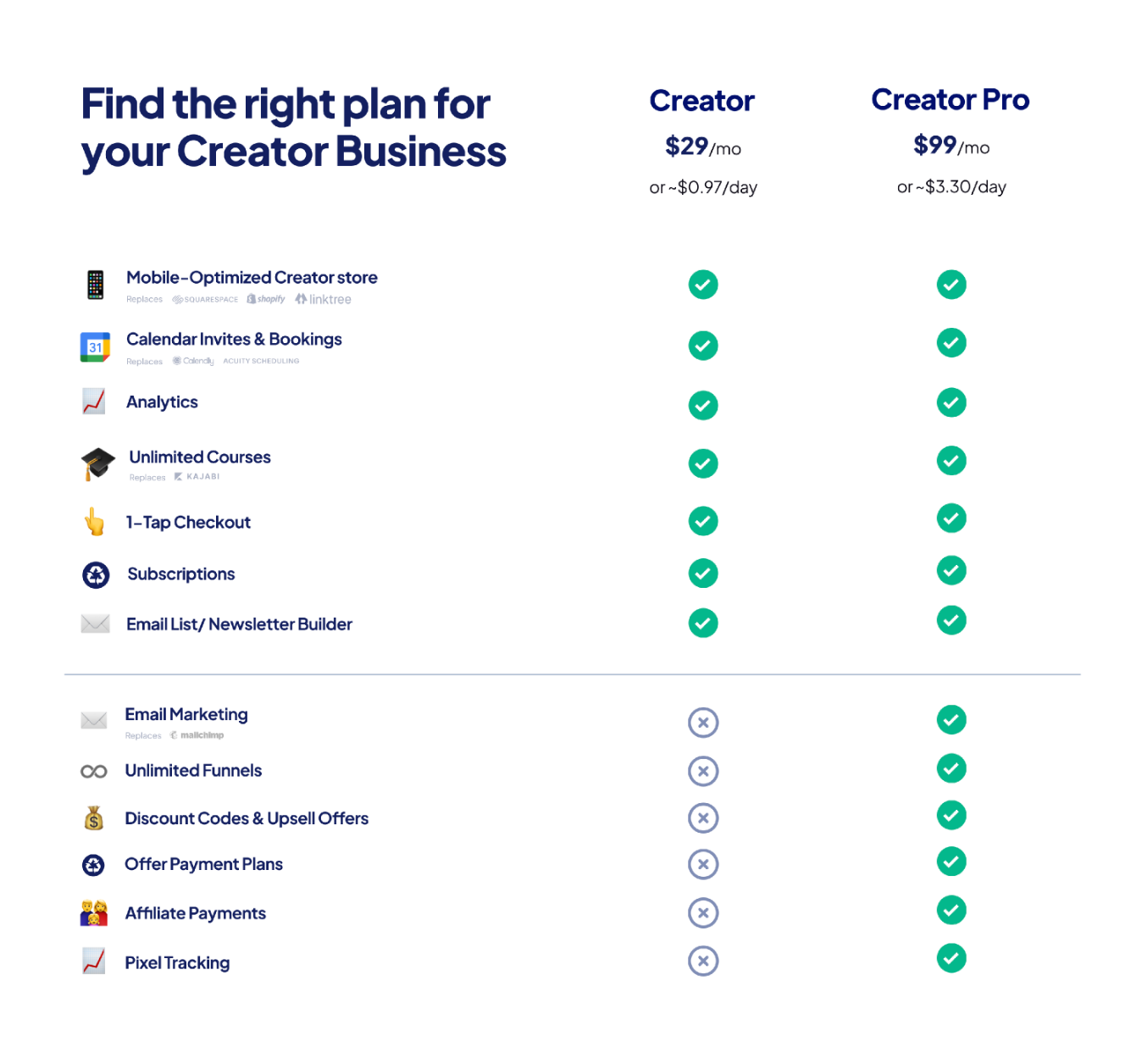 With a 14-day free trial for users to explore the platform's features, Stan Store offers two subscription plans: the Creator plan at $29 per month and the Creator Pro plan at $99 per month.
The Creator plan includes essential features like a mobile-optimized store, calendar bookings, courses, subscriptions, and email sign-up.
On the other hand, the Creator Pro plan, priced at $99 per month, provides advanced features such as email marketing, funnels, discount codes, upsells, payment plans, affiliate commissions, and pixel tracking.
Stan Store does not charge transaction fees, ensuring creators retain 100% of their sales revenue, making it a cost-effective choice for individuals looking to monetize their digital products and services. Additionally, there's an option for an annual plan, allowing users to save on the monthly fee.
Linktree pros
Streamlined Link Sharing: Linktree simplifies the process of sharing multiple links by providing users with a centralized platform and visually appealing landing page.
Personalization Features: Users can customize the appearance of their landing page, aligning it with their brand aesthetics for a cohesive online presence.
User-Friendly Interface: Linktree's platform is designed with ease of use in mind, catering to individuals and businesses regardless of their technical expertise.
Analytical Insights: Linktree offers basic analytics tools, empowering users to monitor the performance of shared links and gain insights into audience engagement.
Linktree cons
Risk of Unauthorized Sharing: Linktree's reliance on direct links exposes it to the potential risk of unauthorized content sharing, as users may distribute the link beyond the intended audience without permission
Limited Design Options: Despite customization options, Linktree has somewhat restricted design flexibility, posing constraints for users in search of more extensive branding capabilities.
Potential for Page Overcrowding: With the addition of numerous links, there is a risk of overcrowding on a Linktree page, potentially diminishing the impact of individual links and overwhelming visitors.
Stan Store pros
1-tap Checkout Process: Stan Store offers a streamlined 1-tap checkout, enhancing user convenience and potentially increasing conversion rates for creators.
Calendar Integration: Stan Store facilitates easy calendar integrations for consulting, coaching, and 1:1 meetings, streamlining the scheduling process.
Customization and Theme Options: Stan Store offers multiple themes and customization features, allowing creators to personalize their stores with ease, including drag-and-drop product management and color customization.
Stan Store Cons
Risk of Unauthorized Sharing: Similar to other platforms, Stan Store faces the challenge of unauthorized sharing of digital products, potentially leading to content redistribution without the creator's consent.
Limited Design Customization: While offering customization options, Stan Store may have somewhat limited design flexibility, posing constraints for users seeking extensive branding capabilities, especially compared to website builders like Wix and Squarespace.
Potential for Overcrowded Pages: As creators add more products to their Stan Store, there is a risk of overcrowding, which could dilute the impact of individual offerings and overwhelm visitors.
Monthly Subscription Cost: Stan Store operates on a monthly subscription model, and while it eliminates transaction fees, some creators may find the recurring cost a consideration in their budgeting.
TL;DR: To sell digital products securely through Linktree and Stan Store, consider using Kahana
Both Linktree and Stan Store serve as effective solutions for establishing a straightforward "link in bio" store within your online business.
While their features vary, the decision between them ultimately hinges on personal preferences and budget considerations. Stan Store, with its additional offerings like 1-tap checkout and diverse product options, may appeal to those seeking enhanced functionalities. Utilizing the 14-day free trial allows for a direct comparison with free alternatives such as Linktree, Beacons, or Pensight.
✅
Solution: Regardless of your choice, safeguarding your digital products sold through these link-in-bio stores is paramount, and Kahana remains a valuable tool for ensuring their protection.
Kahana introduces an innovative protective hub design for selling digital products, emphasizing enhanced security. In contrast to conventional methods dependent on download links, Kahana restricts customers from directly downloading your products. This unique approach serves to safeguard valuable assets like PDFs, e-books, and templates, effectively minimizing the risk of unauthorized sharing.
Your customers retain complete freedom to read, discuss, and engage with your digital products directly within Kahana. Nevertheless, the intentional omission of a downloadable link or button minimizes the risk of illicitly copying or redistributing your digital products.
To see a real example of how Kahana protects digital products, you can check out our less than 3-minute video.
Get in touch
If you have any questions or want to get in touch, please feel free to email us at info@kahana.co or start a Live Chat on our website!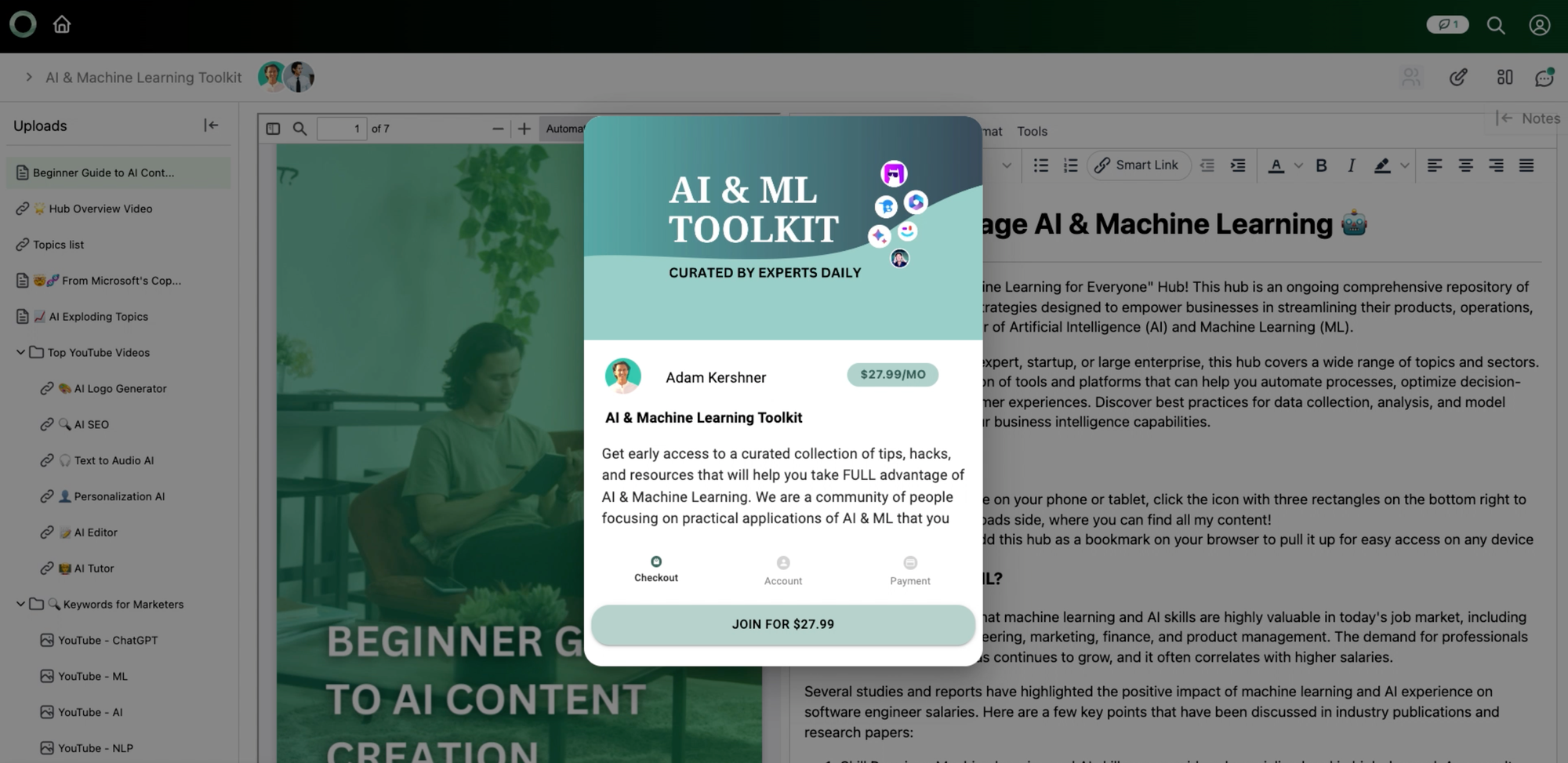 Safeguard your creative work
Give your best resources, PDFs, files, Google Sheets, Notion templates, frameworks, and more - get income back. Prevent unauthorized sharing and protect your digital assets. 100% for free.
Claim my free account