In the landscape of digital product sales, Linktree and Kajabi stand as distinctive contenders. Linktree, renowned for its link-in-bio functionality, concentrates on simplifying users' online presence by offering a unified link that directs followers to diverse platforms.
Conversely, Kajabi serves as an all-encompassing platform tailored for digital entrepreneurs, providing tools to create online courses, membership sites, and facilitate digital product transactions. As digital creators navigate the expansive realm of online commerce, the selection between Linktree and Kajabi hinges on specific requirements and preferences.
Selecting the appropriate platform can be a challenging task. With an abundance of information available, including public reviews, blog posts, video reviews, and content from the platforms, determining the most reliable sources can be perplexing.
Our team at Kahana has conducted research and compiled comprehensive information on Linktree and Kajabi. This research is based on publicly available information, including content from their official websites, review platforms, and independent long-form reviews.
💡
Note:
Kahana
is a free platform that is compatible with both Linktree and Kajabi, that empowers you to build unique shopping experiences for your digital products while preventing unauthorized sharing.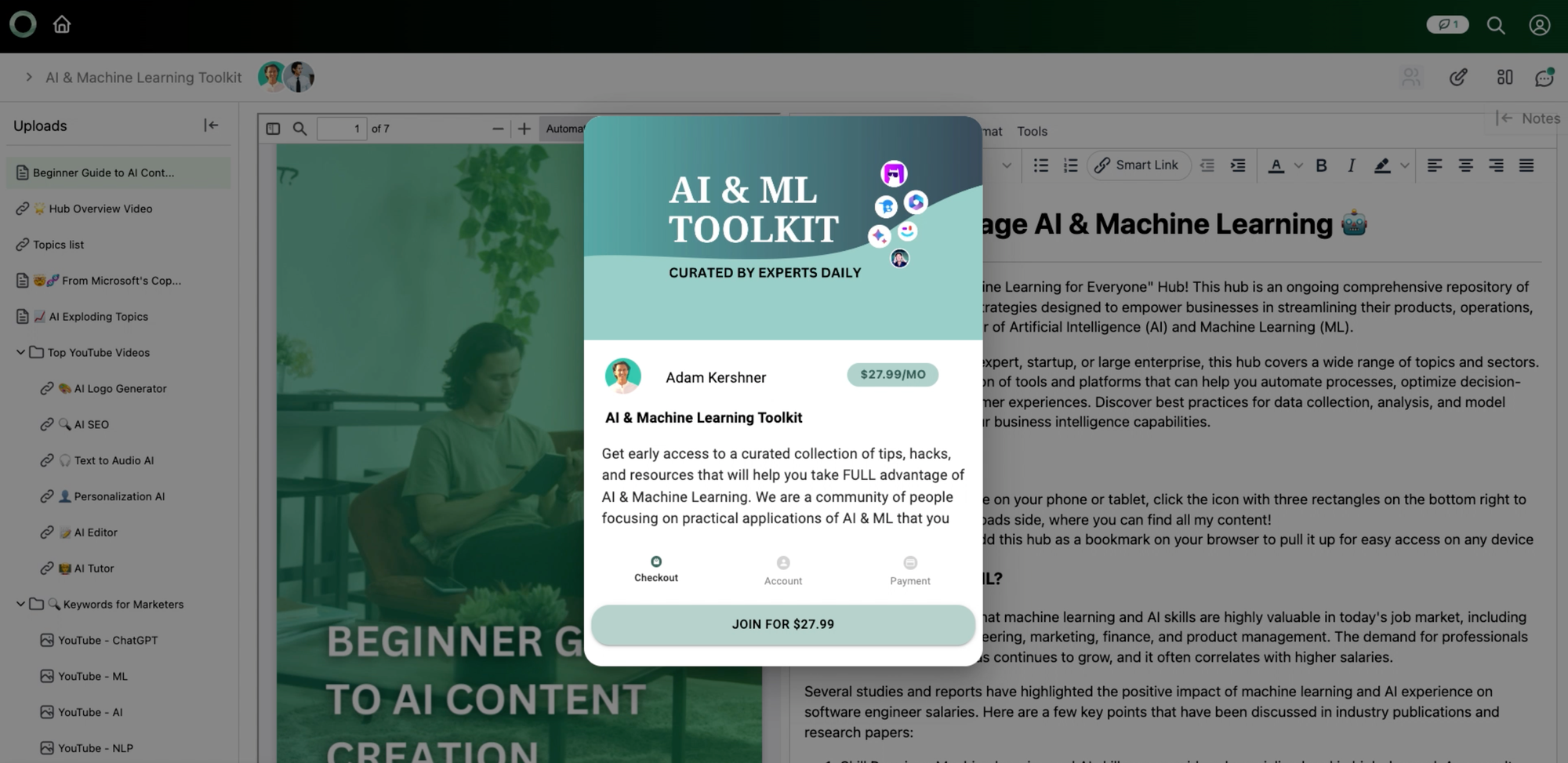 Sell securely on Linktree or Kajabi - for free
Kahana works seamlessly with Linktree or Kajabi to help you sell your digital products securely and prevent unauthorized sharing for free.
Claim my free account
Linktree vs. Kajabi: Key Takeaways
Risk of stolen digital products: Despite being effective tools for boosting visibility and facilitating sales, both Linktree and Kajabi rely on download links to deliver your digital content, exposing it to the risk of unauthorized sharing and redistribution. It's essential to consider the security aspects when choosing the right platform for your digital product distribution.
Linktree vs. Kajabi quick breakdown: Linktree and Kajabi cater to distinct needs in the digital landscape. Linktree is primarily designed as a versatile link-sharing tool, serving individuals and businesses looking to optimize their social media presence by consolidating multiple links into a single, user-friendly landing page. On the other hand, Kajabi is an all-in-one business platform, offering comprehensive solutions for website building, email list management, online course hosting, and marketing automation.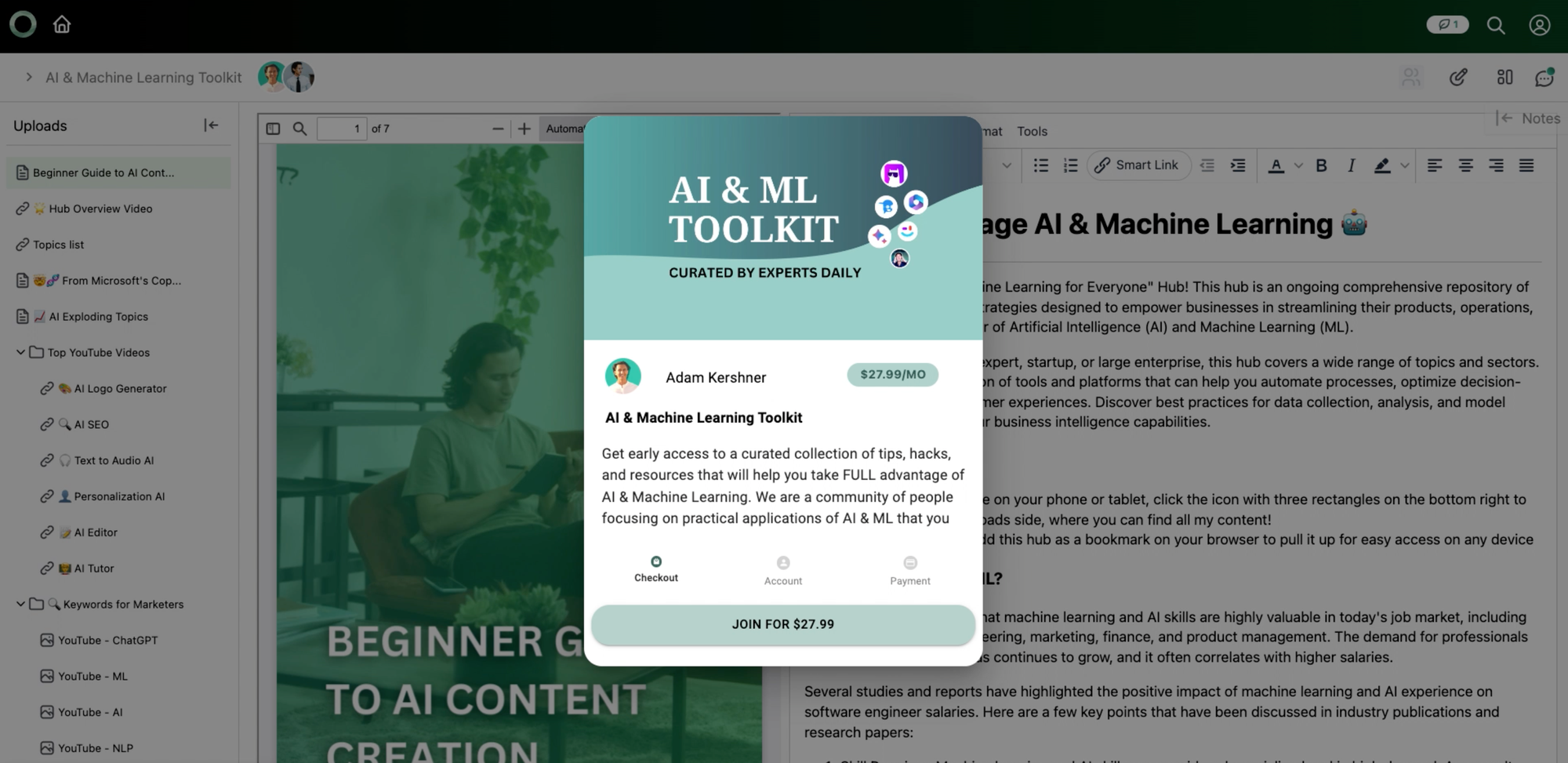 Linktree: a quick overview
Linktree revolutionizes the way users share multiple links on social media by providing a single, customizable link that guides visitors to a carefully curated landing page. This dedicated landing page, known as a "Linktree," serves as a showcase for a collection of links, offering individuals and businesses a platform to present various online destinations. Whether it's steering followers towards social media profiles, websites, blogs, or product pages, Linktree serves as a central hub for presenting diverse content. With its intuitive design, Linktree offers a practical solution for optimizing the limited space in social media bios, effectively linking audiences to a variety of online resources.
Who is Linktree best for?
Linktree caters to individuals and businesses seeking to enhance their digital presence across social media platforms such as Instagram, TikTok, and Twitter. Tailored for content creators, influencers, artists, and businesses, Linktree offers a practical solution to the challenge of sharing multiple links within the constraints of bio sections.
Whether you're a freelancer showcasing your portfolio or a business promoting diverse content, Linktree provides an intuitive platform for creating a centralized landing page. Its user-friendly interface makes it an excellent choice for those looking to efficiently guide their audience to various online destinations.
Linktree key features
Centralized Link Page: Linktree allows users to create a single, customizable landing page that houses multiple links, providing a convenient way to share diverse content with their audience.
User-Friendly Interface: With a simple and intuitive design, Linktree ensures easy navigation for both creators and their audience, making it accessible to users with varying levels of technical expertise.
Customization Options: Users can personalize their Linktree page by selecting themes, colors, and fonts, allowing for brand consistency and a visually appealing presentation.
Link Tracking and Analytics: Linktree provides basic analytics, enabling users to track the performance of their links, monitor click-through rates, and gain insights into audience engagement.
Mobile Optimization: Recognizing the prevalence of mobile users, Linktree ensures that the created landing pages are optimized for a seamless experience on various devices, especially smartphones.
Unlimited Links: Linktree users enjoy the flexibility of adding an unlimited number of links to their centralized hub, accommodating the diverse range of content they wish to share.
Linktree pricing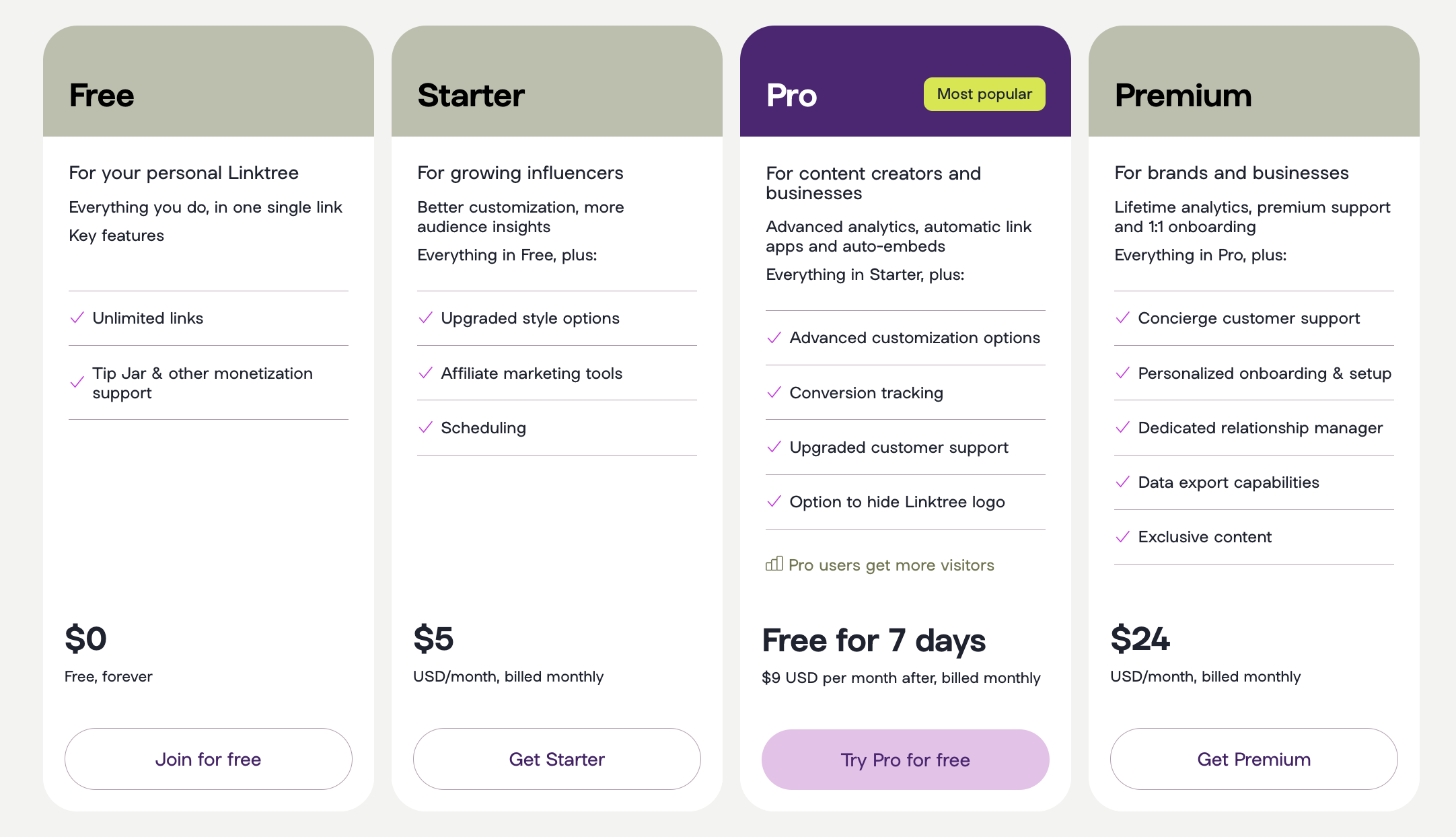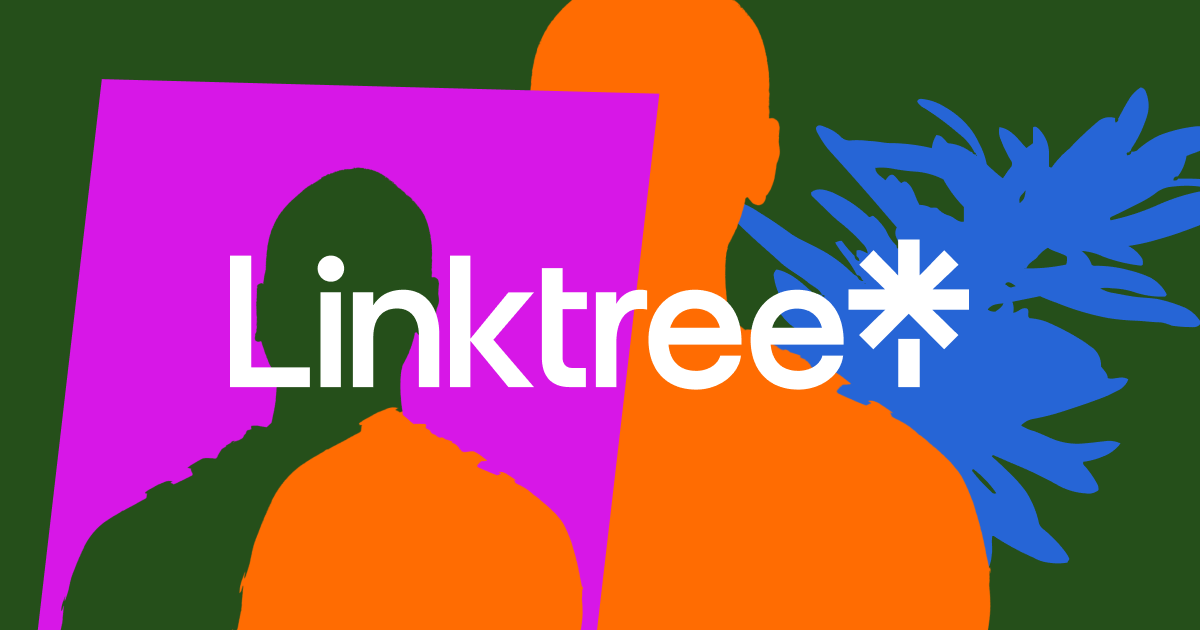 Kajabi: a quick overview
At its core, Kajabi is designed to empower users to build professional websites and engaging landing pages without the need for extensive technical expertise. Beyond its web development capabilities, Kajabi offers various features, including online course hosting, efficient payment processing, marketing automation, and customer support through chat functionality. The platform further distinguishes itself with a range of key features, such as marketing emails, a collection of ready-to-use templates, advanced automation capabilities, a user-friendly code editor, and the ability to host webinars and events. This amalgamation of tools positions Kajabi as a versatile solution for businesses seeking a centralized and efficient platform to manage various aspects of their online operations.
Who is Kajabi best for?
Kajabi caters to a specific niche of users seeking a robust and comprehensive business platform, making it an ideal choice for entrepreneurs, content creators, and organizations looking to establish a strong online presence. Its extensive features, including website and landing page creation, marketing automation, and webinar hosting, make it particularly suitable for those aiming to streamline various aspects of their online operations. However, it's essential to note that Kajabi's pricing starts at $120 per month, and there isn't a free plan available. This positions Kajabi as a premium solution, tailored for users who prioritize advanced features and are willing to invest in a higher-tier platform to unlock the full potential of their online ventures.
Kajabi key features
Kajabi Website Building Features
Website Builder: Craft a professional website effortlessly with the intuitive drag-and-drop builder, seamlessly integrating it with your marketing strategies.
One-Click Marketing Sequences: Quickly generate marketing sequences using pre-designed funnel templates for efficient campaigns.
Unlimited Hosting: Upload videos, photos, and files without constraints, eliminating worries about bandwidth or storage limitations.
Custom Domain: Enhance brand recognition and discoverability by utilizing a custom domain for your Kajabi site.
SEO-Optimized: Benefit from out-of-the-box SEO friendliness, ensuring your website is easily discoverable by your target audience.
Auto Scaling: Enjoy a blazing-fast website experience with Kajabi's powerful auto-scaling technology, capable of handling varying visitor numbers.
Kajabi Email List Building Features
Build Your List: Effortlessly capture visitor information and seamlessly guide them through your marketing funnel using Kajabi landing pages.
High-Converting Page Templates: Choose from a diverse library of mobile-ready templates catering to various marketing needs.
Create Your List: Easily customize and embed forms on your website and pages, initiating effective marketing campaigns to transform visitors into subscribers.
Course Insights: Track student progress, view grades, and access detailed analytics to gauge the effectiveness of your content.
Automate Your Marketing: Streamline your marketing efforts with one-click funnels, email campaigns, and automation for business growth.
Email Sequences: Automate follow-up sequences to nurture leads and increase conversions.
Kajabi pricing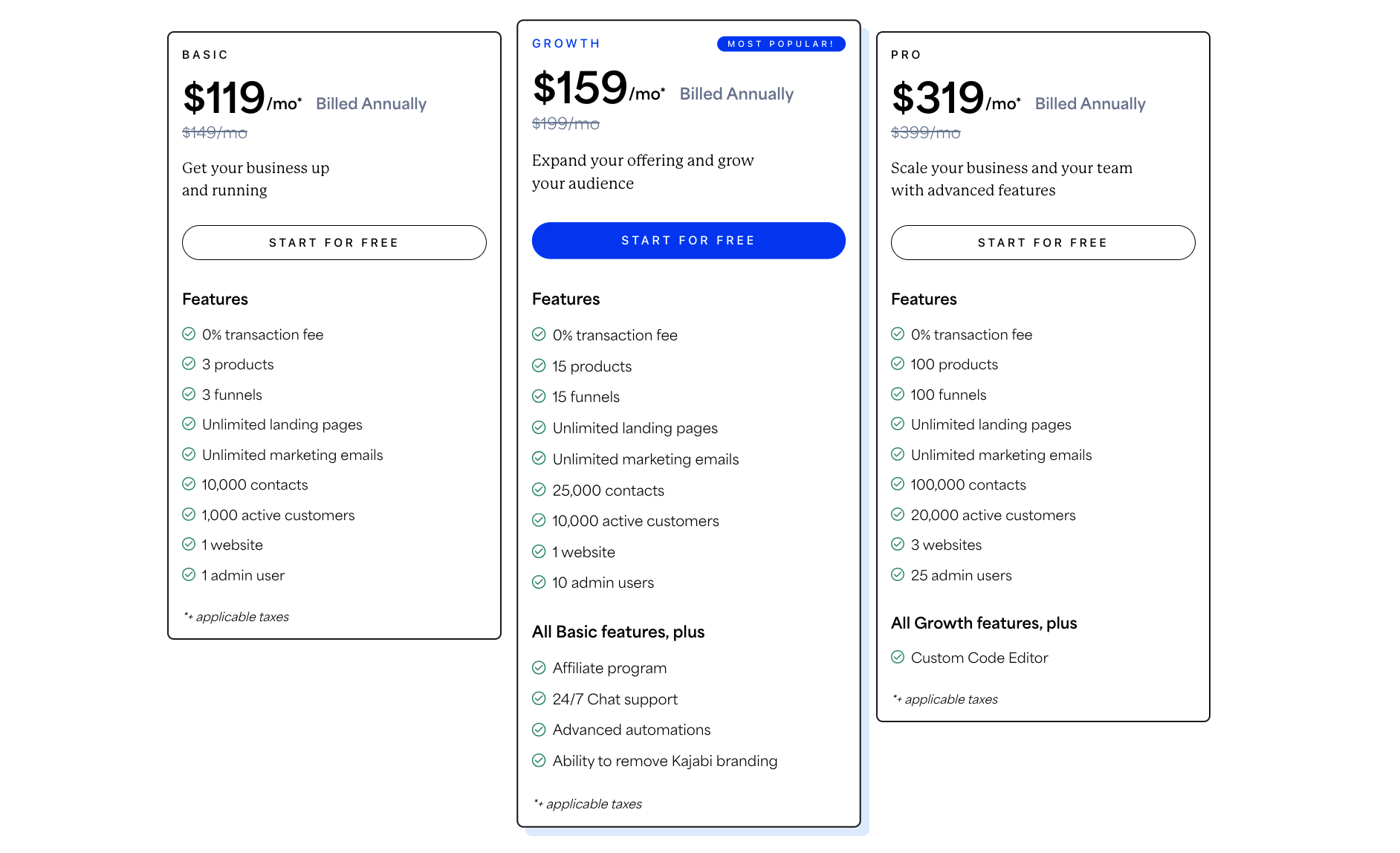 Linktree pros and cons

Linktree Pros
Simplified Link Sharing: Linktree provides a centralized platform for users to share multiple links through a single, visually appealing landing page.
Customization Options: Linktree allows for customization of the landing page's appearance, enabling users to align it with their brand aesthetics.
Ease of Use: The platform is user-friendly, making it accessible for individuals and businesses without technical expertise.
Analytics Tracking: Linktree offers basic analytics tools, allowing users to track the performance of their shared links and understand audience engagement.
Linktree Cons
Unauthorized Sharing Risk: Linktree relies on direct links, making it susceptible to unauthorized sharing of content. Users may share the link outside the intended audience, potentially leading to redistribution without permission.
Limited Design Flexibility: While Linktree offers customization, the design options are somewhat limited, restricting users who seek more extensive branding capabilities.
Potential for Overcrowded Pages: As users add more links to their Linktree page, there is a risk of overcrowding, which may dilute the impact of each link and overwhelm visitors.
Kajabi pros and cons
Kajabi pros
All-in-One Platform: Kajabi serves as a comprehensive business platform, offering website building, email marketing, online course hosting, and marketing automation within a single ecosystem.
Professional Website Creation: Users can easily create professional and secure websites using Kajabi's drag-and-drop builder, complete with custom domains, SEO optimization, and unlimited hosting.
Integrated Marketing Sequences: Kajabi streamlines marketing efforts with one-click marketing sequences, enabling users to generate templates for efficient funnel creation.
E-commerce Features: Kajabi facilitates seamless product sales with an integrated checkout system, support for single and subscription pricing, one-click upsells, and abandoned cart recovery.
Course Management and Engagement: The platform supports engaging content creation for courses, quizzes, and assessments, ensuring a dynamic learning experience. Drip content and detailed analytics enhance course management.
Automated Marketing: Kajabi's marketing automation includes email broadcasts, sequences, and personalized touches, helping users scale their businesses on autopilot.
Affiliate Marketing: Users can leverage affiliate marketing through Kajabi, setting up their own program with custom commissions, public or invite-only access, and fast payouts.
Embedding Capabilities: Kajabi allows for easy embedding of its high-converting checkout on external websites, providing flexibility for users with existing online presence.
Kajabi Cons
Unauthorized Sharing Risk: Like many digital platforms, Kajabi is susceptible to unauthorized sharing of content, especially when using direct download links. This poses a challenge for users concerned about protecting their digital products.
Complex Process for Non-Kajabi Products: Selling digital products outside Kajabi's ecosystem, such as ebooks or non-Kajabi-created resources, requires creating a "Ghost Offer." This additional step can be cumbersome and may not align with the seamless experience users seek.
Cost Considerations: Kajabi's pricing starts at $149 per month, which might be a significant investment for smaller businesses or individuals, especially when compared to free or lower-cost alternatives.
Learning Curve: The platform's extensive features may result in a steeper learning curve for beginners, potentially requiring more time and effort to fully utilize its capabilities.
TL;DR: To sell digital products securely through Linktree or Kajabi, consider using Kahana
Kahana provides a groundbreaking protective hub design that transforms the landscape of digital product sales, prioritizing advanced security measures. Unlike traditional approaches relying on download links, Kahana employs a distinctive strategy by restricting customers from directly downloading acquired products. This proactive measure serves as a barrier, effectively shielding valuable assets such as PDFs, e-books, and templates from the potential threats of unauthorized sharing. Through the elimination of direct downloads, Kahana establishes a robust defense mechanism, providing content creators and businesses with heightened confidence in safeguarding the uniqueness and confidentiality of their intellectual property.
Your customers retain complete freedom to engage, discuss, and explore your digital products directly within Kahana. Nevertheless, the intentional exclusion of a downloadable link or button serves as a safeguard, reducing the potential for unauthorized copying or redistribution of your digital assets.
To see exactly how this works, you can check out our less than 3-minute video.
Get in touch
If you have any questions or want to get in touch, please feel free to email us at info@kahana.co or start a Live Chat on our website!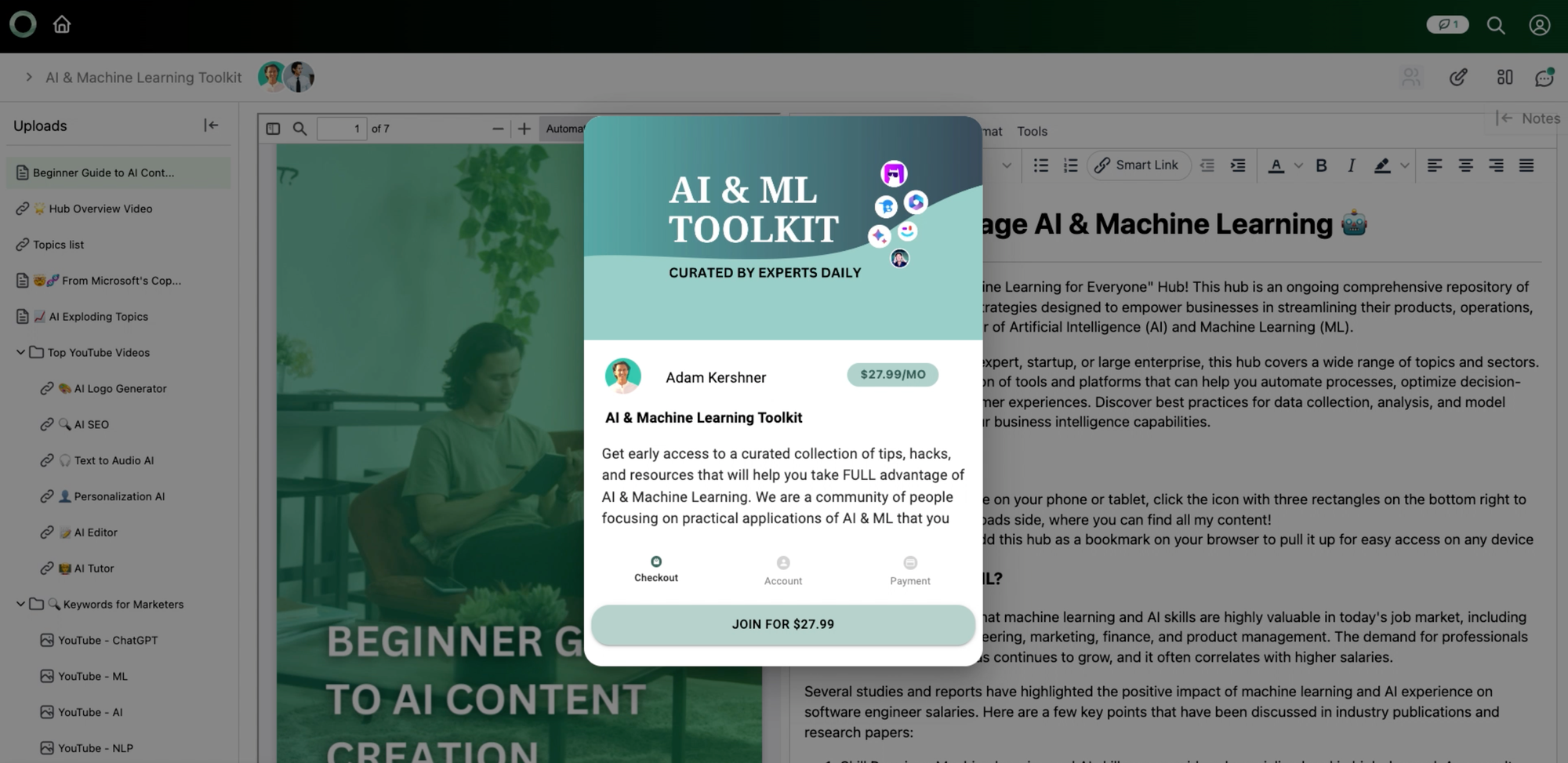 Safeguard your creative work
Give your best resources, PDFs, files, Google Sheets, Notion templates, frameworks, and more - get income back. Prevent unauthorized sharing and protect your digital assets. 100% for free.
Claim my free account