Let's dive in and get right to the point. Here's what you stand to gain by reading.
💡
In this article, I wanted to take the opportunity to explain what I believe is the best way to organize research. My goal is to cover research in general (e.g. blogging, academic research, thought leadership) - anything relating to a ton of notes, PDFs, docs, and tabs. In writing this, I tried to take into account pricing (don't worry, the system I will explain is 100% free), devices, and robustness.
My personal journey with research: quick background
When I am forced to describe myself for whatever reason, one of the things I default to saying is "I'm an information junky" or "I'm a serial creator."
Throughout my life, I've been tinkering and searching for the perfect system to organize the research that I inevitably find myself doing on an ongoing basis.
I've come to the realization hoarding information and creating content is just in my nature.
I'm always researching for fun, thinking about new ideas, jotting down notes, and connecting the dots between existing and future content in my brain.
There are a couple of things that I've tweaked to get my current setup down and now my process has made me hyper-efficient.
When I went on a journey to refine my process of organizing research, there were a few things I was looking for: simplicity, robustness, and versatility.
My goal was to reduce the amount of time spent on administrative tasks like managing files and documents, and minutia like clicking between files.
In a nutshell, I wanted to maximize my capacity for doing deep work and stay in creative flow as long as possible.
So, without further ado, let's dive into the article!
Organizing research: I was a cluttered mess
In the past, I would do research and have things minimized at the bottom of my screen or have multiple documents open.
So this is solving a problem that I had for a long time, which was, I would always take notes on multiple resources, and then I would copy and paste the link of the resource if available.
Specifically, if I was working with a PDF or a word doc, I would have no way of being able to tie that original source to the note that I was making.
My environment would inevitably become cluttered.
I usually ended up positioning all my materials in a split-screen view anyways, except I would have to "hide" individual tabs and windows behind each other and stack them in order to click them when I needed them.
Kahana: a life-saving app to organize research
One of the unique aspects and benefits of using Kahana for note-taking is that you can have all of your documents, and files linked in one hub AKA one window so you don't have multiple tabs open.
Over everything else, it's simple.
This allows me to have all of my PDFs, word documents, and tabs that I've saved in one singular place.
Now, I don't feel like information is slipping through the cracks.
It's not rocket science or life-changing - but when I'm dealing with hundreds (and thousands) of files across my research projects, it becomes a time suck to have to toggle back and forth between Word documents, PDFs, tabs, and notes.
Kahana makes it easy to analyze everything in one place.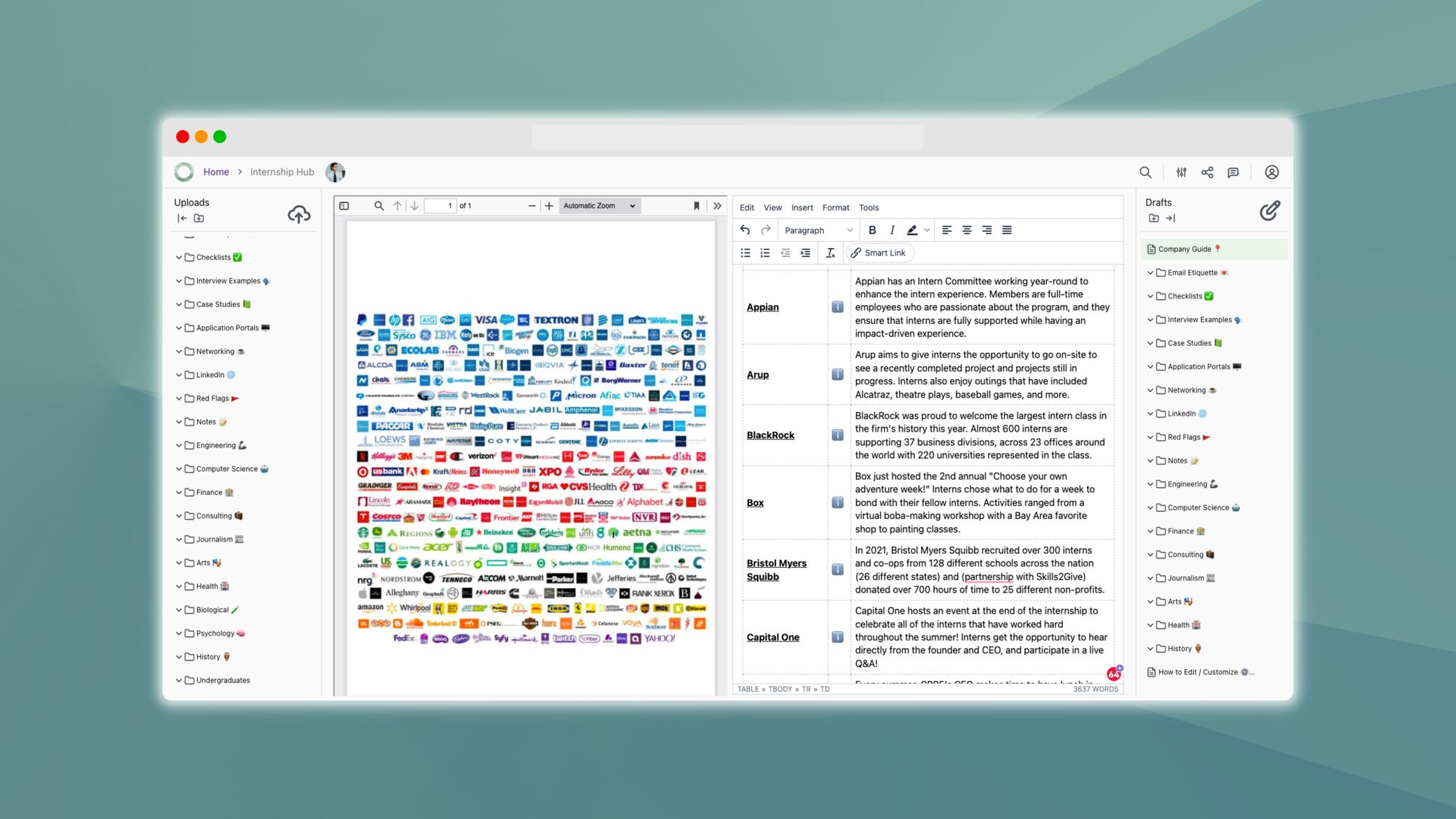 Kahana - farewell floating doc chaos
When it comes to organizing research notes, PDFs, docs, and tabs, Kahana is a software that simply gets the job done.
Learn more
For reference, here is a list of benefits of Kahana as a software platform for organizing research:
Dynamic interface
Split-screen view (side-by-side)
Bulk upload content and files
Supports large PDFs up to 100 MB
Supports Word documents
Supports images (PNG, JPG)
Embed YouTube videos
Clip articles & web pages (Chrome browser extension)
Smart Linking (internal linking of files and notes)
Folders & Subfolders
Works across all devices (web-based)
Unlimited collaboration
Works with Notion
Works with Grammarly
Zen Mode 🪷
Flow Streak 🔥
Add metadata/tags for organizing content
Commenting
It's 100% free - not a free trial, just free (here's the pricing page for reference)
When it comes to organizing research, Kahana is simple yet powerful by design. While some platforms pack a lot of features and have a steep learning curve, Kahana is easy to use and integrates well with many processes.
Quick video of Kahana for organizing research notes
How to Organize Research for Beginners
To get started, you can just drag and drop files and docs to a hub or click the upload button.
When you want to settle in for deep work, you can use the Zen Mode feature, which allows you to blow up your screen, and then you can also get rid of menus and just minimize them without having to click all of them one by one.
All this gives you an ideal situation for analyzing your content while you read: just a great environment for actually focusing on the material.
And then meanwhile, whenever you happen to see information that you want to capture, you can just make a quick note in the same application or plop in the material.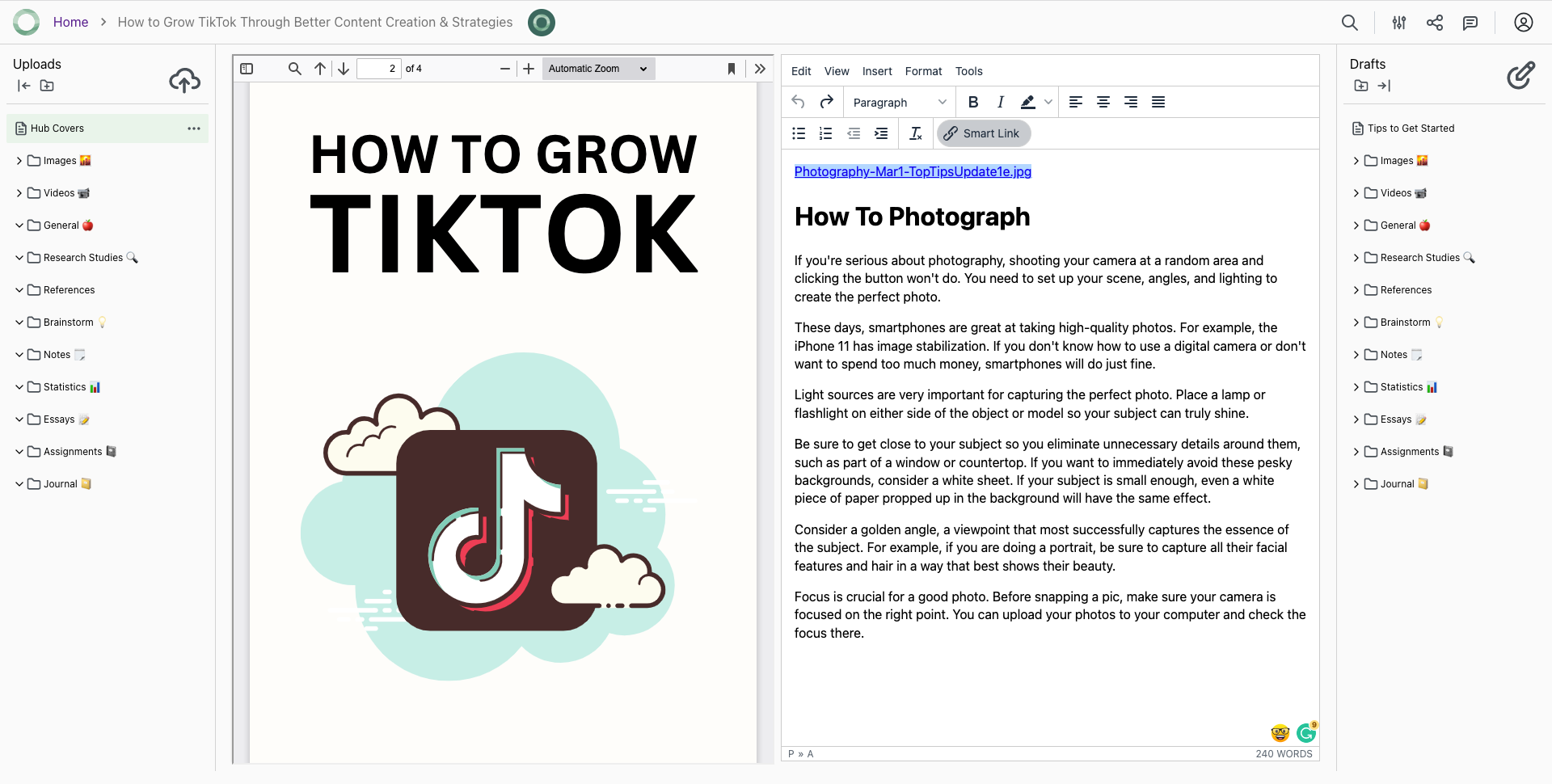 One of my best practices is to attach a Smart Link (see blue link in the screenshot above), which is a feature unique to Kahana, which allows me to actually "tie" or "associate" the original source of the note back to the note itself.
If you're just combing through you don't have to go and like open up some minimized folder or a minimized file anymore to check your references: you can just do it, do it with a Smart Link.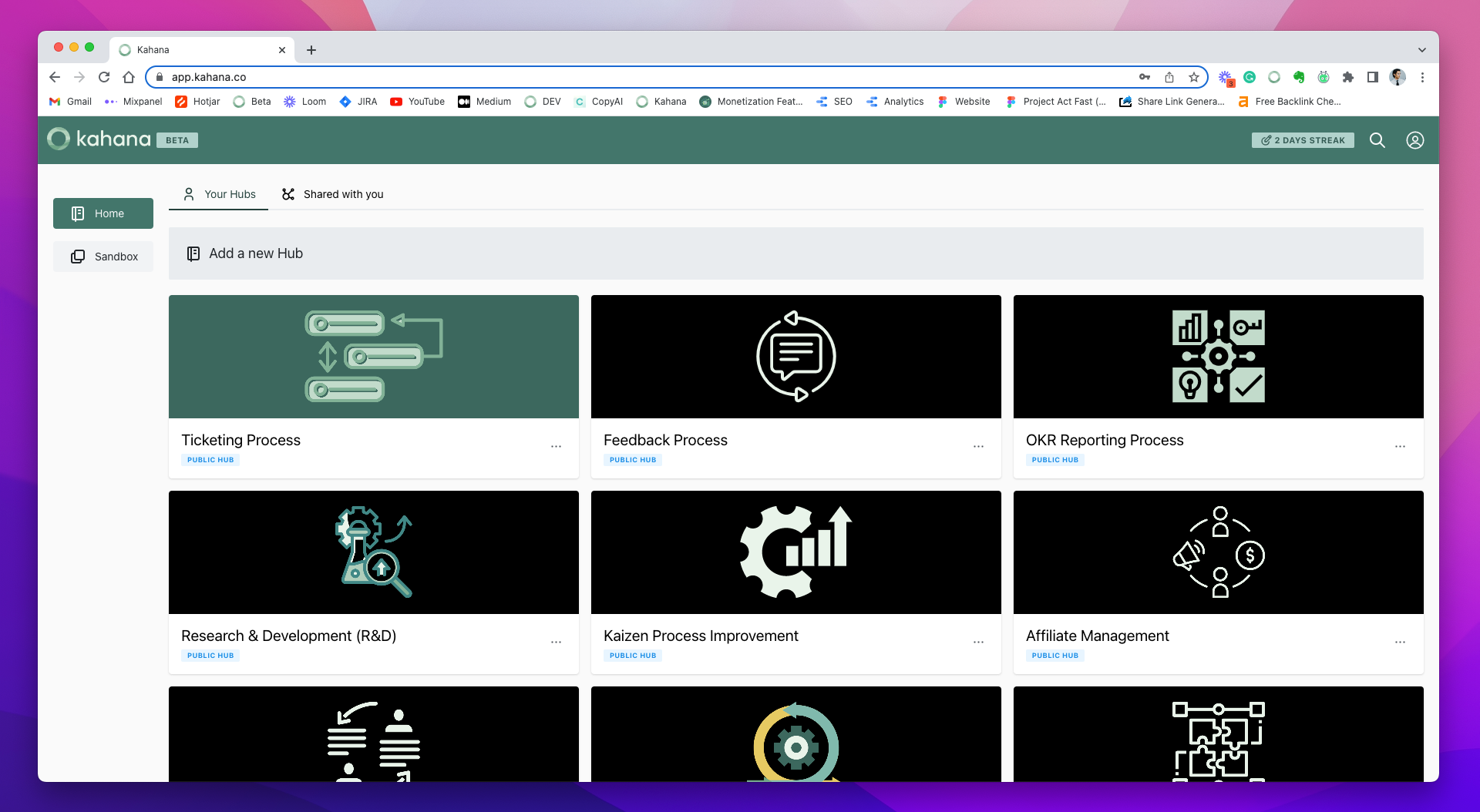 Claim My Free Research Organizing Templates
No need to start from scratch! To help you get started organizing research, we've created multiple free templates that are ready out-of-the-box and formatted with folders and subfolders.
Gimme My Free Templates
The best way to organize research notes, projects, sources, papers, files, articles, findings
I started using the process that I described above in 2021, and I haven't looked back since.
When it came to researching dense topics like life sciences, clinical trials, and patient centricity as a college student and later as a management consultant, I used to be a cluttered mess, unable to organize anything neatly.
But now with my new techniques and the ability to use Kahana across all of my different projects, I'm saving so much time because I don't really have to re-upload or reopen everything one by one anymore.
I've basically eliminated duplicate work across all my research and writing processes.
After a long journey, I finally feel at peace with my process for organizing research.
---
💡
Disclaimer: Everyone has their own process, and I'm sure that you have a good system for taking and organizing notes, files, and content that works for you. The goal of this article isn't to change the way you do things but to make you aware of some things that can potentially enhance how you organize research.
I am always trying to improve as a creator and make content that is genuinely helpful.
So, if you have constructive feedback and/or questions, please voice them in the comments down below!
I sincerely hope you found this article to be helpful.