Are you looking to monetize your digital content but unsure which platform to use? With so many options available, it can be challenging to decide which one is right for you. In this blog post, we'll compare two popular online platforms, Kahana and Teachable.
By the end of this article, you'll have a better understanding of the features, pricing, and overall user experience of each platform, allowing you to make an informed decision and choose the best option for your needs. So, let's dive in and explore the similarities and differences between Kahana and Teachable.
How does Kahana work?
Kahana is a platform designed for creators to easily monetize their digital content. Here is a brief overview of how it works:
Create a free Kahana account: The first step is to create an account on the platform, which is completely free. Once you have an account, you can immediately start creating monetized hubs.
Organize your content: You can curate existing content or create new content directly on Kahana hubs. You can add various types of media such as text, images, and videos to your hub.
Set up payment processing: Stripe is used to set up payment processing on Kahana, allowing you to accept credit card payments from your subscribers.
Monetize your content: The primary way to monetize your content on Kahana is by charging for access to your hubs. You can create a hub, which is a collection of content that you can curate and set a price on. You can offer one-time payment or recurring payment plans.
Collaborate with others: Kahana is a collaborative platform, so you can work with other creators to create a hub, share content, and split revenue.
Manage your subscribers: Kahana provides various features to manage your subscribers, including tracking growth, viewing details, and managing payments.
To better illustrate, here's an example of a real hub created by Kelsey Vetter!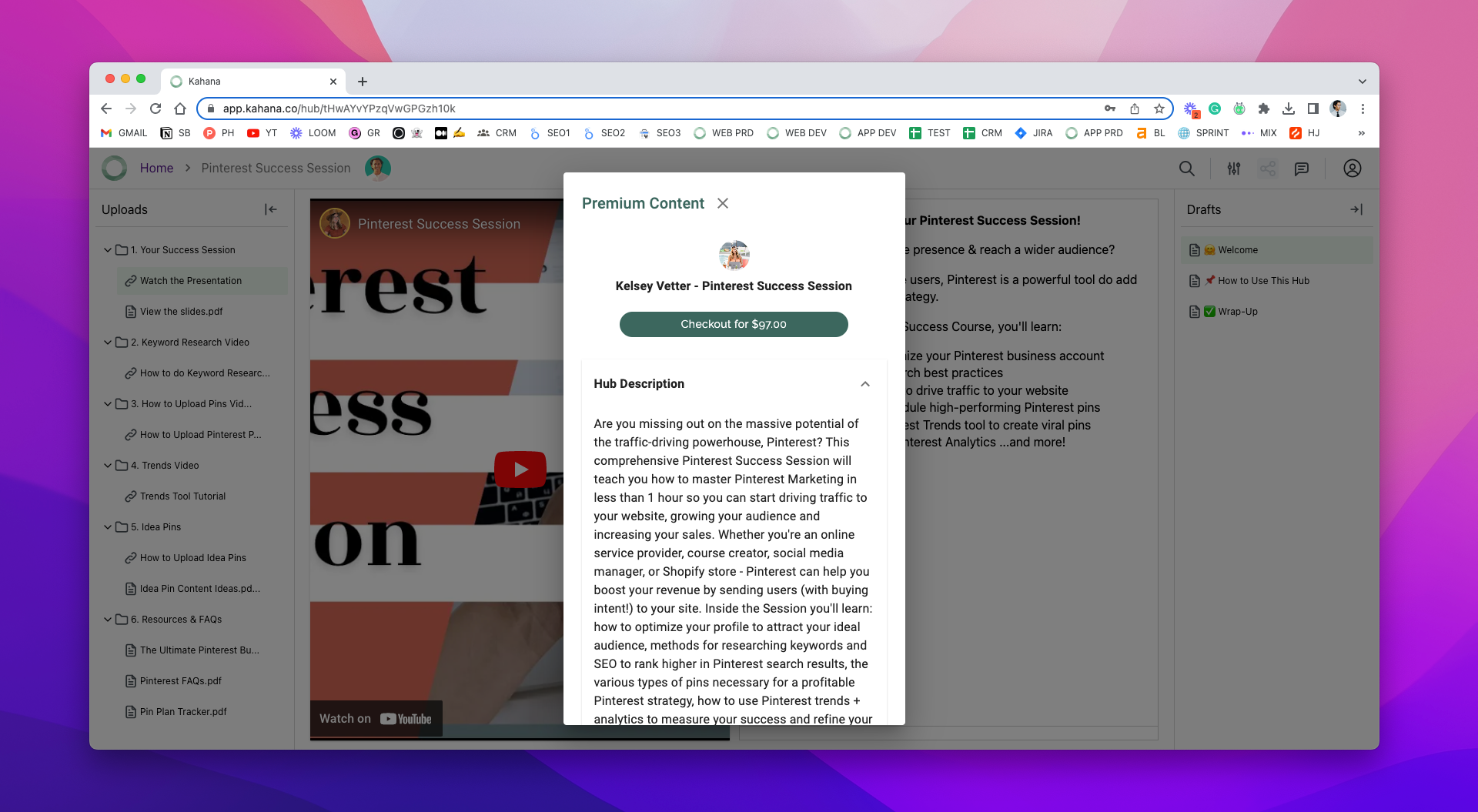 Kelsey Vetter's Pinterest Success Hub
Whether you're an online service provider, course creator, social media manager, or Shopify store - Pinterest can help you boost your revenue by sending users (with buying intent!) to your site. Inside the hub, you'll learn: how to optimize your profile to attract your ideal audience, methods for researching keywords and SEO to rank higher in Pinterest search results, the various types of pins necessary for a profitable Pinterest strategy, how to use Pinterest trends + analytics to measure your success and refine your strategy & much more!
Check out Kelsey's Pinterest Success Hub
How does Teachable work?
Teachable is a cloud-based learning management system that allows creators to create and sell online courses. Here is a quick rundown of how it works:
Create a Teachable account: The first step is to create an account on Teachable, which is free. Once you have an account, you can start creating your online courses.
Design your course: Teachable provides an easy-to-use course builder that allows you to design and organize your course content. You can add text, images, videos, audio, quizzes, and other multimedia elements to create engaging and interactive content.
Set up your pricing: You can set your own pricing for your courses, including one-time payments, subscriptions, and payment plans. Teachable also allows you to create coupons and offer discounts to incentivize purchases.
Customize your site: Teachable provides various customization options to personalize your site's branding, including adding your own logo, choosing colors and fonts, and customizing the layout.
Launch your course: Once you have created your course and set up your pricing, you can launch it on Teachable. You can also use Teachable's marketing tools to promote your course and attract new students.
Manage your students: Teachable provides various tools to manage your students, including tracking their progress, sending email reminders, and managing payments. You can also communicate with your students through Teachable's built-in messaging system.
Analyze your performance: Teachable provides detailed analytics to help you track your course's performance, including revenue, student engagement, and completion rates. This data can help you optimize your course and improve your sales.
Why do people choose Kahana over Teachable?
There could be several reasons why someone may choose Kahana over Teachable, depending on their needs and priorities.
Types of products
Kahana is also more focused on dynamic products where you can easily change and update collections of knowledge over time, as opposed to Teachable, which is focused on static courses and digital downloads that are sold as one-time payments.
Kahana is more oriented towards helping creators collaborate and generate revenue by selling access to a dynamic repository of knowledge that can constantly change over time.
Teachable, on the other hand, is more focused on one-time payments for static courses or digital products.
Collaboration
One reason is that Kahana offers a collaborative platform, allowing multiple creators to work together on building a hub, whereas Teachable is designed for individual creators. This could be a deciding factor for those who prefer to work in teams or collaborate with others.
Payback period
Another reason is that Kahana hubs can be monetized more quickly and require zero upfront costs to build. They can also be leveraged to charge for access on an ongoing basis as they are improved and modified.
On the other hand, Teachable is used to create digital courses that are static and often require significant effort and capital to create (e.g. professional videos, scripting, etc.).
Format
If a creator wants to focus specifically on educational content within a niche or skill and feels that a course isn't a necessary format to deliver it, or if they simply don't want to go through the hassle of creating a course, Kahana may be a better fit.
Building community
Another difference is the community aspect that Kahana introduces. When you buy access to a hub in Kahana, you can give commenting access and create a thread and conversation around your product. Teachable is more focused on just selling the course or digital download for the person to consume on their own.
Kahana vs. Teachable pricing plans
Now let's compare Kahana vs. Teachable pricing plans.
Kahana Pricing
When you join Kahana, there are no upfront fees or credit card requirements, even for the free plan. However, Kahana does take a 5% commission from your earnings (excluding Stripe fees) if you monetize your content through the platform.
The free tier is designed to help you get started, allowing you to create up to two hubs and invite unlimited collaborators. You can also set up payment processing to monetize your content. However, there are storage restrictions with the free tier, so if you need more advanced features or unlimited hubs, you can upgrade to one of Kahana's paid plans.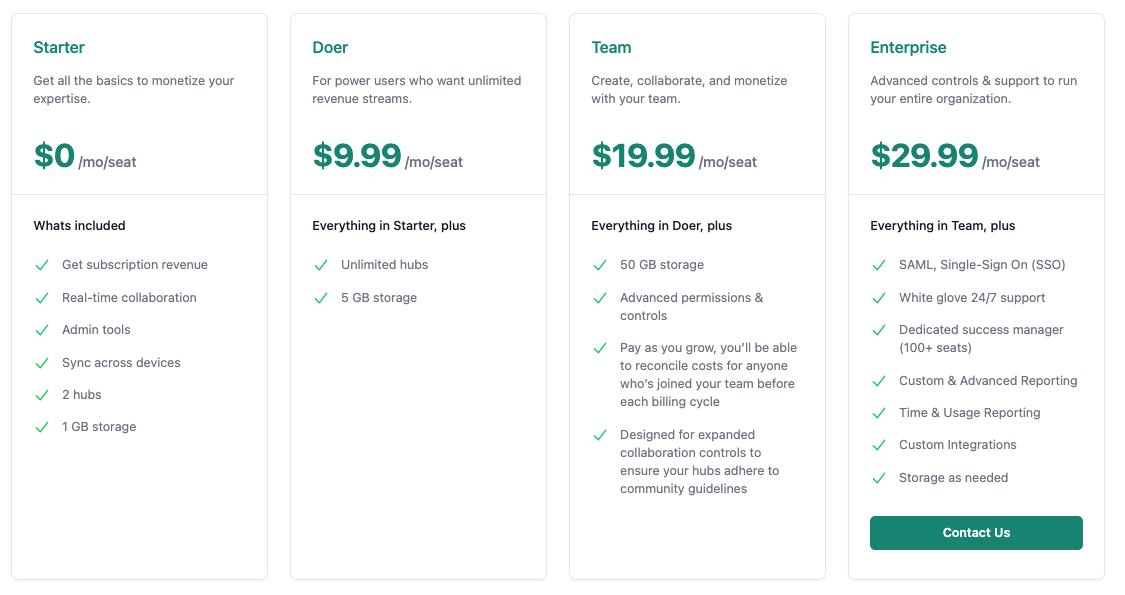 Teachable Pricing
Teachable is a course creation and online learning platform that offers four pricing plans:
Free: $0 billed monthly. This plan includes 1 admin user, 1 course, 1 digital download and carries a 10% + $1 transaction fee.
Basic Plan: $39/month (billed annually) or $49/month (billed monthly) This plan includes unlimited video hosting, unlimited courses, integrated payment processing, basic quizzes, and drip course content. It also provides email support, but no graded quizzes, course completion certificates, or advanced reports.
Professional Plan: $119/month (billed annually) or $149/month (billed monthly) This plan includes all the features of the Basic plan plus graded quizzes, course completion certificates, advanced reports, and an unbranded website. It also includes priority customer support.
Business Plan: Custom pricing This plan includes all the features of the Professional plan plus additional features such as bulk student enrollment, custom user roles, and onboarding consultation. It also offers dedicated account management and priority product support. The pricing for this plan is customized based on the specific needs of the business.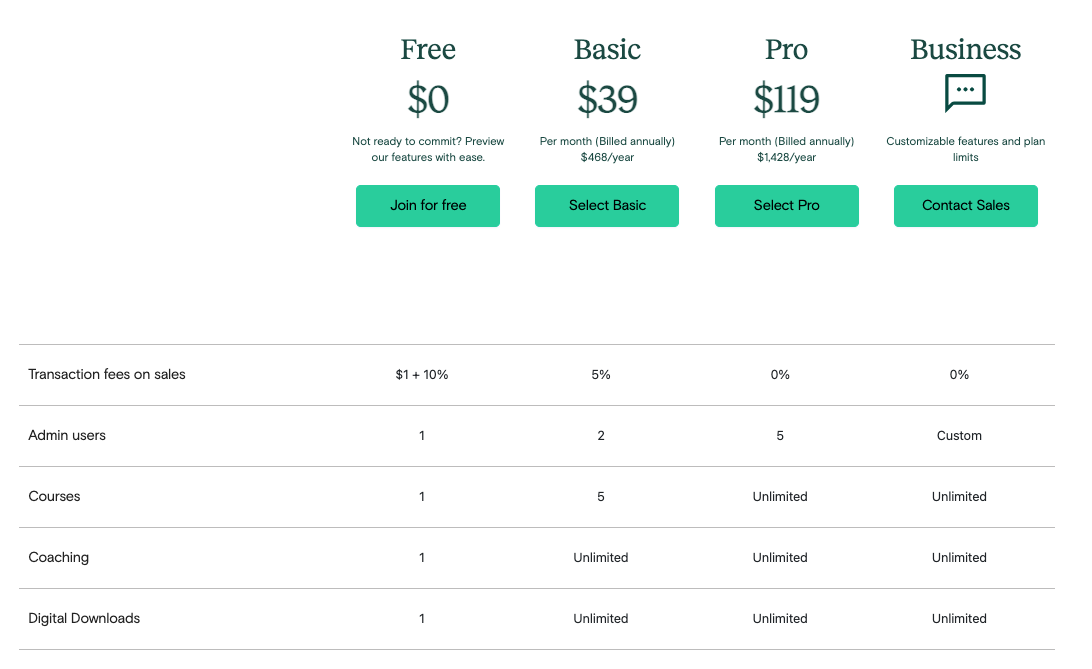 Sign up for FREE
Kahana offers a forever-free plan that allows you to use their platform without any charges, even if you decide not to acquire any subscribers for your hub and remain on the free plan.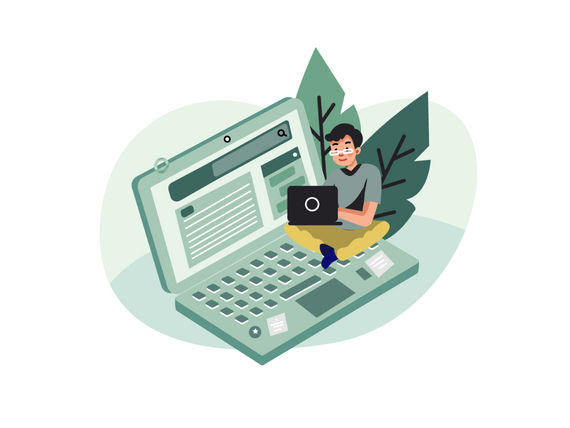 Grab your FREE Kahana account
Join +2000 creators and experts using Kahana to collaborate, co-create, and engage their communities. Kahana is free forever - not a free trial... just free.
Sign Up Now
Meet like-minded creators and experts
If you're wondering how to get started, we recommend joining our Creators 'n Experts Community.
By signing up, you'll gain access to a range of valuable resources and events, including live webinars, interactive sessions, open office hours, a private Discord channel, and ongoing networking opportunities - all free of charge.
💎
Plus, for each milestone you achieve, you'll receive a special gem.
Plus, for each milestone you achieve, you'll receive a special gem as a reward! 💎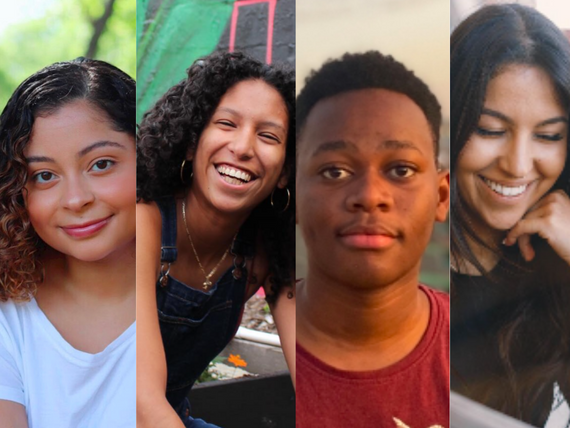 Join the Creators 'n Experts Community
Join a hodge-podge of other no-nonsense creators and experts turning passion, expertise, and life's work into income streams. What makes this community different? Who knows. We just care about making progress and helping each other go off 📈
Bring me to my people
Quick answers
Don't see your answer? Does the information need to be updated? Let us know!
🐦 Tweet us directly @KahanaHQ (fastest!)
💬 Leave a comment below
🗣️ Visit our Help Center & start a live chat